With its bright yet plain appearance and widespread distribution, the white cheese polypore, scientifically known as Tyromyces chioneus, is a common fungus encounter. Due to its commonality and passable resemblance to an oyster mushroom from the top, it often shows up in identification forums. The actual identification is usually a disappointment for the hopeful forager. Though it may not seem the most exciting of fungi, the world undoubtedly needs the cheese polypore for its saprophytic abilities.
Scientific Name:

Tyromyces chioneus

Common Names:

White cheese polypore, cheese polypore

Habitat:

Decaying hardwood

Edibility:

Inedible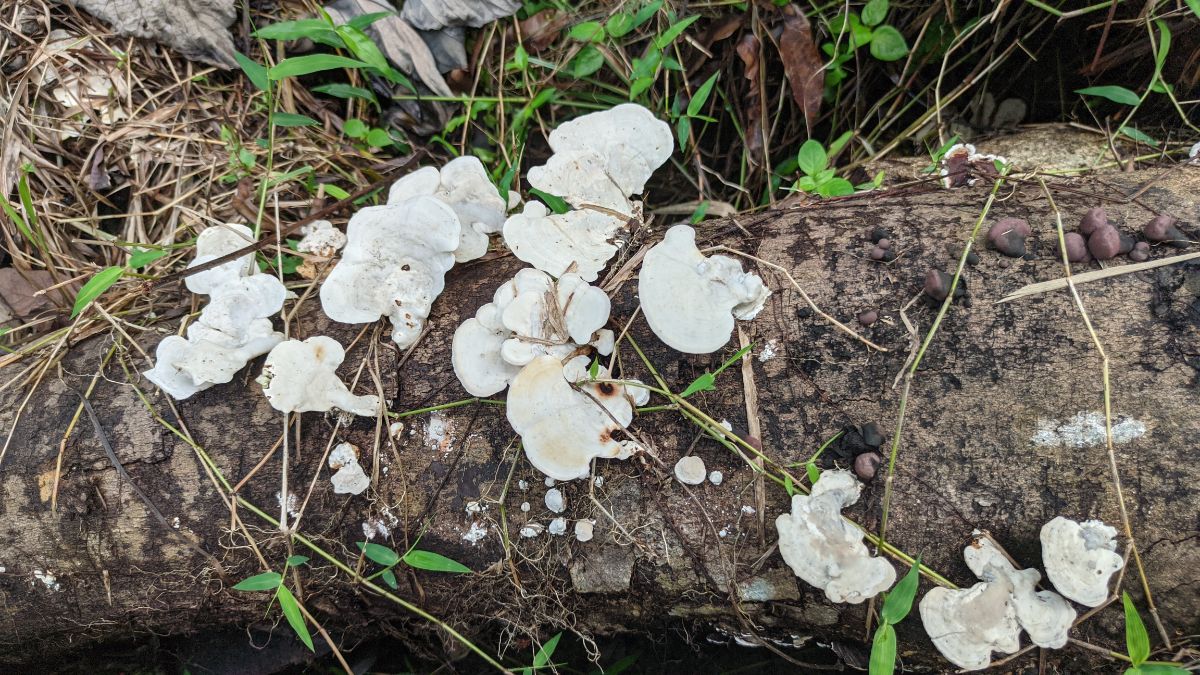 Jump to:
All About The White Cheese Polypore
The white cheese polypore, also known as Tyromyces chioneus, belongs to the Polyporaceae (Polypore) family. Its scientific name derives from the Greek words "tyros," meaning "cheese," and "mykes," meaning "fungus," which perfectly describes its rather dense but spongy texture. This mushroom is commonly referred to as the white cheese polypore due to its appearance and characteristic aroma.
This fungus was first described by Elias Fries in 1815 as Polyporus chioneus. However, Petter Karsten later transferred it to the genus Tyromyces in 1881. The specific epithet "chioneus" originates from the Greek word for "snow white," reflecting the mushroom's pristine coloration. Synonyms for Tyromyces chioneus include Polyporus albellus and Tyromyces albellus.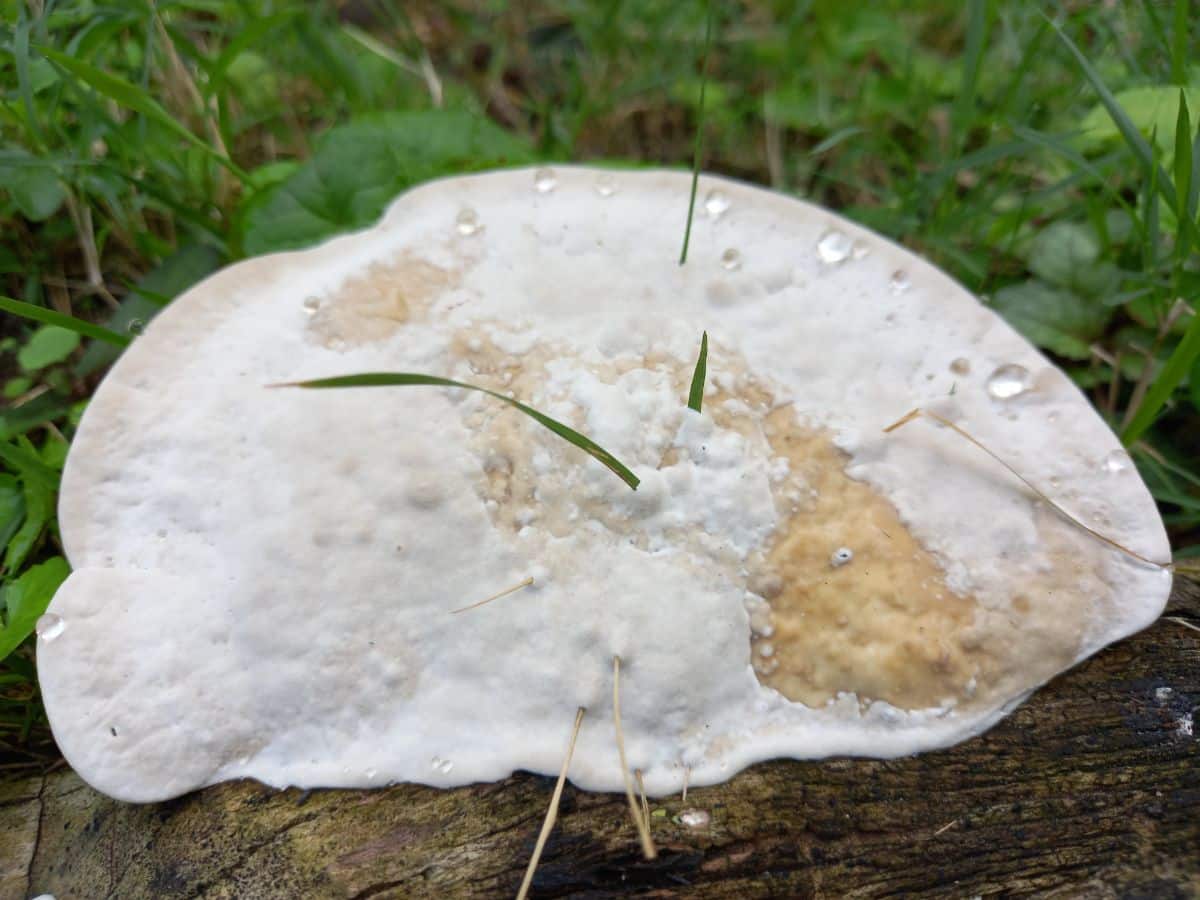 Cheese Polypore Identification Guide
Season
July through December
Habitat
The cheese polypore is a saprobic fungus that thrives on decaying hardwood, particularly birch trees. It causes white rot, a process in which it breaks down the lignin in the deadwood. This mushroom grows alone or in groups, sometimes overlapping or fused together. It is always found growing on wood, never from the ground.
This polypore has a fairly wide distribution in temperate, boreal pine forests across Asia, Europe, and North America. It is especially prevalent in regions with birch trees, such as the Great Plains, the Maritime provinces, the Pacific Northwest, and northern California. It appears to be absent in the southeastern United States.
Identification
Cap
The cap of this mushroom is semicircular to kidney-shaped and grows up to 4 inches wide and 3 inches broad. Initially, the cap appears white before aging to yellowish or grayish tones. It is velvety or hairy textured when young but gradually becomes smooth as it matures. In old age, the surface may develop a crusty or wrinkled appearance.
Pore Surface
The pore surface of the cheese polypore is initially white, but it may turn yellowish with age or when dried out. This polypore's pores do not bruise appreciably when handled or damaged.
Stem
The cheese polypore lacks a distinct stem. Instead, it appears as a bracket or shelf-like structure attached directly to the wood. This characteristic attachment is an essential identifying feature of the polypore fungus.
Flesh
The flesh of this polypore mushroom is soft and watery when fresh. In fact, droplets of water can be easily squeezed out of it. The flesh is fleshy and pliable when young, but it becomes hard and brittle as it ages or when dried.
Odor and Taste
The aroma is often described as slightly sweet or reminiscent of cheese, giving it its common name. The taste of this mushroom is not distinctive and may be slightly bitter or indistinct.
Spore Print
This species produces a white spore print.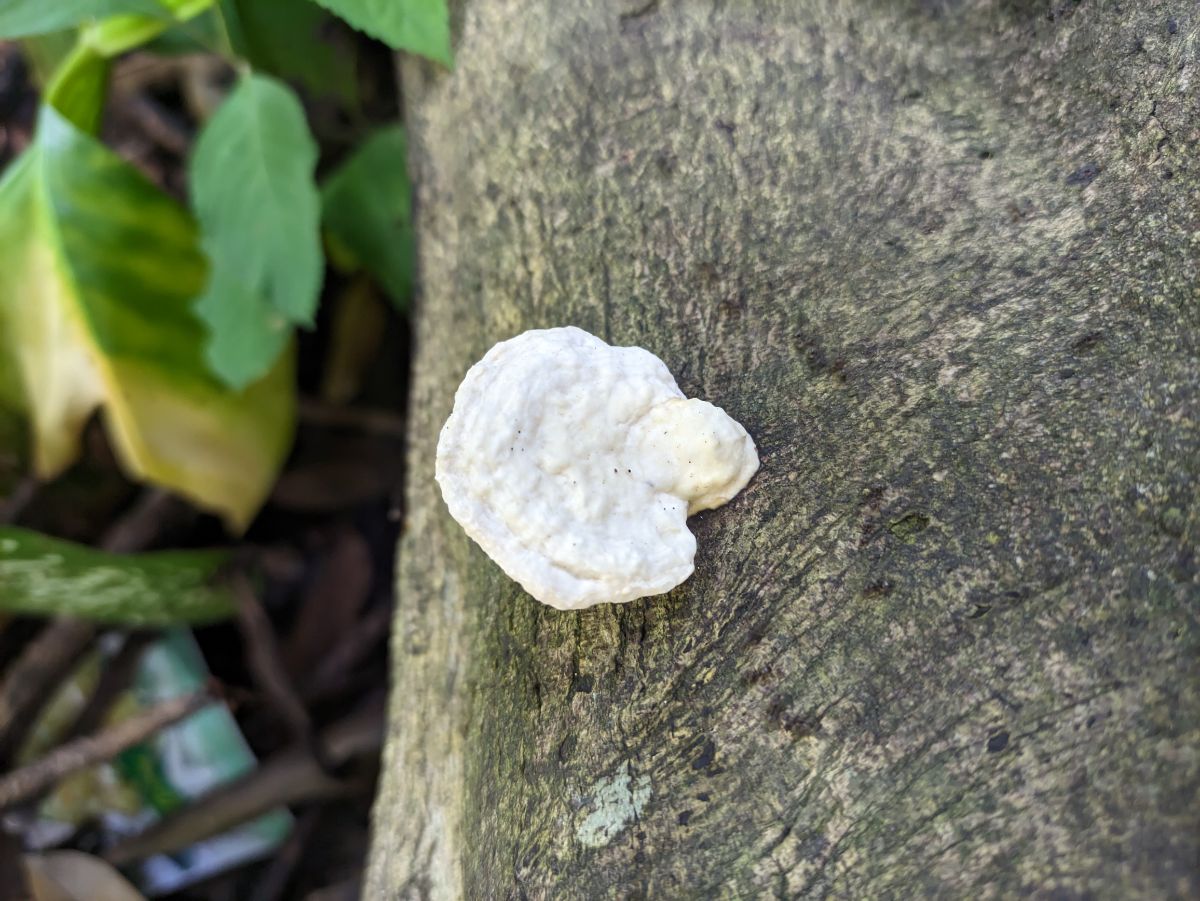 Cheese Polypore Lookalikes
Polyporus badius
Although the cap shape and pore surface of Polyporus badius may resemble the cheese polypore, its brownish coloration distinguishes it.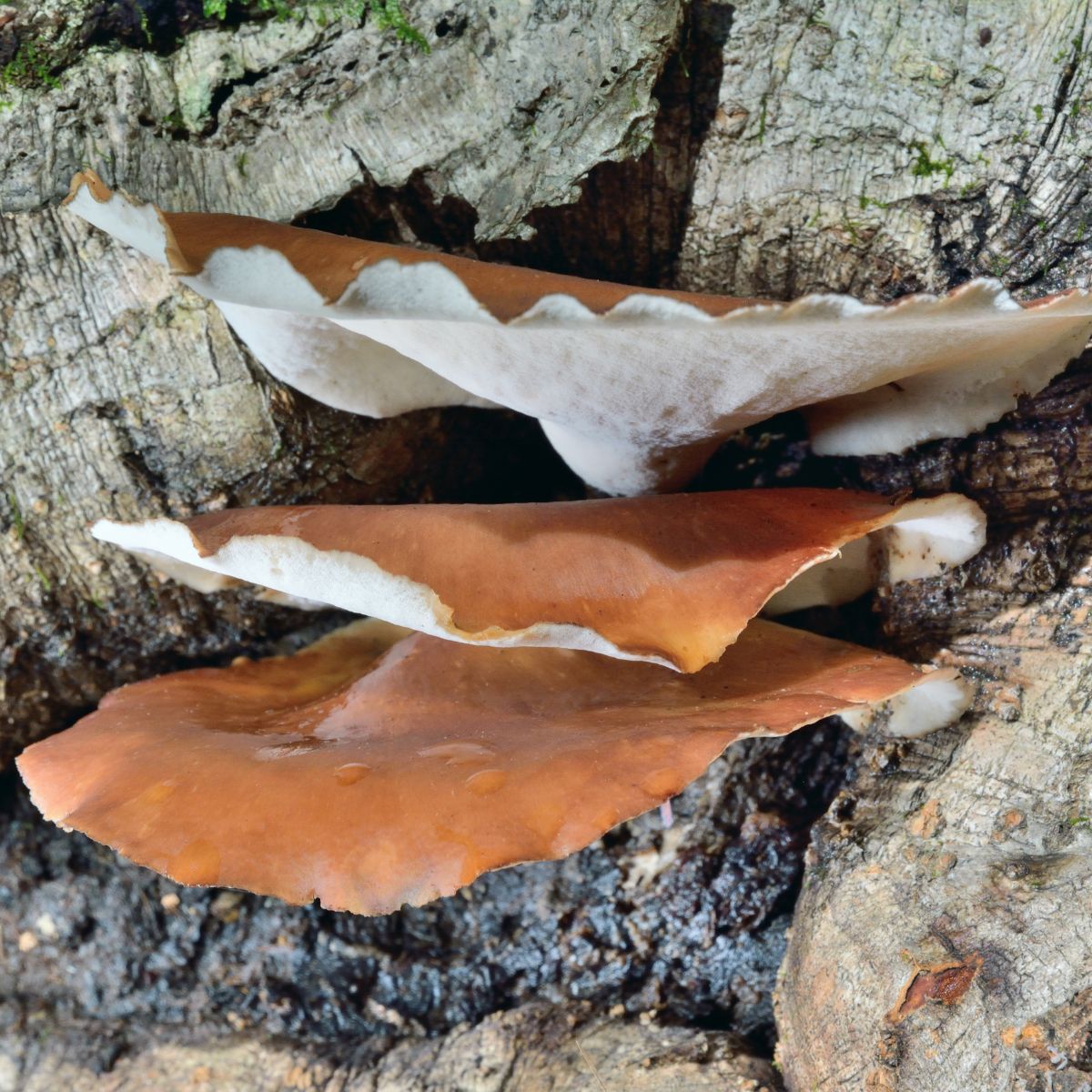 Laetiporus sulphureus, Chicken of the Woods
Commonly known as the chicken of the woods, this mushroom has distinctive bright yellow or orange hues. Unlike the cheese polypore, it forms a distinct shelf-like structure and has an entirely different appearance.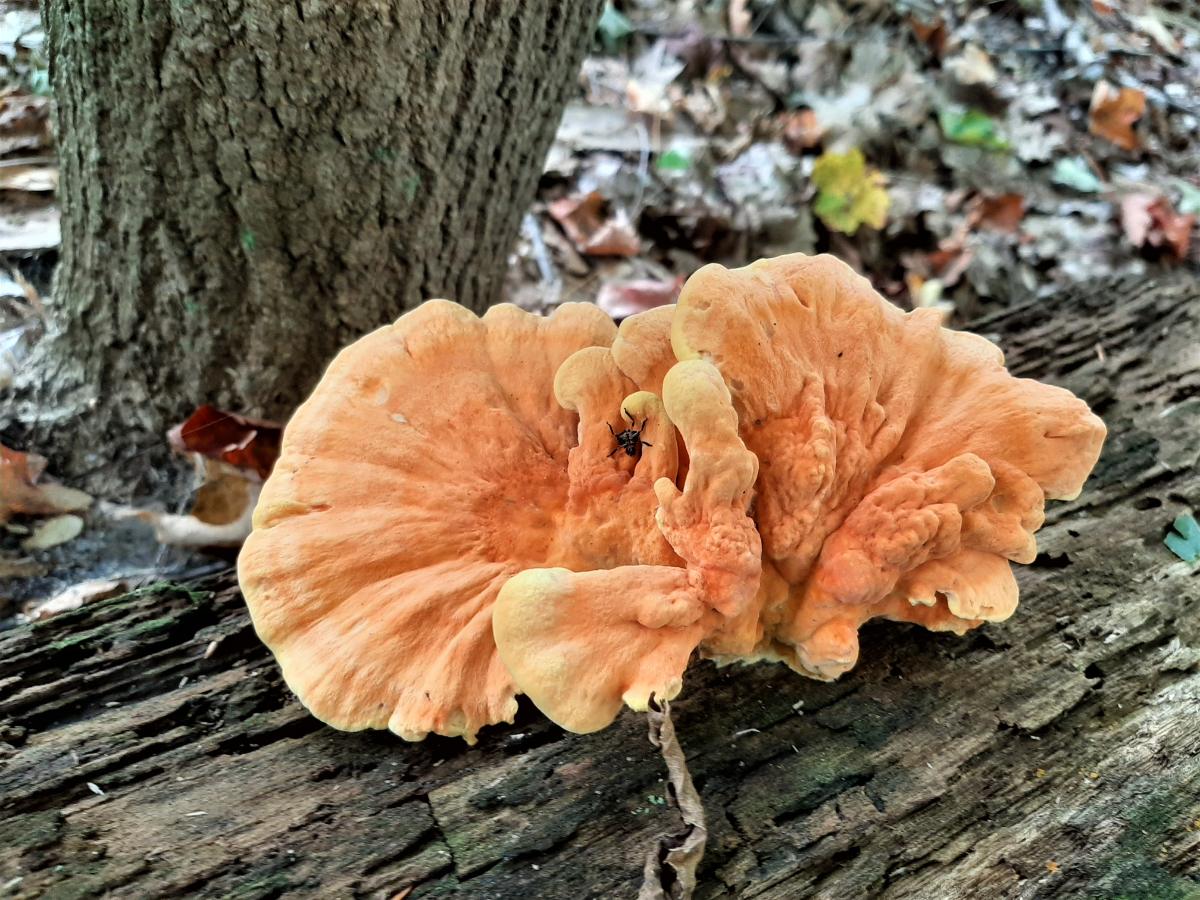 Ganoderma applanatum, Reishi
Also known as the artist's conk, Ganoderma applanatum has a hard, woody texture and a distinctive kidney or hoof-shaped cap. Unlike the cheese polypore's white cap, its cap surface is brown.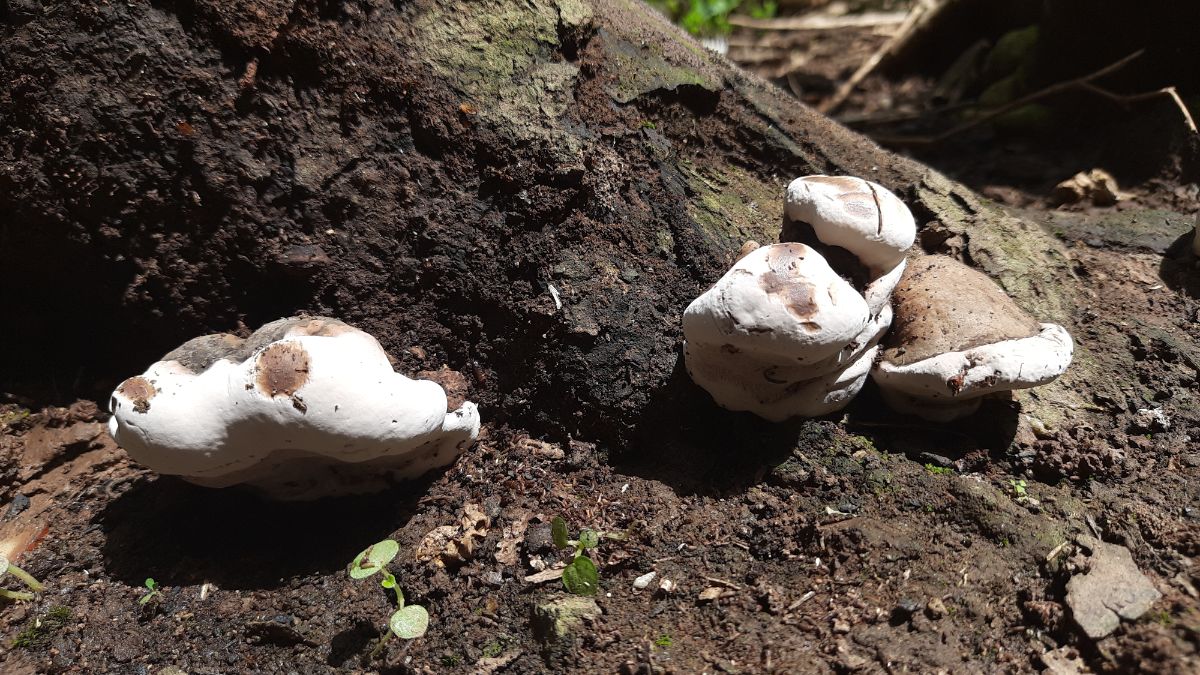 Cheese Polypore Edibility
This mushroom is not considered edible. Its spongy, watery texture doesn't lend itself well to culinary applications. Also, its taste is not distinctive enough to make it a desirable ingredient.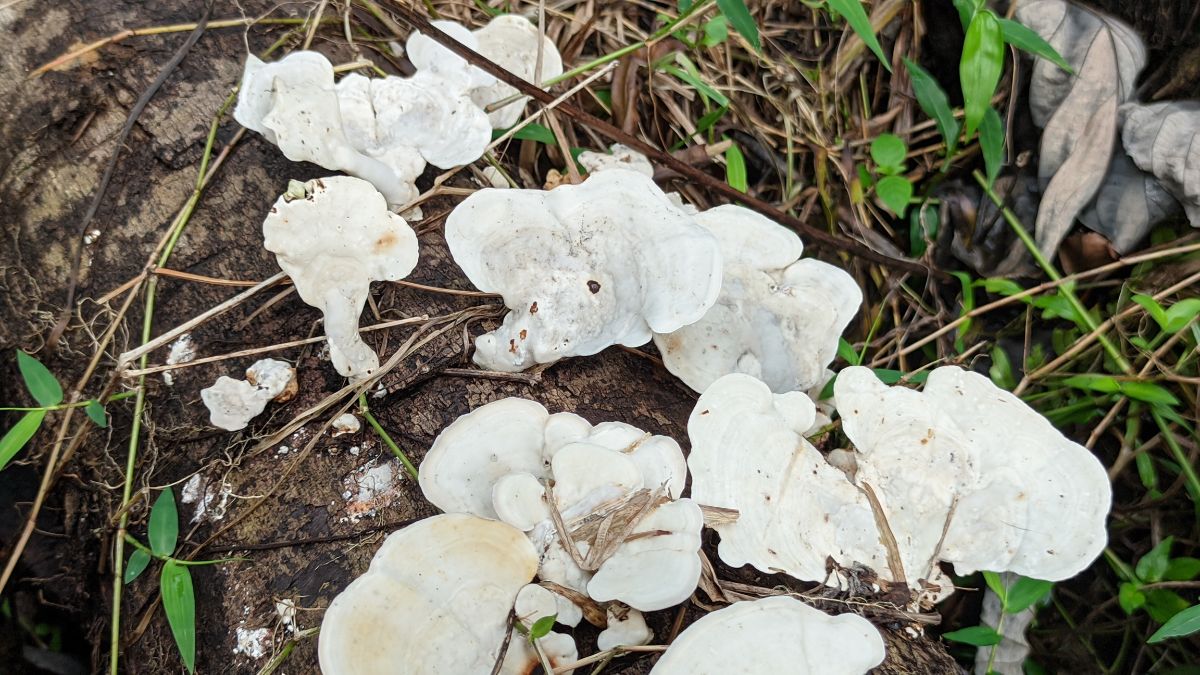 White Cheese Polypore Medicinal Properties
While the cheese polypore is not typically used for its medicinal properties, it has shown some interesting potential in scientific research. Laboratory experiments have found that cultures of this fungus contain a type of compound known as a sesquiterpene, which has demonstrated anti-HIV activity.
Is the white cheese polypore edible?
While this species isn't toxic, it's not good to eat, either. The texture is dense and spongy; it would be like eating a thick sponge.
Where does the cheese polypore grow?
It is widespread in northern North American forests.