The painted Suillus is a joy to find in the forest, with its bright, unmistakable colors. It's also an excellent edible species when prepared correctly. Boletes, in general, can be challenging to identify, but the Painted Suillus (Suillus spraguei) with the red-streaked cap is a great beginner mushroom. Some foragers dismiss the species as a less-than-choice edible, but it's not all bad and, with proper cooking, is quite yummy. The splash of color it provides in an otherwise plain green or brown conifer needle bed is widely appreciated, no matter one's opinion on edibility.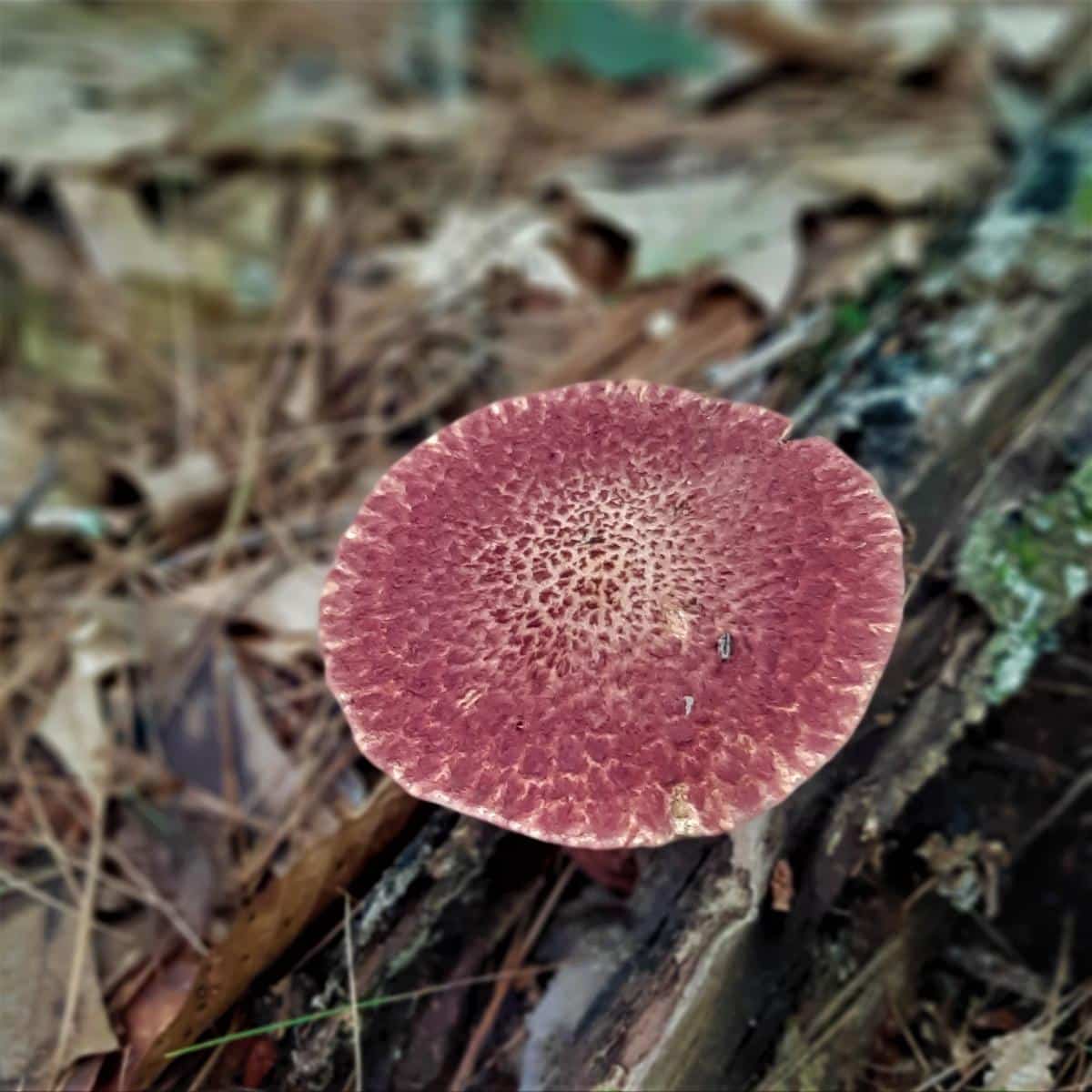 Jump to:
All About The Painted Suillus
The painted Suillus, commonly known as the painted slippery cap, eastern painted Suillus, or red and yellow Suillus, is a species of mushroom in the Suillus genus. It is characterized by its striking appearance, with a reddish-brown to orange-yellow cap that is often adorned with white or yellowish scales. The cap surface is slimy when wet, making it challenging to handle during foraging. The stem of the mushroom is relatively thick and may feature a ring or veil remnant.
Painted Suillus is a mycorrhizal fungus, meaning it forms a mutually beneficial relationship with the roots of certain trees, particularly pines. This association allows the mushroom to receive essential nutrients from the tree while the tree benefits from the fungus's ability to break down organic matter and enhance nutrient absorption.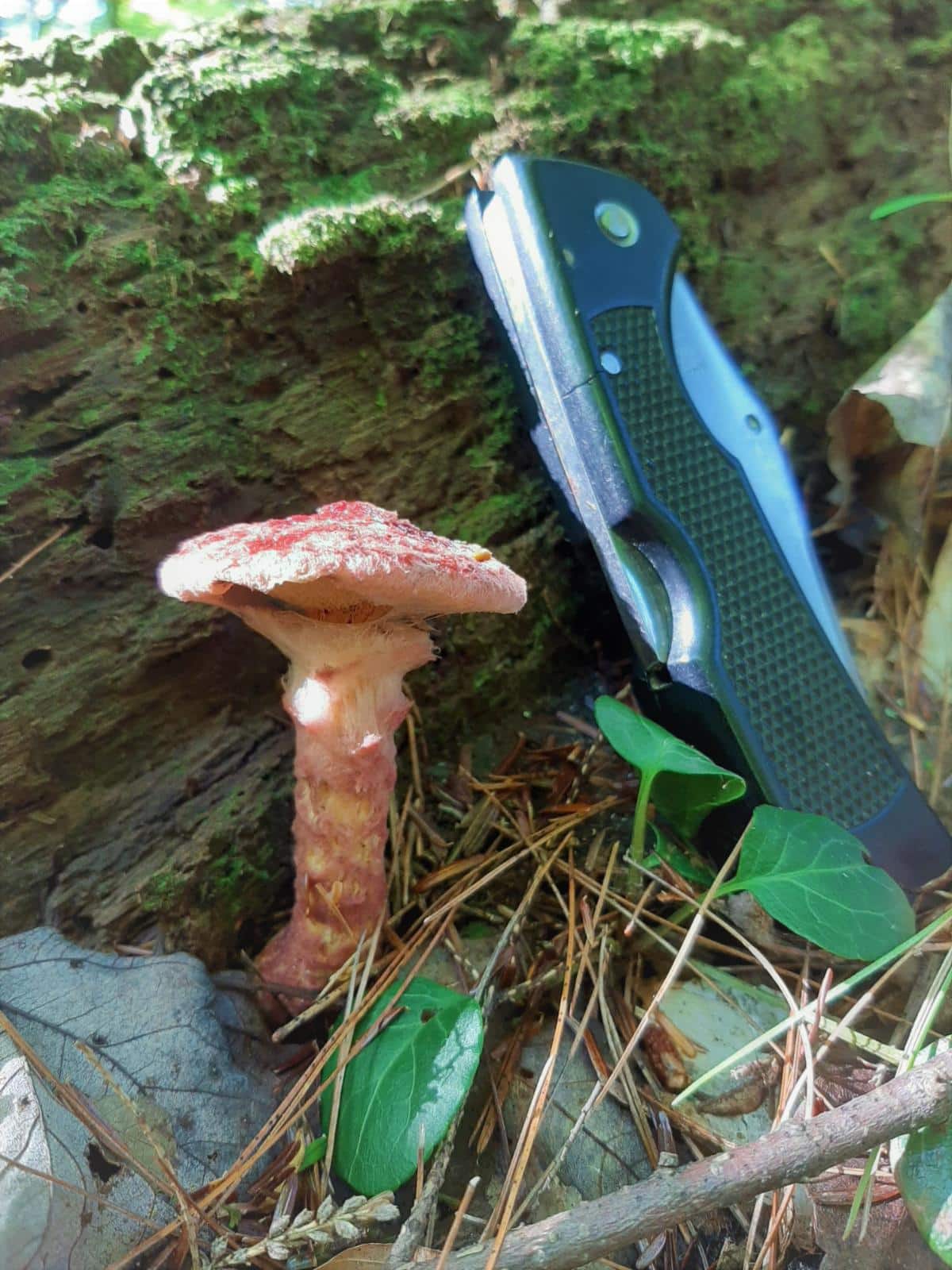 The fruiting bodies typically emerge from the ground in late summer to autumn. They are often found growing in clusters or groups, making them an appealing target for foragers looking to collect a substantial harvest.
Suillus mushrooms are commonly referred to as "slippery jacks," a name derived from the slimy texture of their caps when wet. The painted suillus, though, has a dry, fluffy and scruffy cap. Most Suillus species are mycorrhizal, associating primarily with coniferous trees, mainly pines.
Historically, the painted Suillus has been used as a food source by various indigenous peoples across North America. It is said to have been particularly popular among the Ojibwa people of the Great Lakes region, who prized it for its taste and nutritional value.
In modern times, the painted Suillus continues to be sought after by foragers and mushroom enthusiasts for its unique flavor and texture. However, its slimy cap can be off-putting to some, making it somewhat of an acquired taste.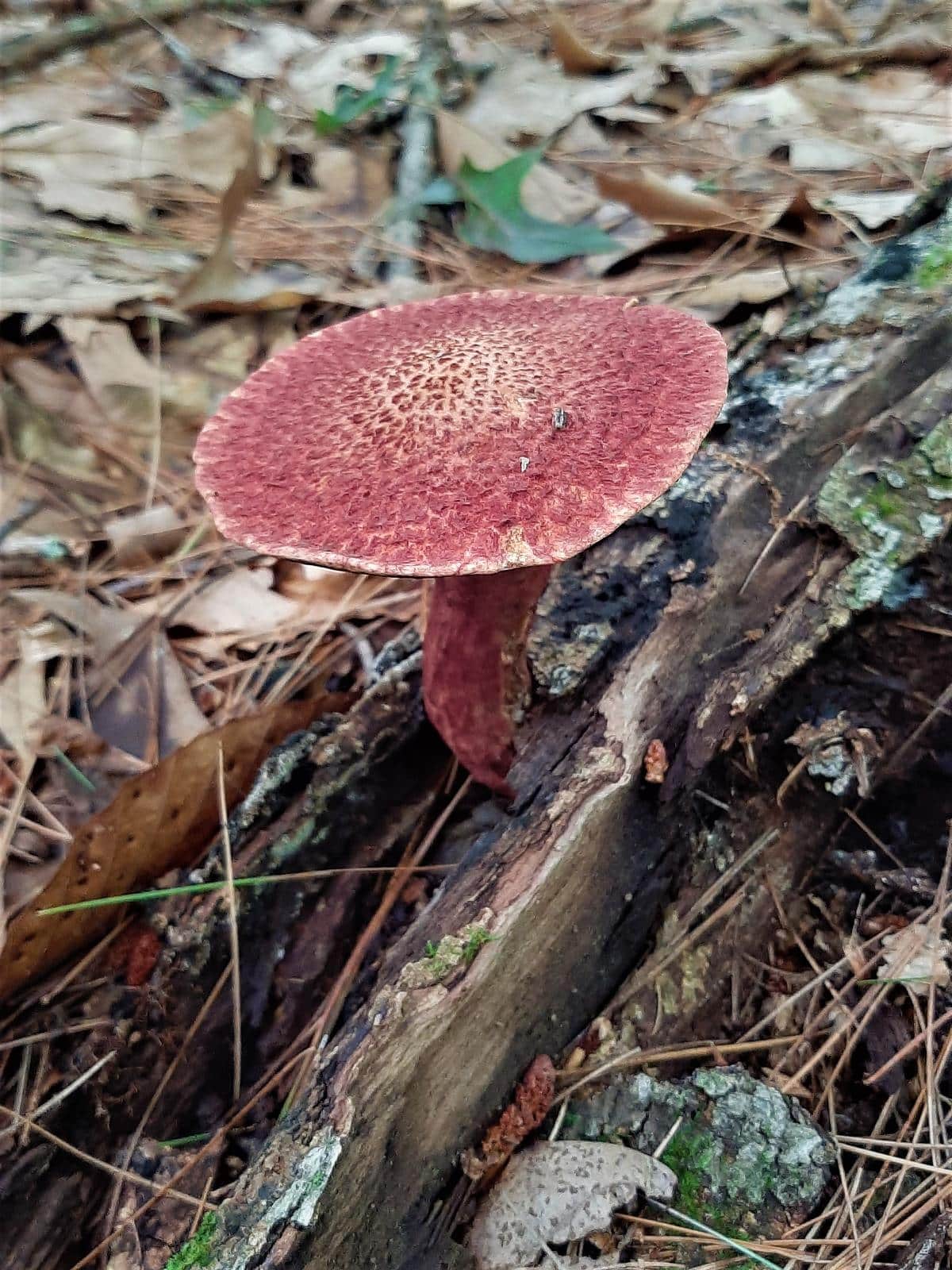 Painted Suillus Identification
Season
Mid-summer into fall.
Habitat
This mushroom is predominantly found in the eastern and northeastern regions of the United States and Canada. It has been reported as far south as the Appalachian Mountains and as far north as Newfoundland.
The painted suillus grows specifically with eastern white pine. It is typically found growing near the base of these pine trees or in areas where eastern pine needles have accumulated on the forest floor. The fruiting bodies emerge from the ground following periods of rainfall, often appearing in clusters or groups.
The mushroom grows from the ground, not on or from the tree. It grows singularly but is more commonly found in sparse or dense groupings.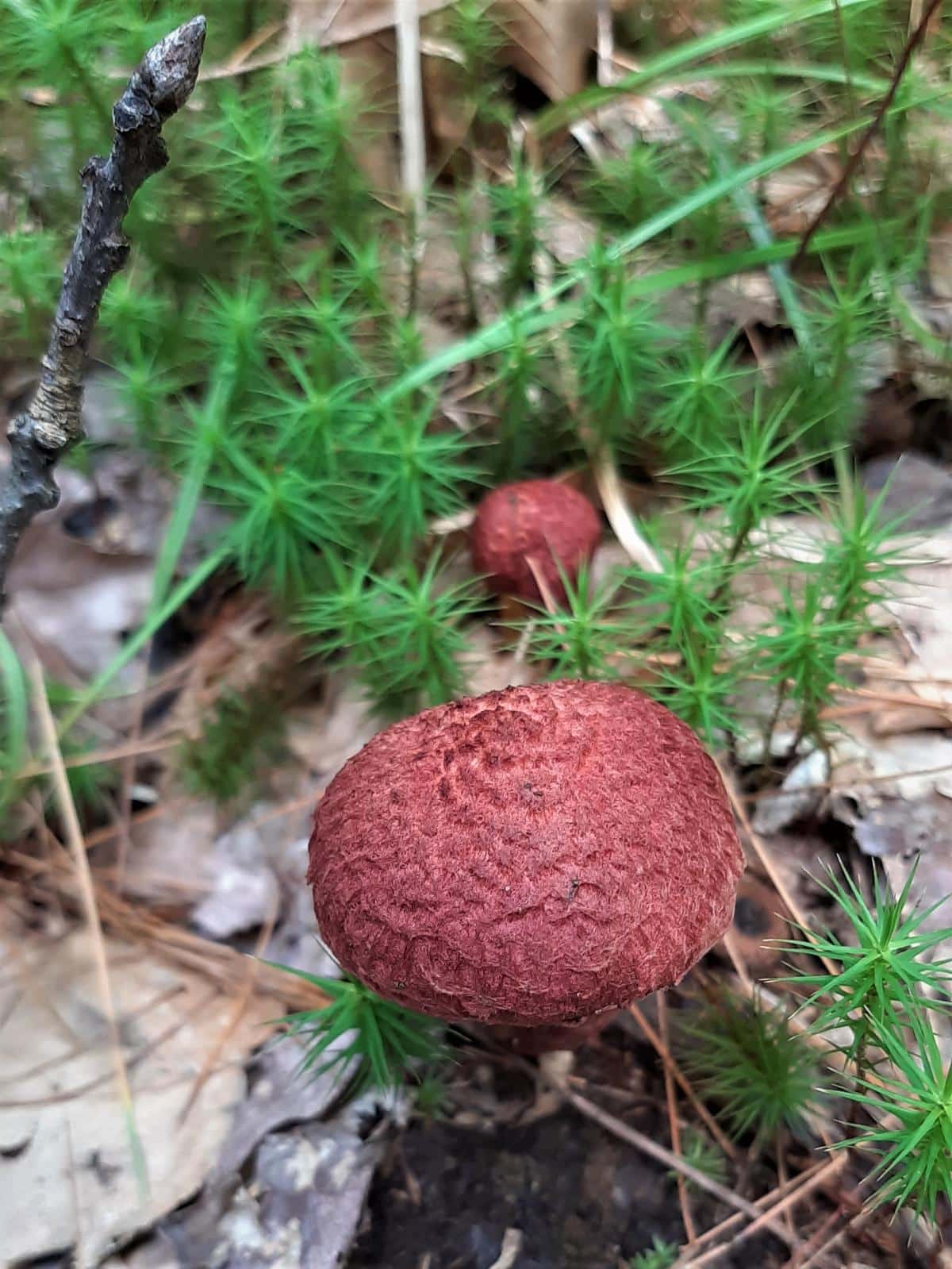 Identification
Cap
The cap of the painted Suillus is typically 1.5-5 inches in diameter, with a convex to a flat shape. It is reddish-brown to orange-yellow in color and is covered in scruffy adornments. The cap surface is not super slimy when wet (rare among Suillus species!) and can be peeled off easily.
When young, the cap edge is rolled inward, and the pores are covered with a partial white veil. As the mushroom grows, the veil splits, sometimes leaving white tissue hanging from the cap edges.
Pores
Instead of gills, the painted Suillus has a pore surface on the underside of the cap. The pores are yellowish, then change to brownish-yellow as the mushroom matures. The pore surface can be easily separated from the cap flesh. When the mushroom is very young, the pores will be covered by a white cottony partial veil.
Sometimes the pores bruise reddish or brownish, but usually, they don't bruise at all.
Stem
The stem of the painted Suillus is thick and sturdy, measuring 2- 5 inches long and around 1 inch thick. It is generally equal the entire length or might be slightly thicker at the base. The stem is typically white to pale yellow, with lots of scruffy, shaggy red fibers covering it, which look somewhat like a fur covering. The stem does not bruise when cut or handled.
Flesh
The flesh of the painted Suillus is yellow and will stain pinkish, reddish, or brownish when cut.
Spore Print
This mushroom produces a brownish-yellow to olive spore print.
Odor and Taste
The painted Suillus has a mild, pleasant odor and a sweet, nutty taste.
Other
This mushroom is also susceptible to being parasitized by Hypomyces completus, which presents as white patches of mold that spread over the mushroom and produce spores. In its sexual stage, the mold changes color, and the surface takes on a roughened texture.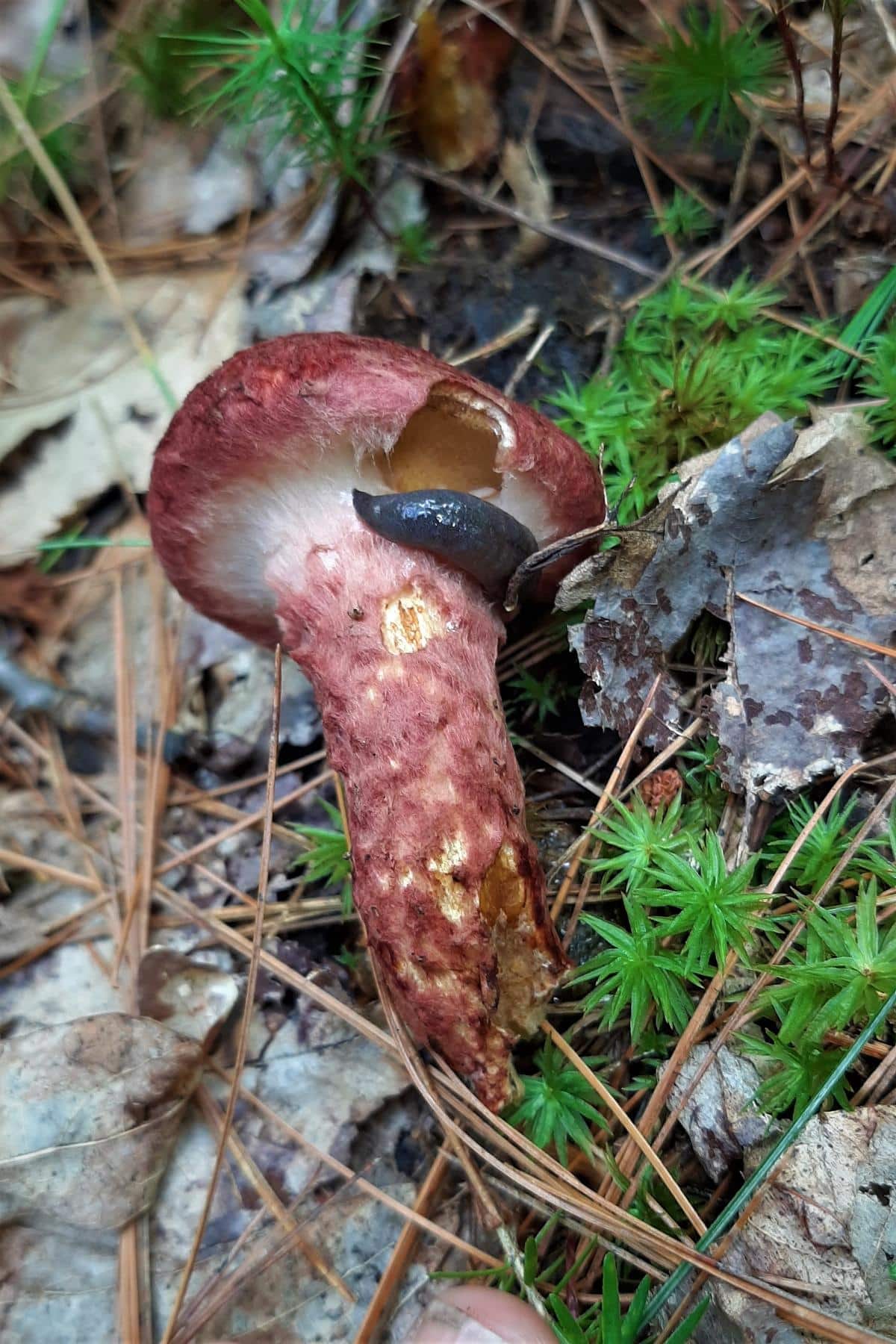 Foraging Tips for Painted Suillus
Timing – The fruiting bodies typically emerge from late summer to autumn. Plan your foraging expeditions during these months to increase your chances of success.
Location – Search for the painted Suillus in coniferous forests, specifically those dominated by eastern pine trees. Look for the mushrooms growing near the base of trees or in areas where pine needles have accumulated.
Weather – Painted Suillus often appears following periods of rainfall. Keep an eye on the weather and head out foraging after a good rain shower.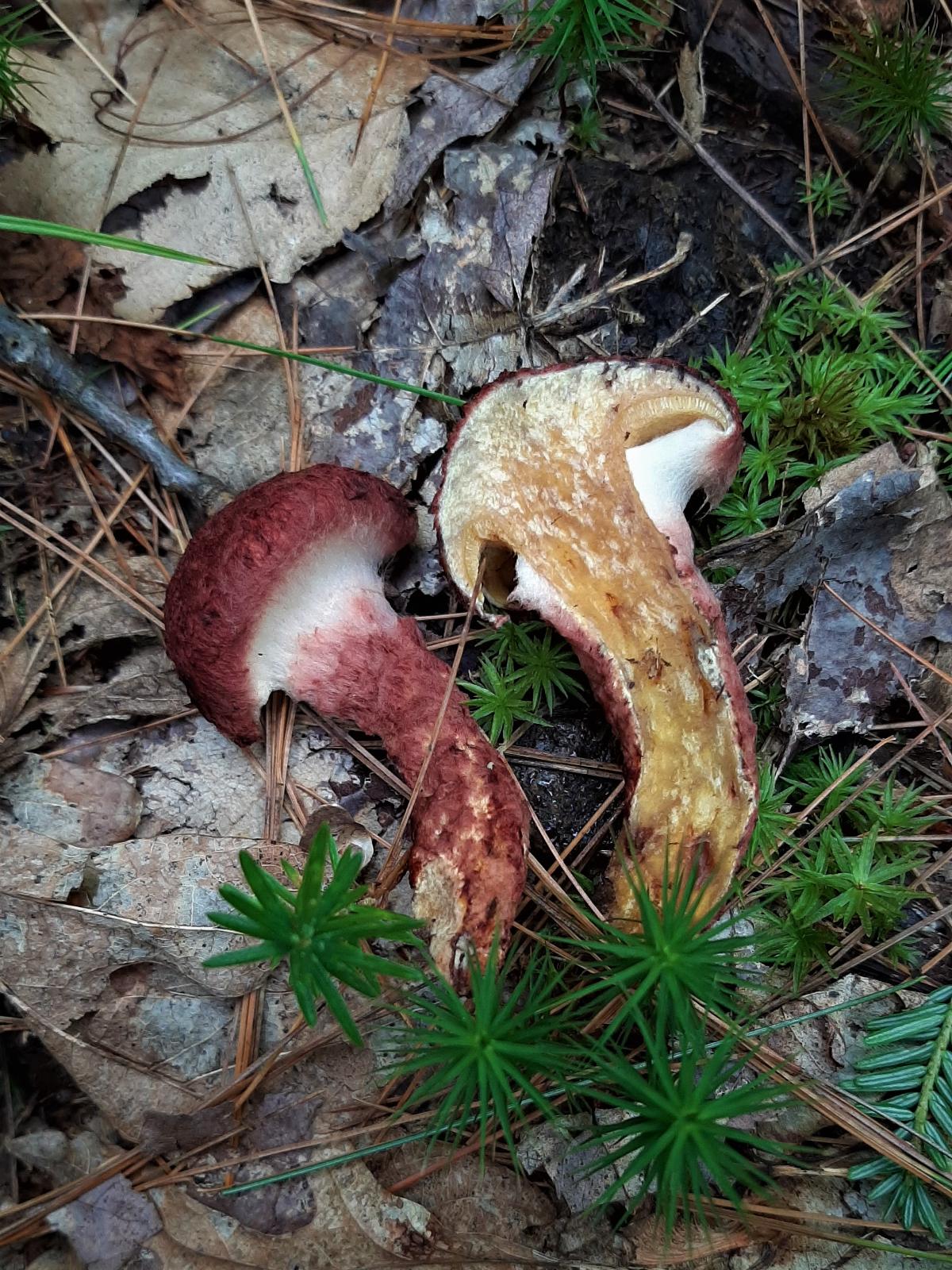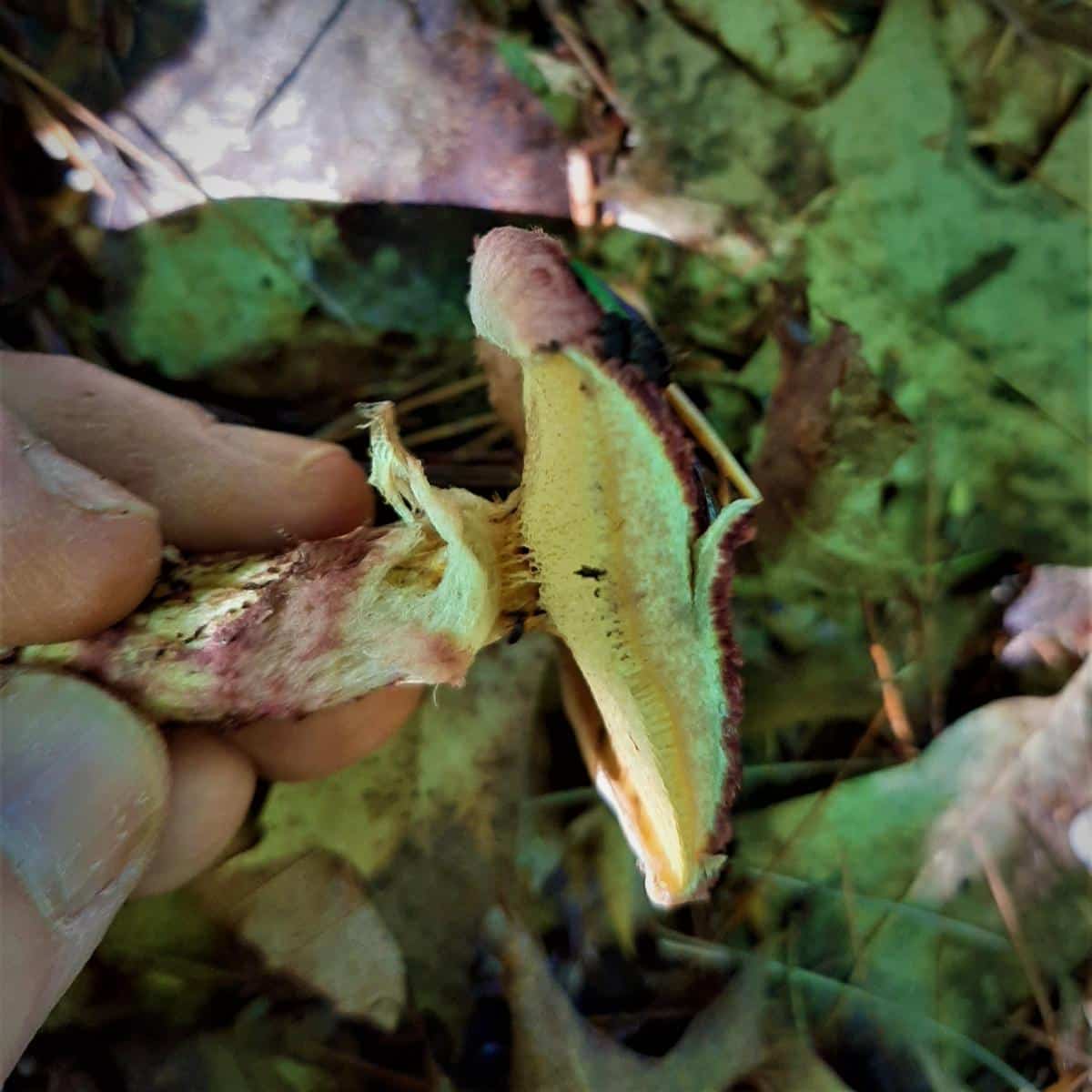 Painted Suillus Lookalikes
Matte Jack, aka Lake's bolete (Suillus lakei)
This is the western North American species of painted Suillus and is less brightly colored and usually found in association with Douglas fir. The primary way to tell these two species apart is location – is the mushroom on the east coast or west coast? And, is it growing with Douglas fir or eastern pine?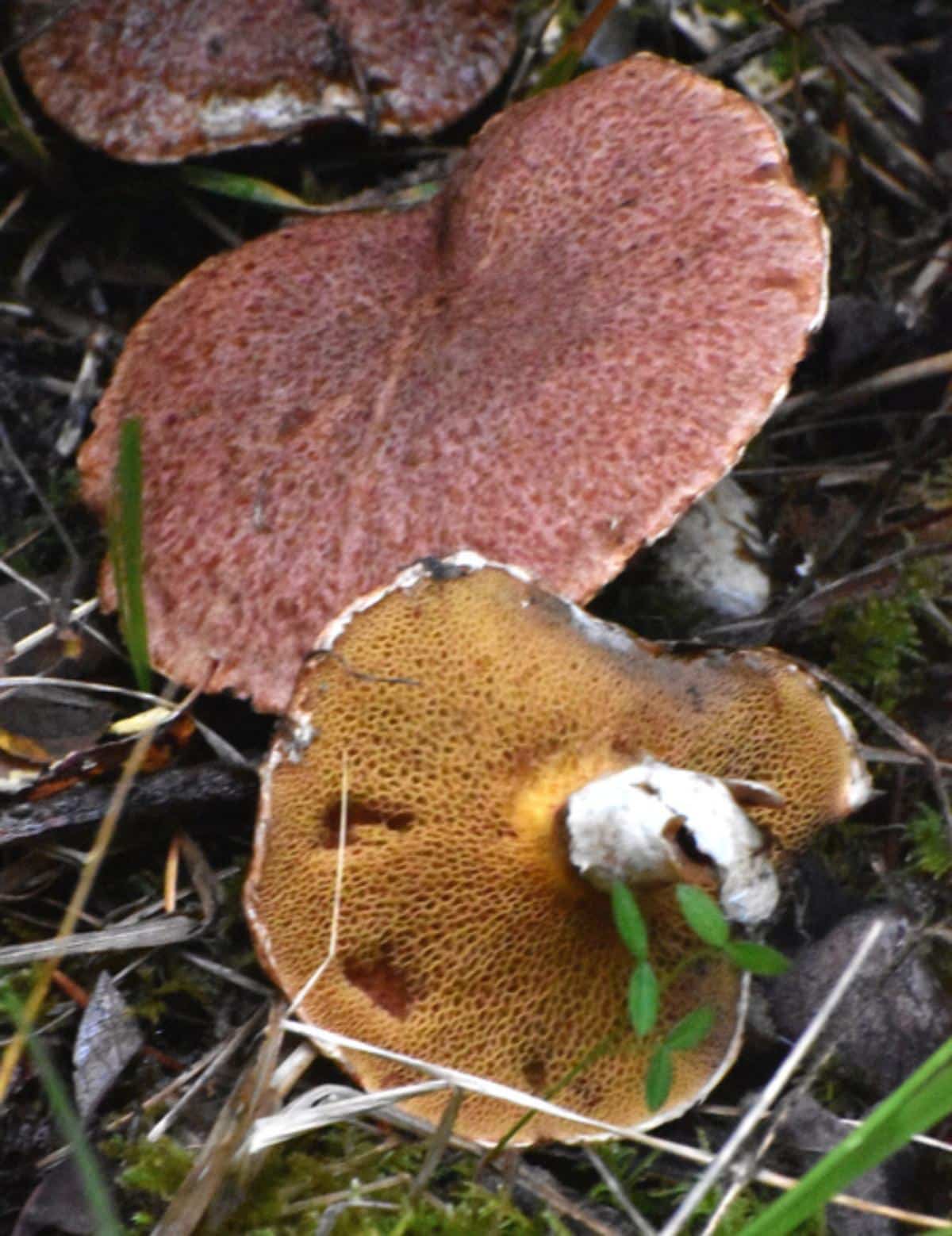 Rosy Larch Bolete (Suillus ochraceoroseus)
While the rosy larch bolete looks visually similar to the painted Suillus, they do not share the same regional habitat or growth preferences. The rosy larch is only found in the Pacific Northwest and grows specifically with larch trees.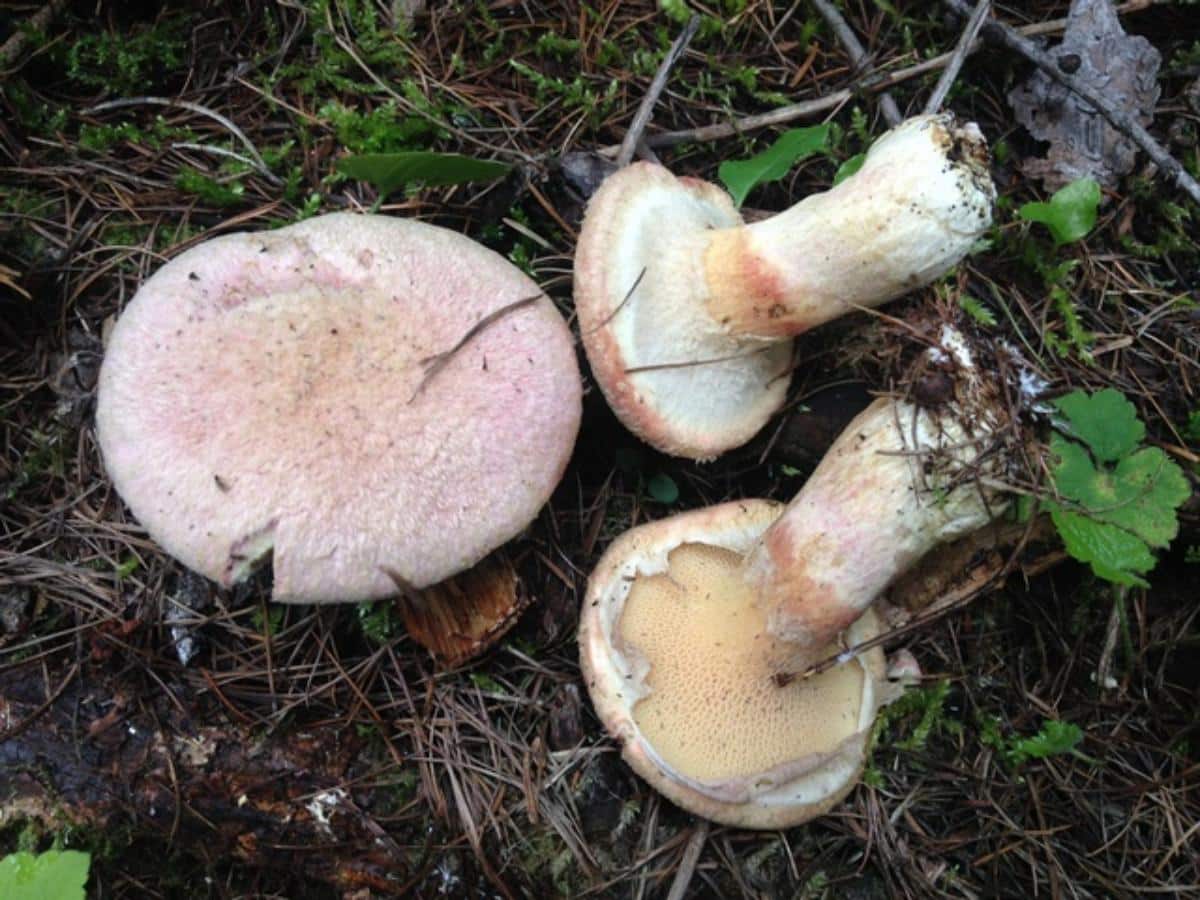 Suillus decipiens
This lookalike is less red when young but can look similar to the painted suillus when older. It has a smaller stature, a cap of 1.6 to 2.8 inches in diameter, and a stem of 1.6-2.8 inches long. It grows with pine trees from summer through fall and looks like a faded version of the painted Suillus. This mushroom is found in the southeastern United States, from New Jersey to Florida and Texas.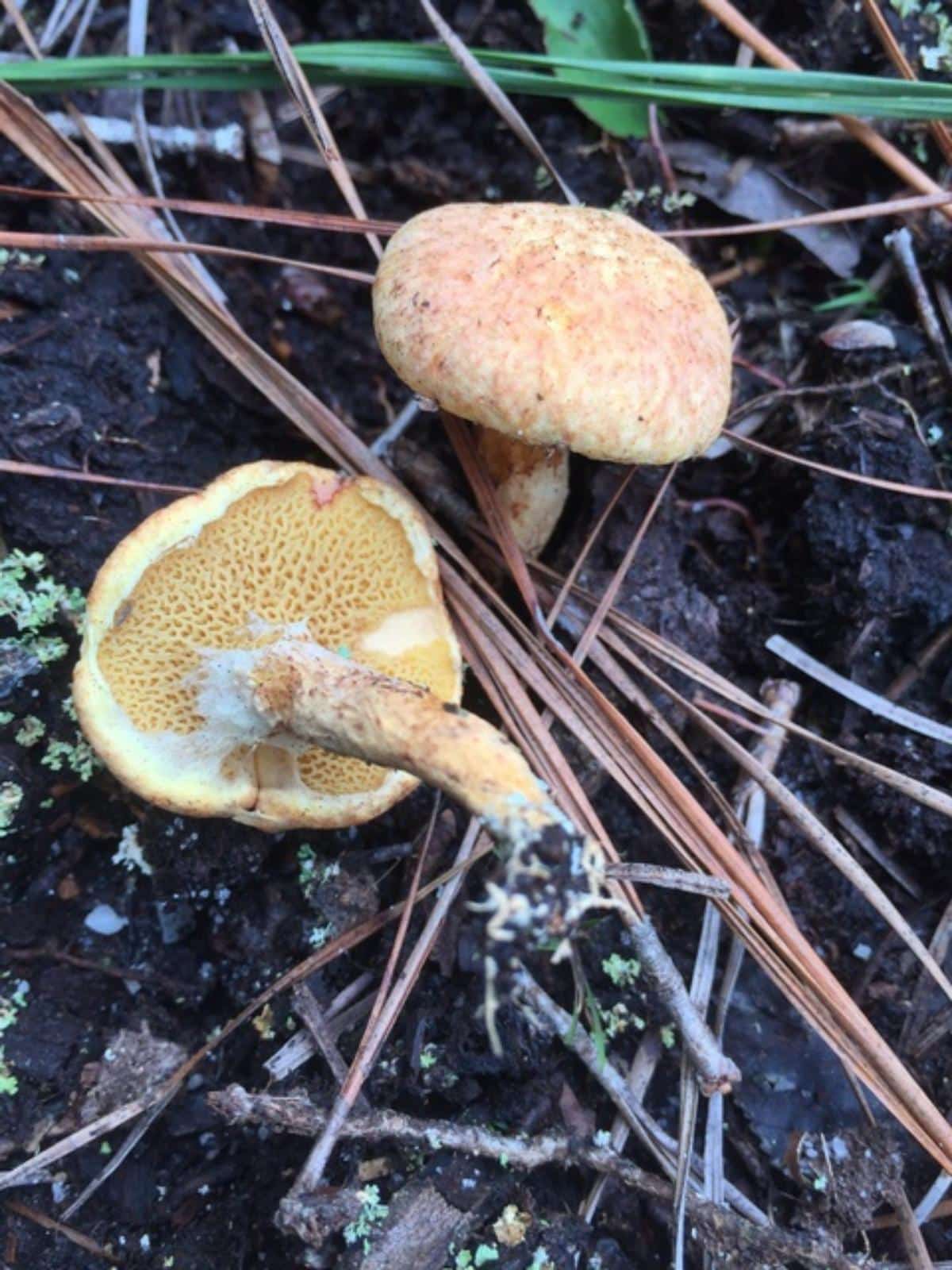 Cooking With The Painted Suillus
This mushroom is an edible species, but its flavor is not particularly strong. It is mild and slightly mushroomy, with a smooth texture. When cooked, the mushroom turns blackish, which is a bit unappealing. Some rate it highly, describing it as "one of the better edibles in the genus Suillus," although this might not be saying much because many foragers decry the entire genus as slimy and inedible.
Before cooking, it is essential to remove the slimy cap surface, which can be easily peeled off like a layer of skin. If the pores are large, it's a good idea to remove them, too (they also peel away easily). After removing the cap cuticle and pores, fry the mushrooms in butter or oil until they become crispy. If they aren't well-fried or crisped up, they have a snail-like texture or something akin to fleshy lox with a dash of slime.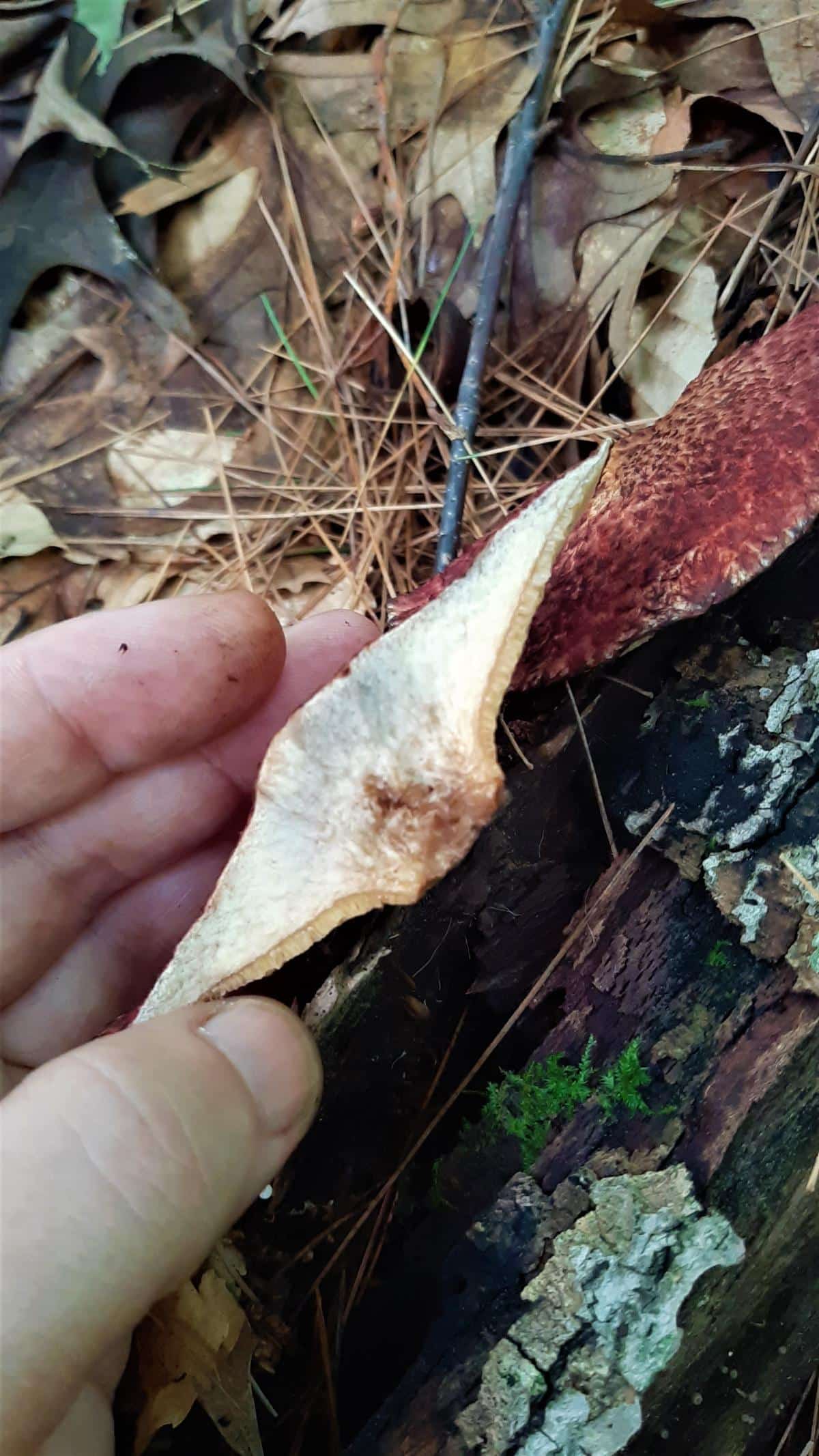 Painted Suillus can be used in a variety of dishes, including stir-fries, soups, and pasta sauces. It pairs particularly well with ingredients like garlic, onions, and herbs. The mushrooms can also be sautéed in butter or oil and served as a side dish or added to omelets and quiches.
To preserve painted Suillus, consider drying, freezing, or pickling the mushrooms. Dried painted Suillus can be rehydrated in water or broth and used in place of fresh mushrooms in your favorite recipes.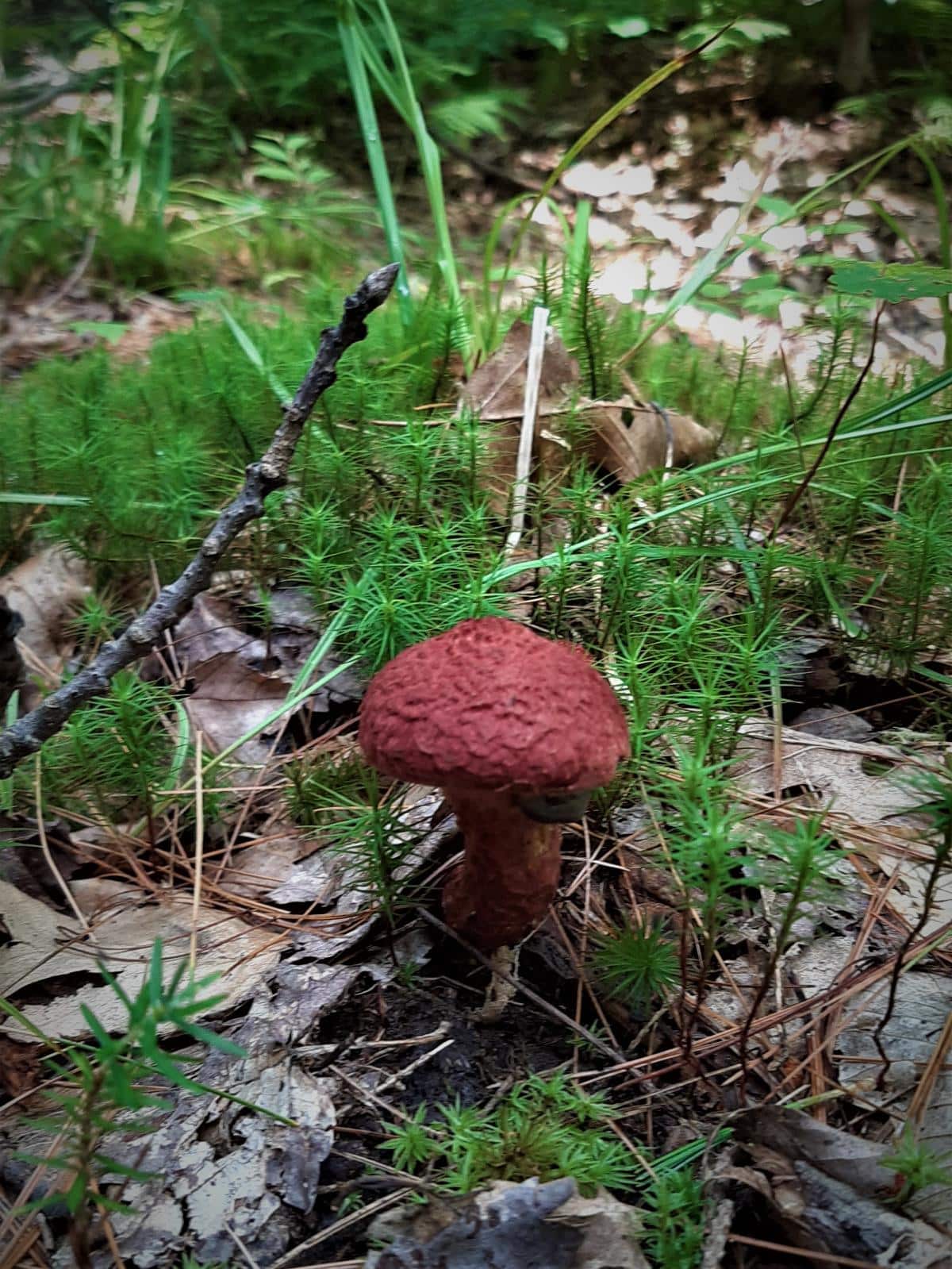 Common Questions About the Painted Suillus
What is the difference between Boletus and Suillus?
Suillus are commonly referred to as boletes, which is a term used to describe pored terrestrial mushrooms found in many areas. However, Suillus is not just any ordinary bolete – it is a unique genus that has its own family called Suillaceae. Despite this distinction, Suillus does share quite a few similarities with the mushrooms in the Boletus genus.
One of the most notable similarities between Suillus and Boletus mushrooms is their overall stature. Both genera have a distinctive shape that is easily recognizable – a bulbous cap on top of a thick stem. However, Suillus mushrooms tend to have a more slimy or sticky cap than Boletus mushrooms.
Another shared characteristic between Suillus and Boletus mushrooms is the presence of pores instead of gills.
Suillus and Boletus mushrooms also share a similar habitat. They are both commonly found growing in forests, particularly in association with trees such as oaks, pines, and spruces. This shared environment is likely due to the fact that both genera have a symbiotic relationship with these trees, meaning they help each other grow and thrive.
The differences are also many — Suillus species almost always have a slimy cap (with the exception of the painted bolete and a few more), grow profusely, in much larger groupings than boletes and with wider ranges, and have different pore shapes.