Mountain Rose Herbs is a leading company in the sale of organic herbal products. Since 1987 they've been known for their high-quality products, ethical business practices, ecological focus, and competitive prices.
They pride themselves in the quality and integrity of their certified organic products, from only negotiating with farms that treat their workers and the environment well to their strict organic handling and purchasing procedures. They never sell stock that's more than a few months from harvest, guaranteeing that you've purchased a fresh and effective item.
All of my experiences with this company have been very positive. They have a fantastic selection of products at good prices, an easy-to-use website with lots of herbal information, and renowned customer service.
For the mushroom enthusiast they have:
Dried reishi mushrooms (whole or sliced) and reishi mushroom extracts.
Dried maitake mushrooms and maitake mushroom capsules.
Dried shiitake mushrooms, shiitake capsules, and a shiitake powder (great in soups!).
They also have a large selection of other merchandise such as:
Bulk herbs and spices – All manner of herbs, spices, salts, seaweeds, and seeds.
Teas – Green teas, black teas, red teas, herbal teas, and tea supplies.
Aromatherapy and essential oils – Sprays, diffusers, oils, and kits.
Bath and body care – Products for bath, body, face, hair, and massage oils.
Home and Garden – Books, gifts, candles, incense, and pet supplies.
Containers – Tins, bottles, jars, and bags. You'll love this section if you, like me, have a weakness for little glass jars.
Much more – From butters, clays, and capsules to tinctures, salves, and waxes.
There are simply too many products to list here so I suggest browsing on your own. Each item has a link with more information so you're always well educated on what you're buying and how to use it. Often they post recipes for creating your own concotions with their products, and their blog is helpful and fun.
The one drawback of this company is that because their items are so fresh, they sometimes run out of certain things (including dried mushrooms). Fortunately they have an option to notify you when it's back in stock.
They also have monthly clearances and specials so there are lots of opportunities to save money. Visit Mountain Rose Herbs today for all of your organic herbal product needs!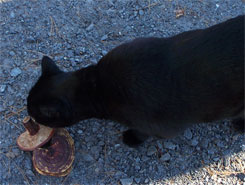 My cat Gavin checks out some dried reishi mushrooms! (Sadly this cat is no longer with me. He was my nature and sewing project buddy. I'll miss this big, friendly guy forever).