With its mesmerizing blood-red cap, red pores, and webbed stalk, Frost's bolete is a true spectacle in the mushroom world. Frost's bolete (Exsudoporus frostii), also known as the Candy Apple Bolete, is also an OK edible, depending on who you ask. Forage this one with caution, and be sure to read up on the lookalikes. Or, skip foraging it and just admire its spectacular demeanor.
Scientific Name: Exsudoporus frostii, synonyms include Boletus frostii and Butyriboletus frostii
Common Names: Frost's Bolete, Candy Apple Bolete, Apple Bolete
Habitat: On the ground, with oak trees and other hardwoods
Edibility: Edible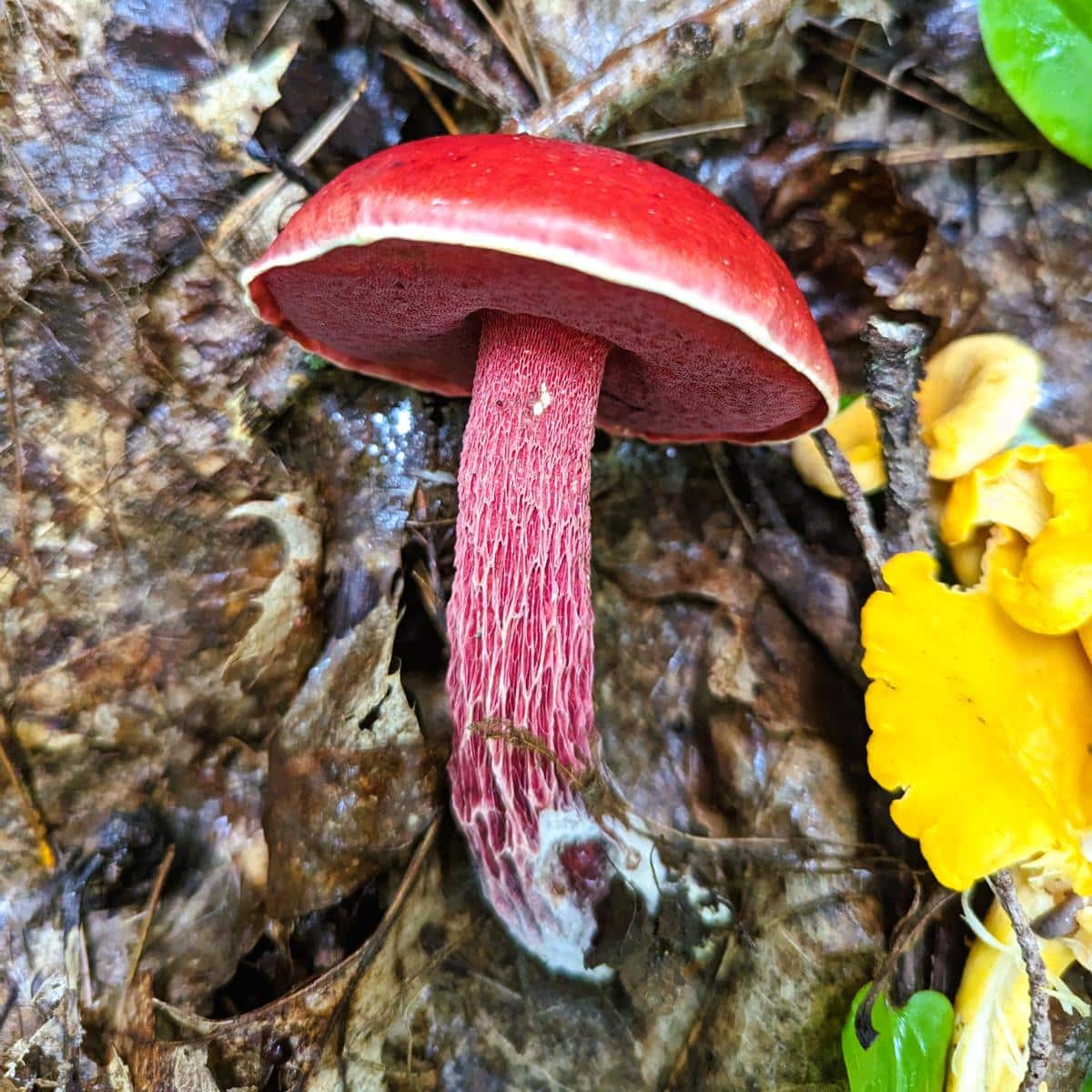 Jump to:
All About Frost's Bolete
Frost's bolete was named by the Unitarian minister John Lewis Russell in 1874; the name pays homage to his friend and fellow amateur mycologist, Charles Christopher Frost. Over the years, the scientific classification of Frost's bolete has evolved, with multiple name changes before settling on its current taxonomy as Exsudoporus frostii. In fact, it has flip-flopped a bunch quite recently. In identification books and guides, you likely will find it listed as Boletus frostii or Butyriboletus frostii.
Culturally, Frost's bolete holds a special place, especially in Mexico, where it is known as "panza agria," meaning "sour belly." This delightful moniker is a reference to the mushroom's acidic/lemony taste.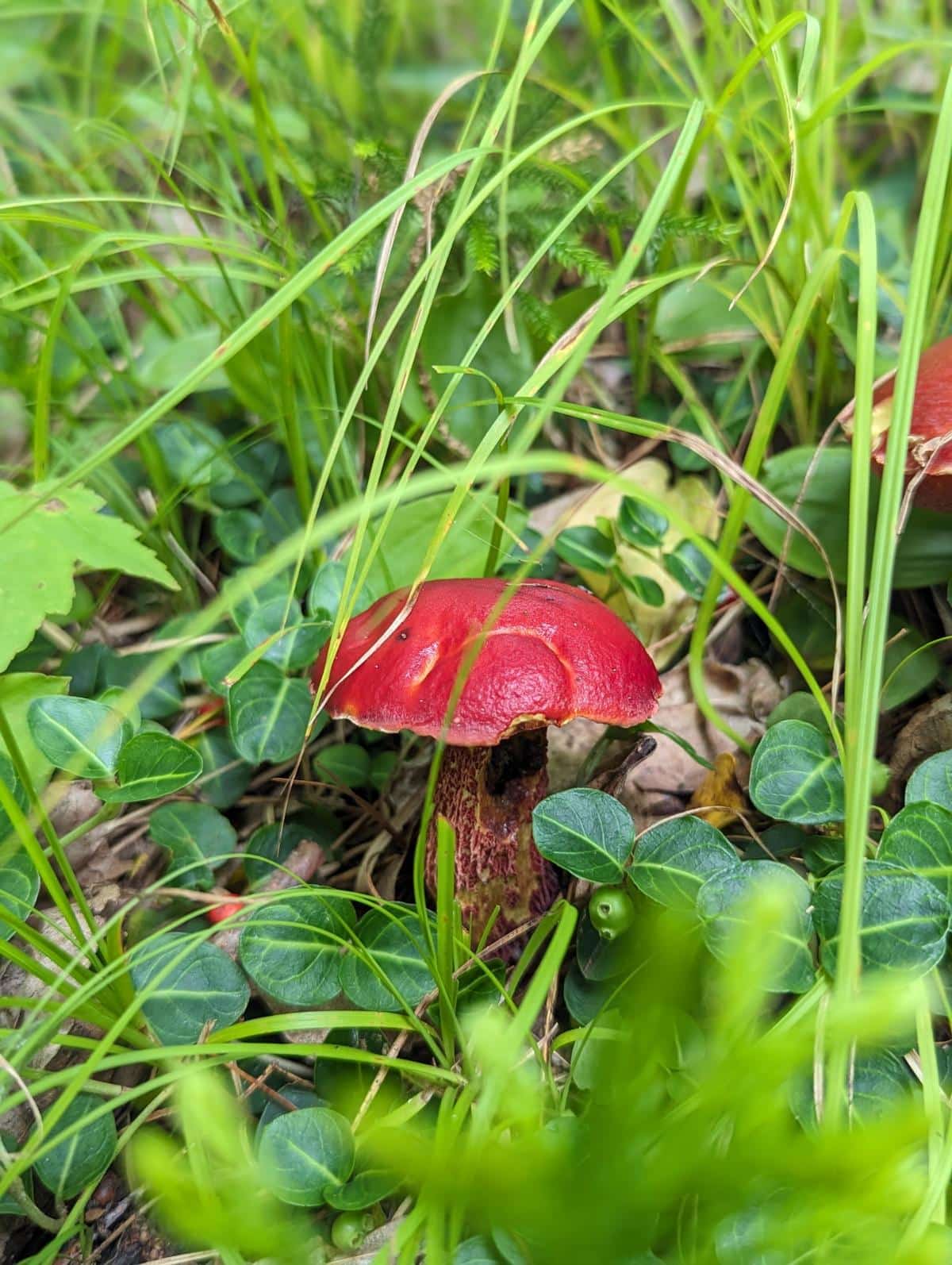 Frost's Bolete Identification Guide
Season
You can encounter these beauties throughout the summer and fall.
Habitat
Frost's bolete thrives in mycorrhizal associations with hardwood trees, particularly oaks. Its range extends across eastern North America, where it is widely distributed, to pockets of the Southwest, Mexico, and Central America.
This mushroom grows scattered on the ground in oak and other hardwood forests. It grows from the ground, never from trees or logs. It may appear singularly or in scattered groupings.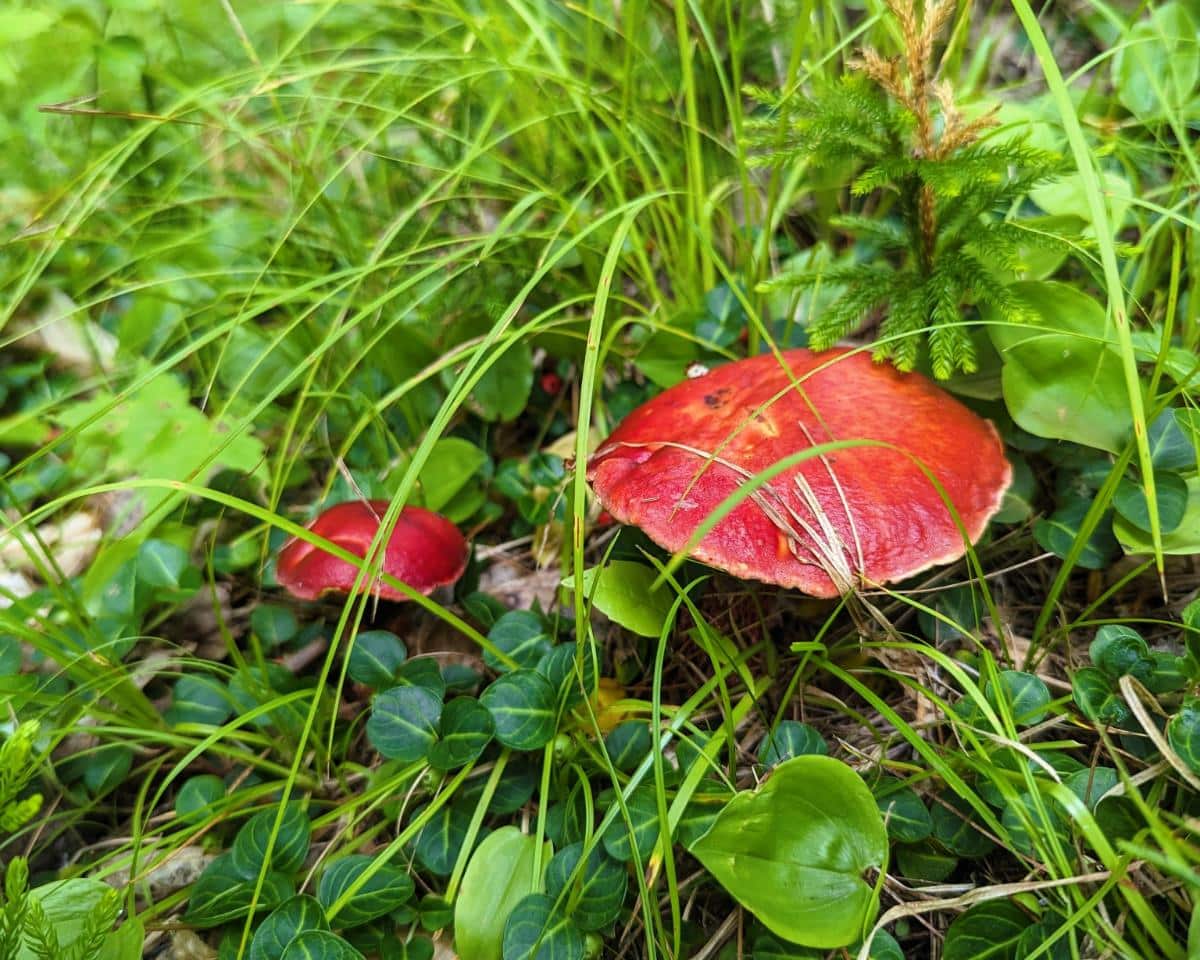 Identification
Cap
The cap of Frost's bolete measures between 2 to 6 inches in width. Its rounded shape gradually becomes flat as it matures. What sets this mushroom apart is its vivid blood-red color, reminiscent of a tempting candy apple. The cap's texture is sticky and slimy when fresh. As the mushroom ages, the red color may fade slightly, and yellowish areas may appear.
Pores
Initially, the pores are dark red, mirroring the cap's hue. With age, the pores turn brownish-red. These pores promptly turn blue when bruised. In young specimens, golden droplets often adorn the pore surface.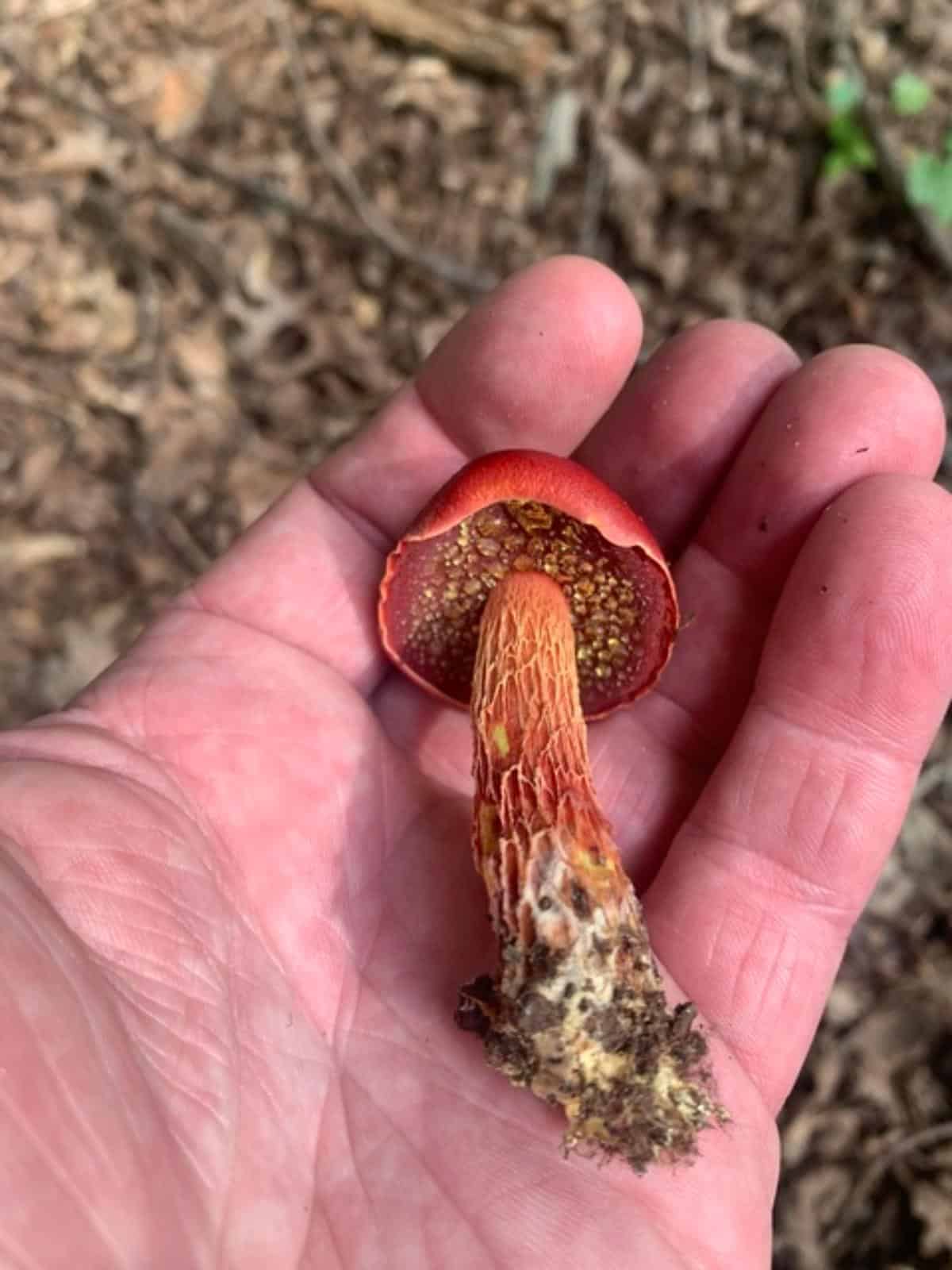 Stem
Typically straight, the stem of the Frost's bolete measures between 1½ to 4¾ inches in length. It is accentuated by raised deep red webbing with a yellow surface underneath, creating a captivating visual contrast. Similar to other parts of the mushroom, the stem also bruises blue when injured. Its texture is deeply reticulated, showcasing intricately woven net-like ridges.
Flesh
The flesh is whitish to yellowish in color, with a reddish hue at the stem base. The moment it is cut, the flesh usually instantly turns pale blue. However, the flesh may exhibit weak or no discoloration in some specimens.
Odor and Taste
Frost's bolete does not possess a distinctive odor. It has an acidic taste, like lemon.
Spore Print
The spore print of this mushroom is olive-brown.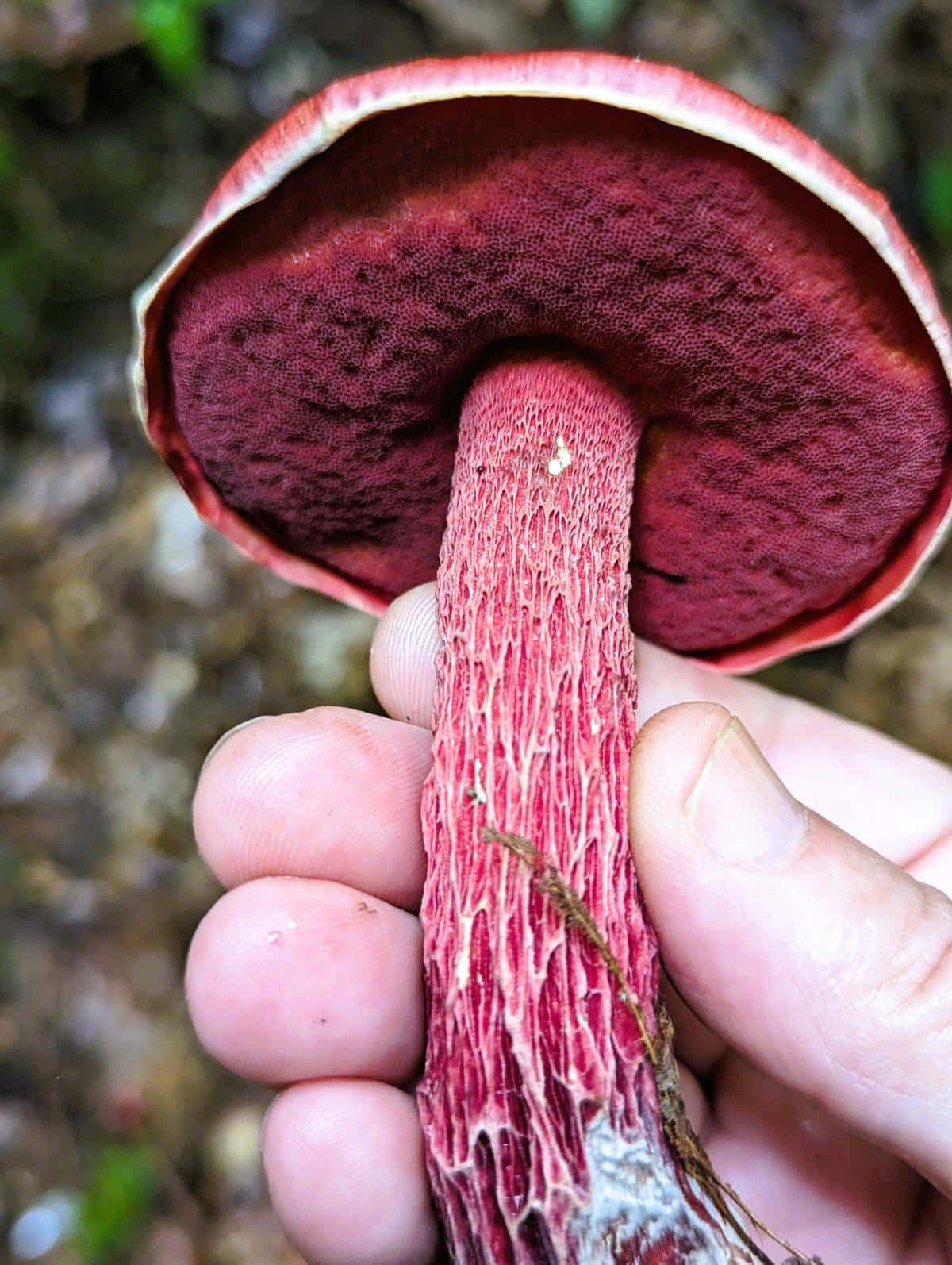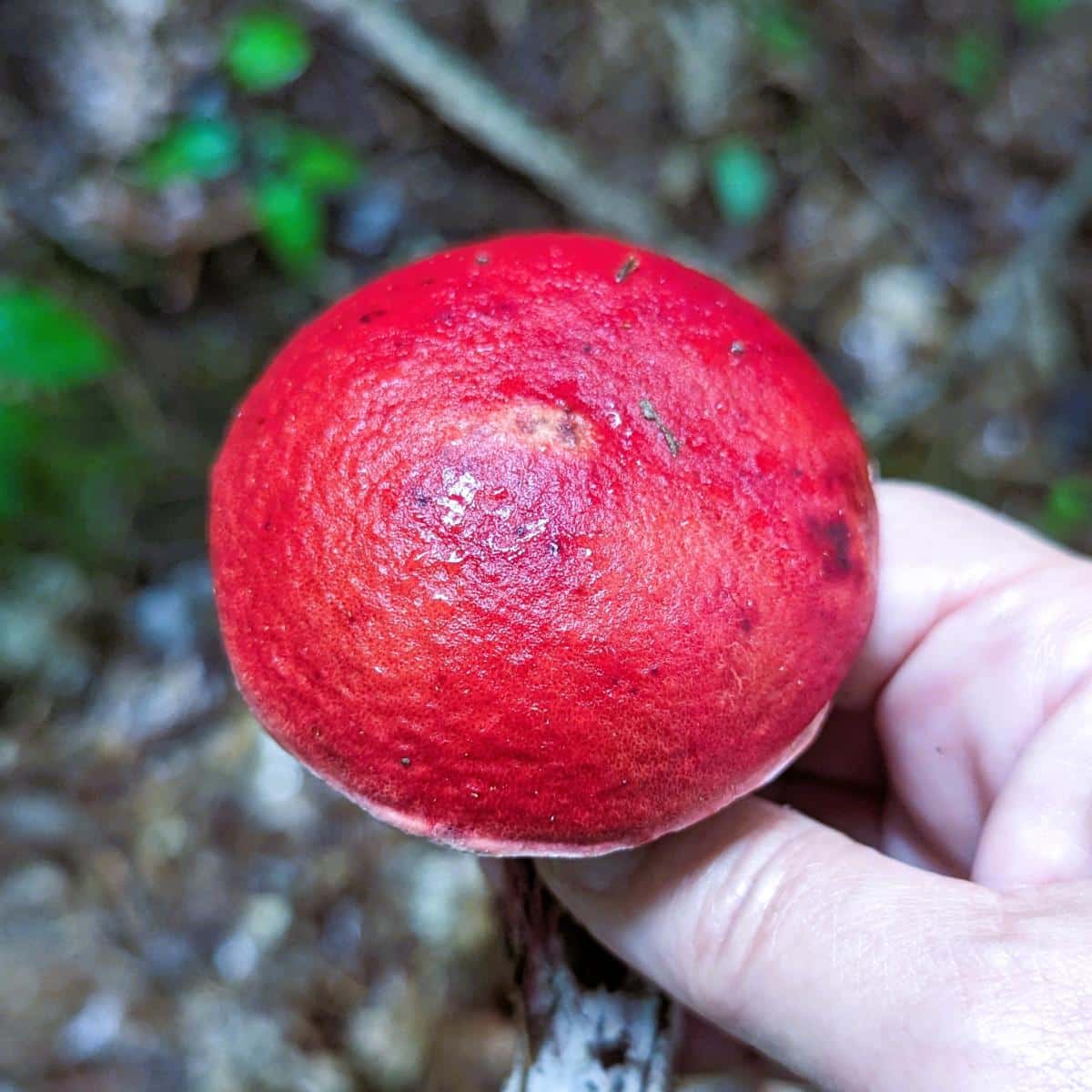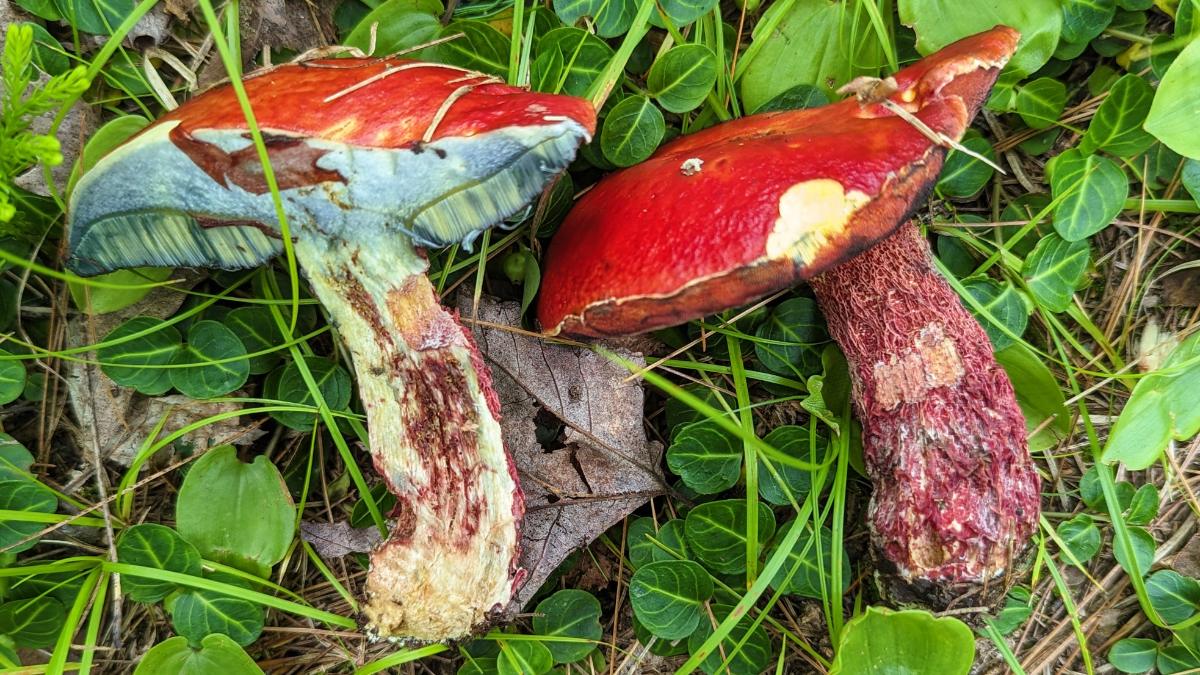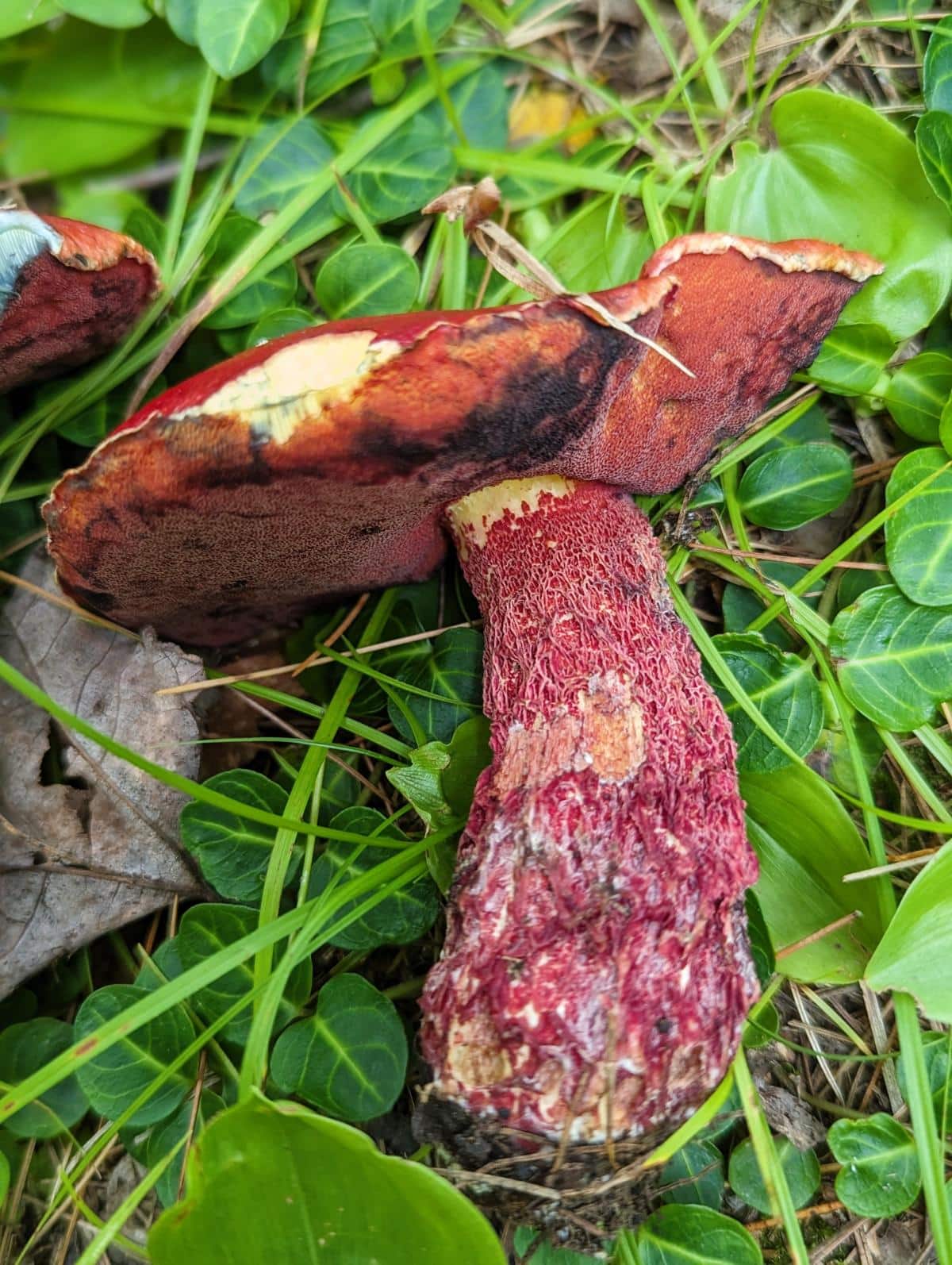 Frost's Bolete Lookalikes
While Frost's bolete possesses distinct characteristics, it's important to be aware of similar species to make sure everything is clear.
Boletus rubroflammeus and Boletus flammans
These species share a similar appearance with red caps and reticulated stems. However, their reticulation is less coarse and distinct than with Frost's bolete. Their reticulation is more like fine netting than deep ridges. B. flammens grows with conifers, which is another difference. Both these species are poisonous, causing extreme gastrointestinal distress, so be sure to pay close attention to the reticulation of what you find.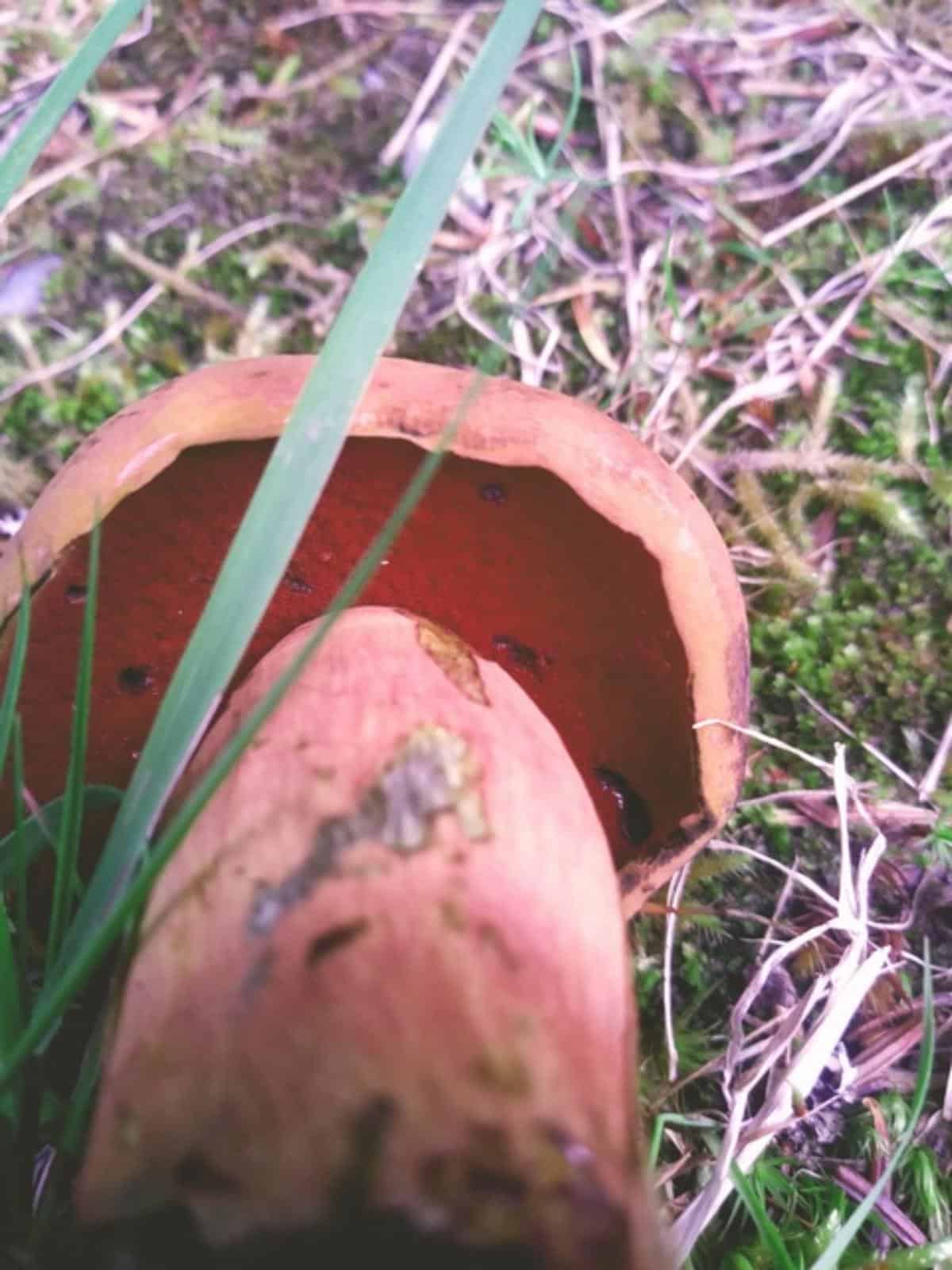 Boletus floridanus
Another lookalike associated with oaks, Boletus floridanus exhibits a lighter cap color and a finely hairy or velvety texture compared to the smooth surface of Frost's bolete. The pores are also yellowish to deep orange. When they're deep orange, they may be confused with the red of the Frost's bolete. This species also lacks the deep stem reticulation. It is also primarily found in the non-tropical areas of Florida, the Gulf States, and lower Atlantic states up to Tennessee and is not reported from anywhere else. This species is edible.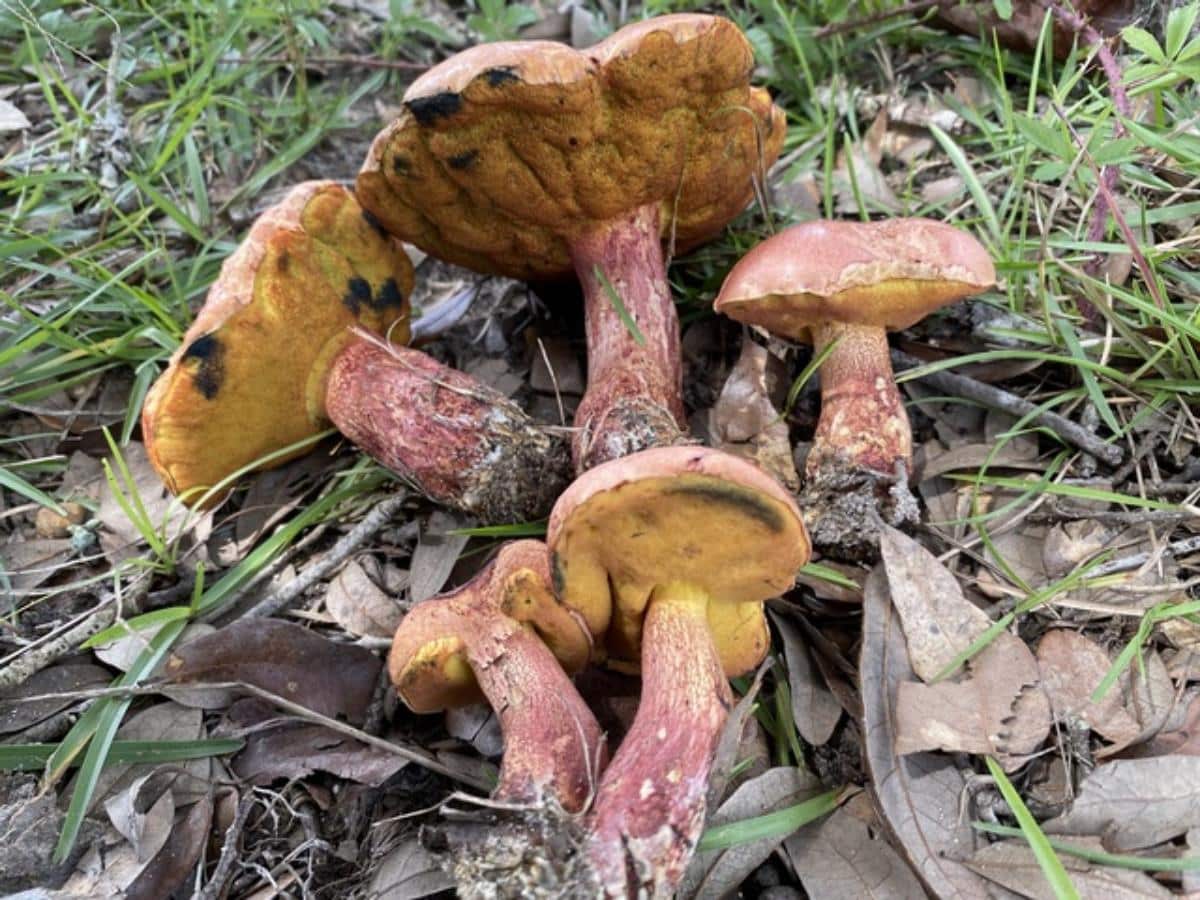 Perfumed Bolete (Boletus rhodosanguineus)
This species also shares a red cap and reticulated stem with Frost's bolete, as well as flesh that stains blue when cut. The reticulation is not as pronounced, being much shallower and less striking (although still beautiful!). The stem is also yellowish or pale pink, which differentiates it from Frost's.
Its pore surface starts out yellow but then turns a deep orange or reddish-orange, making it look a lot like Frost's bolete. When young, the flesh smells of over-ripe fruit. This odor turns perfumy with age and when dried out. While the edibility of this species is unknown, it's probably safe to assume it will make you sick, based on how similar boletes act.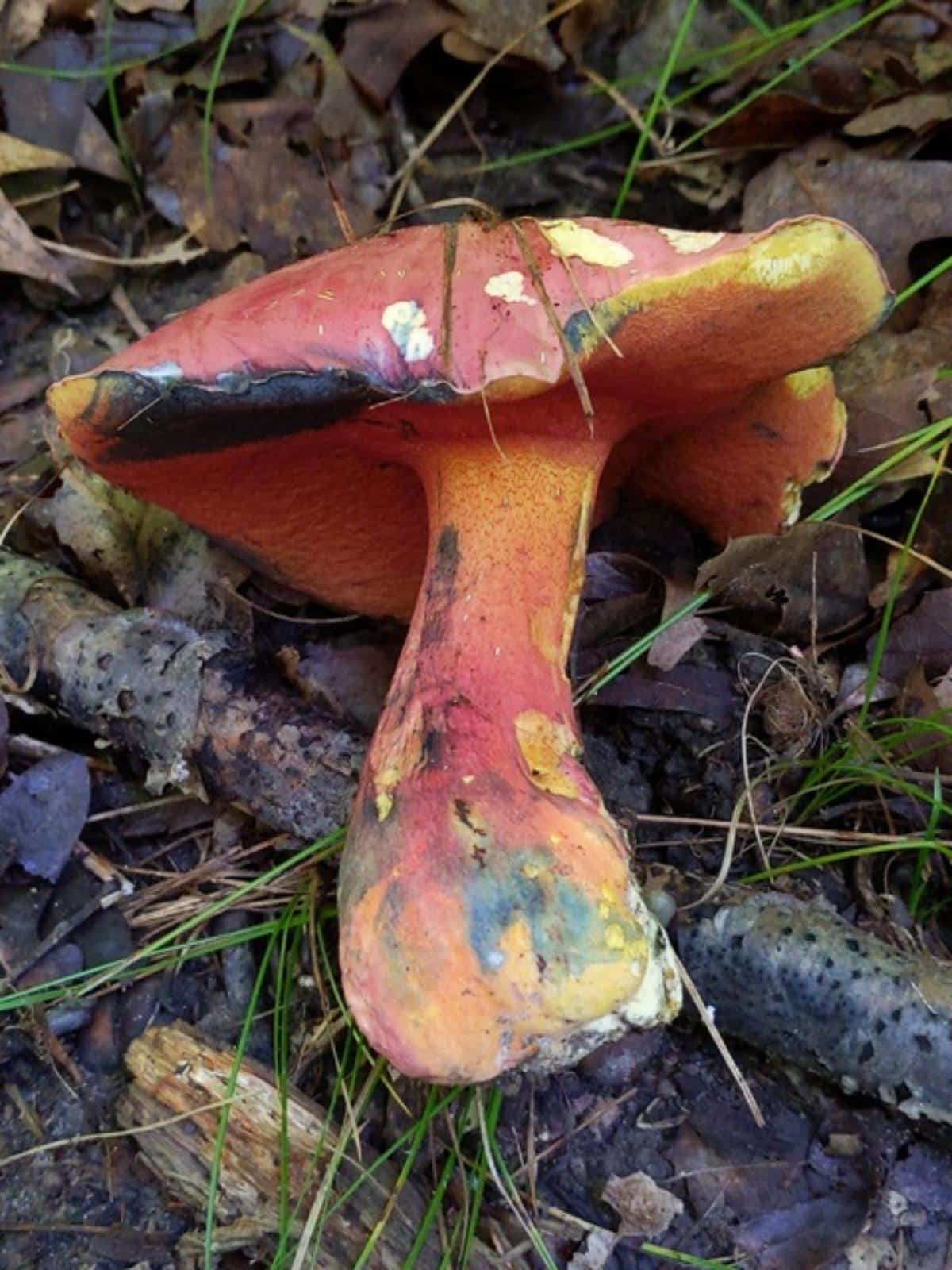 Russell's Bolete (Aureoboletus russellii)
Like Frost's bolete, Russell's bolete has a very coarse and deeply reticulated red stem and red cap. However, the pores are yellow instead of red, and the flesh does not stain when cut. The stem is also very tall in comparison. This is an edible species.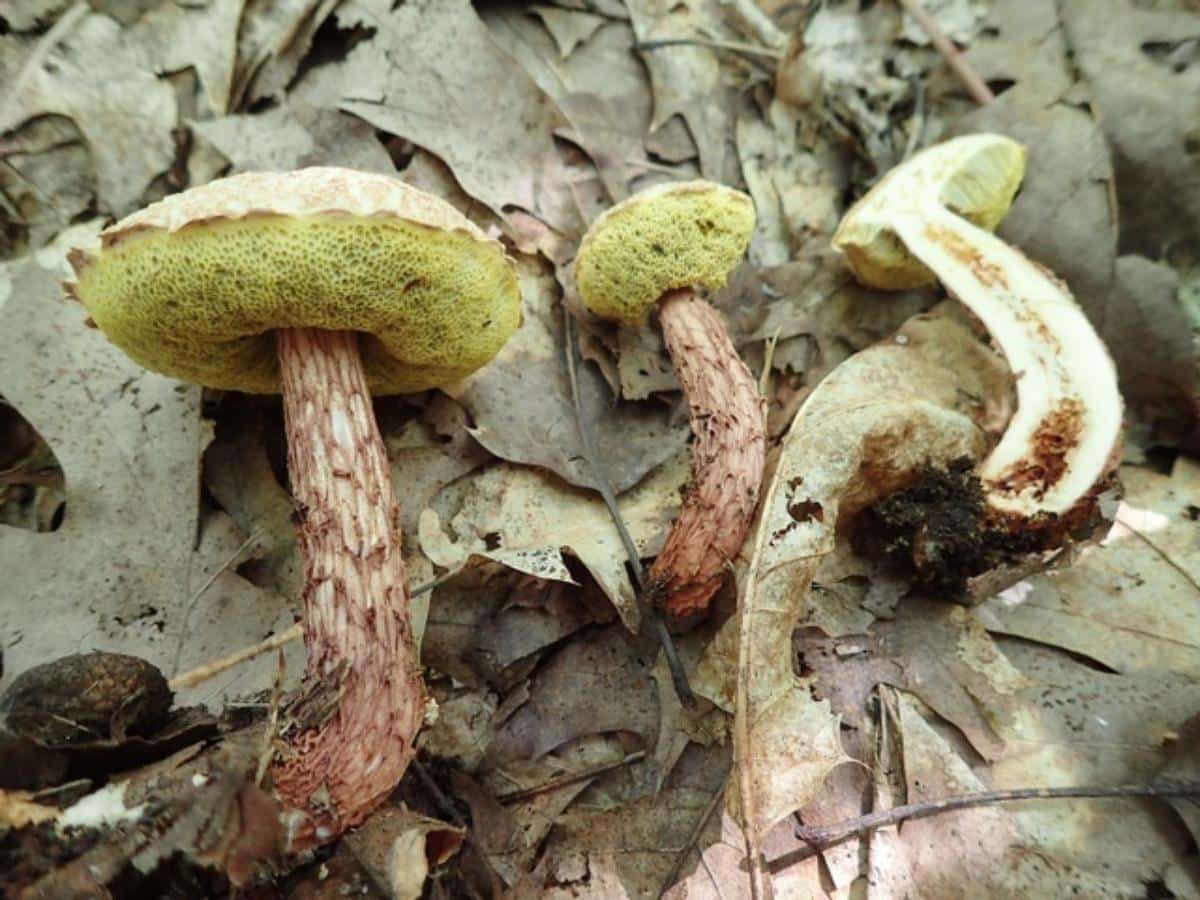 Frost's Bolete Edibility
While Frost's bolete is technically edible, caution is advised due to the risk of confusion with other red-pored boletes that may be poisonous. It is essential to ensure accurate identification before consuming any mushroom. In general, avoiding boletes with orange to red pores and those that bruise blue is recommended for beginners. There's a saying that exists for a reason, "Pores of red—may put you to bed!"
While caution is always advised, the key characteristics of the Frost's Bolete are very distinguishable. Make sure you read up on the lookalikes to avoid collecting nasty poisonous species and you will be fine to forage this one.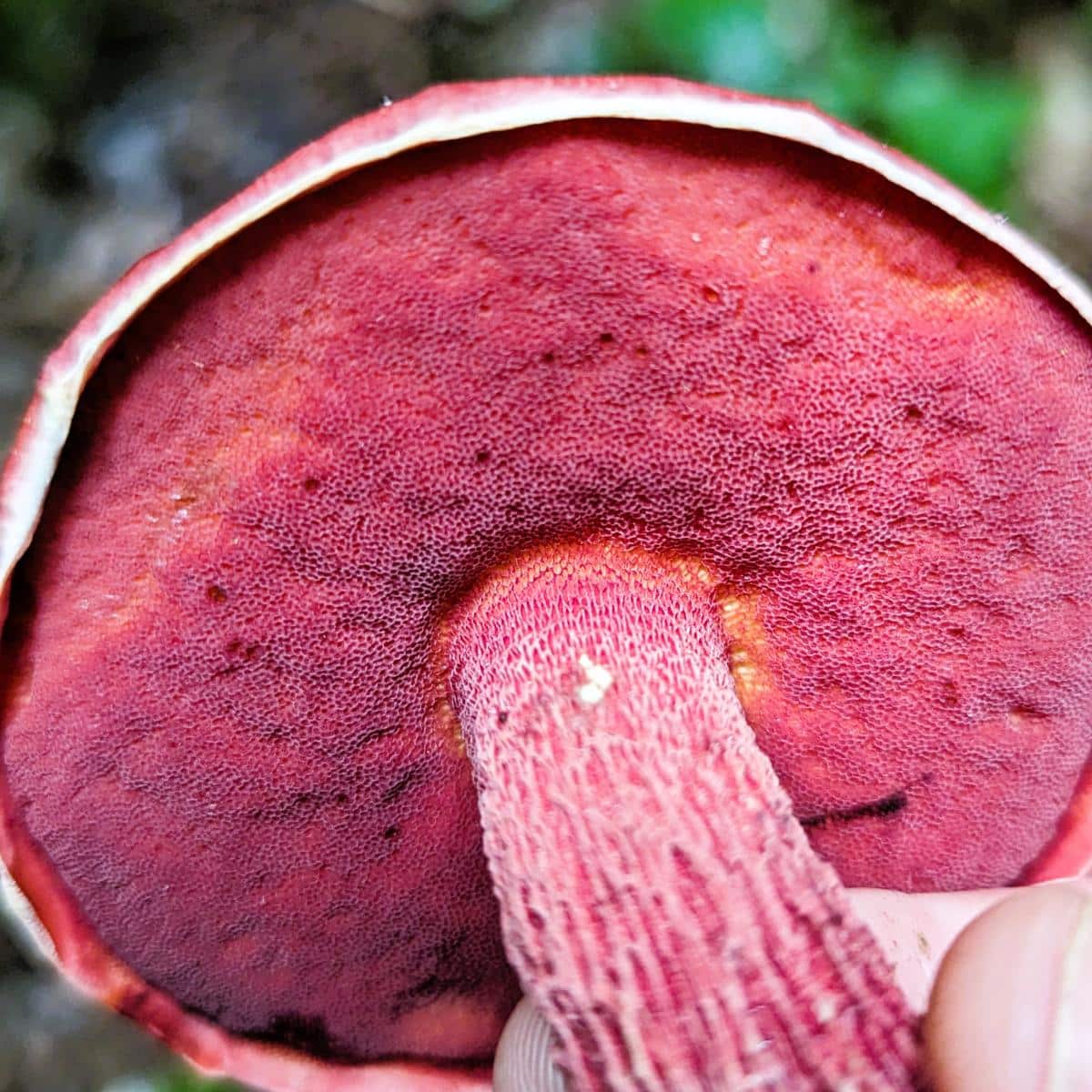 Cooking With Frost's Bolete
If you decide to explore the culinary potential of Frost's bolete, remember, it's up to you to identify and cook it properly. Frost's bolete has a sweet, pleasant, somewhat citrusy taste, leaning towards acidic. Given its unique sour flavor, this mushroom can bring a delightful twist to dishes. Some foragers recommend combining Frost's bolete with other ingredients rather than consuming it on its own. This way, its distinct taste can complement and enhance the overall culinary experience.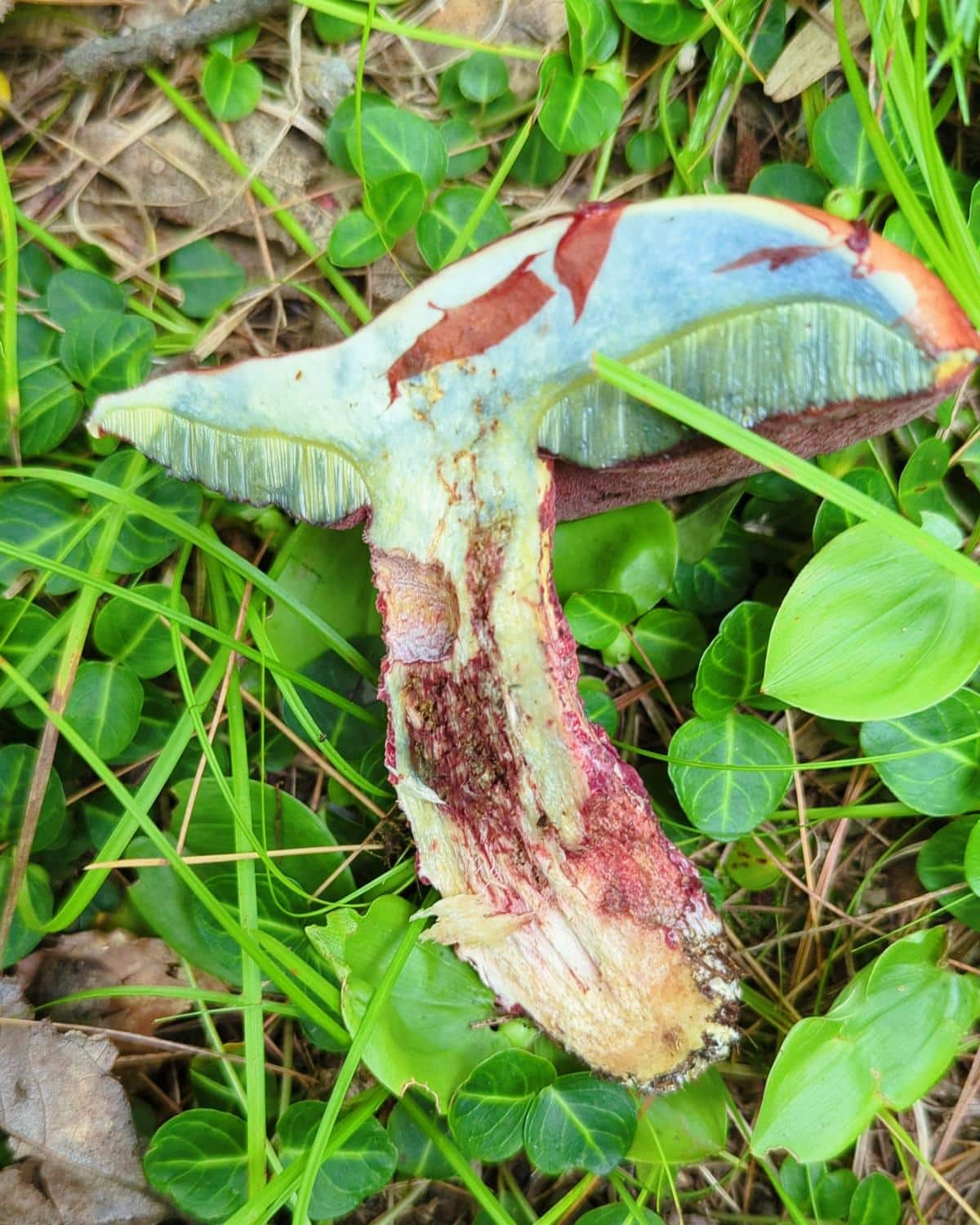 Interested in learning about other Edible Mushrooms? Check out all our guides to Edible Mushrooms in North America
Common Questions About Frost's Bolete
Does Frost's Bolete have medicinal properties?
Frost's bolete does not possess any documented medicinal properties.