Stumbling upon the cauliflower coral (Ramaria botrytis) is a delight – a marvel for the senses and, later, the taste buds. The bright pink coral fungus is gorgeous and edible – a choice eatworthy mushroom species, at that. Cauliflower coral mushroom is often tricky to identify accurately, so you must be extra attentive to this species.
There is another mushroom species that goes by the common name, Cauliflower mushroom. This species (Sparassis crispa) is not the same thing as or related to the cauliflower coral mushroom. Common names are super confusing sometimes!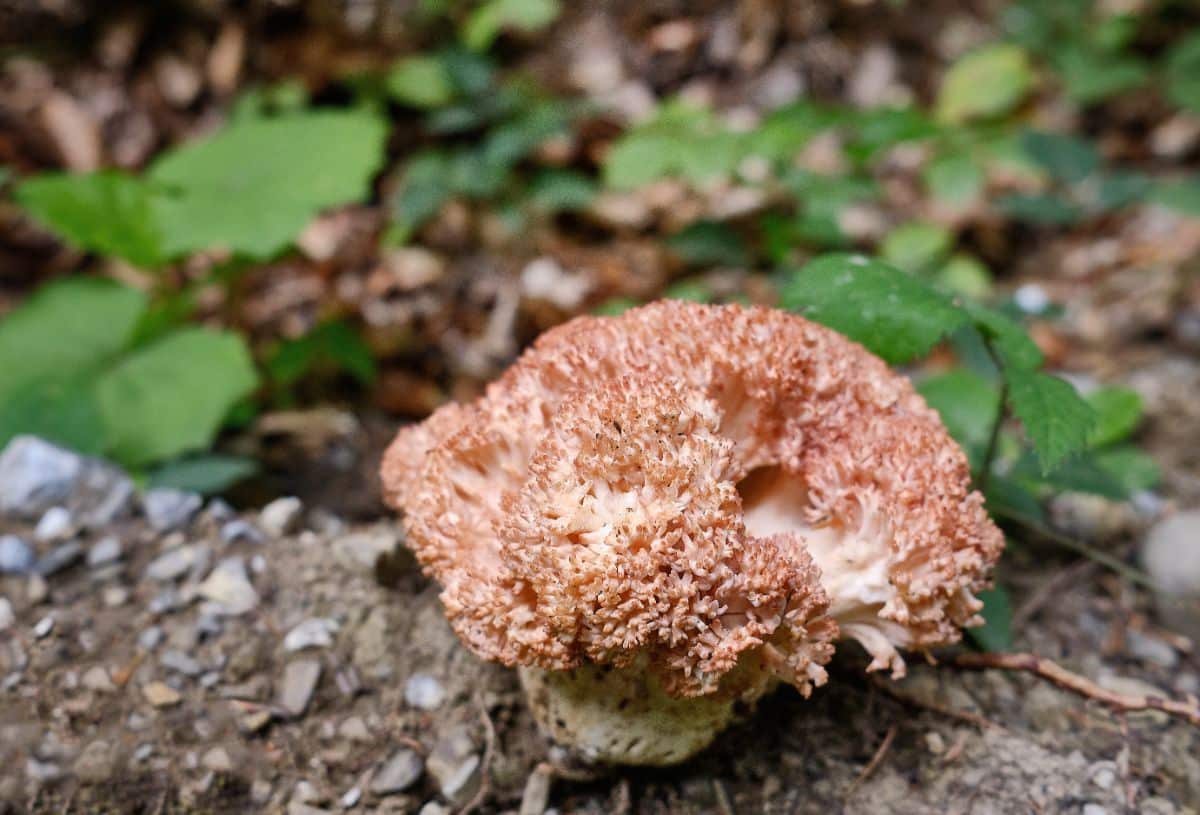 All About Cauliflower Coral Mushroom
This beautiful edible species is also known as clustered coral, rosso coral, and pink-tipped coral mushroom. It gets relatively large and looks remarkably like a massive pink coral from the ocean. It is widespread across North America and also occurs in Europe, North Africa, Asia, and Australia.
It is widely foraged for food wherever it appears. In Italy, it is pickled in oil or stewed. Cauliflower coral is a common find in markets in Asia, where they are a choice mushroom.
The cauliflower coral mushroom is being studied for its medicinal use. In laboratory tests, the fruit bodies demonstrated antimicrobial activity against some strains of drug-resistant bacteria that produce diseases in humans.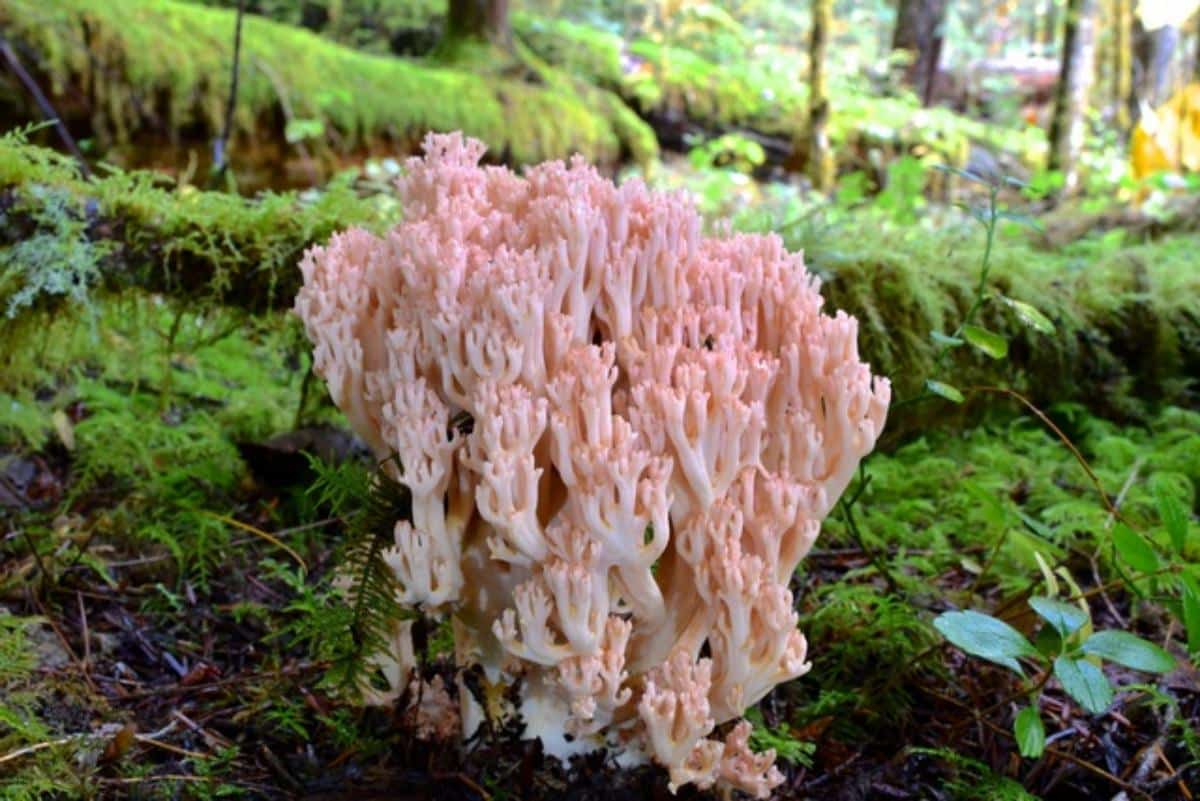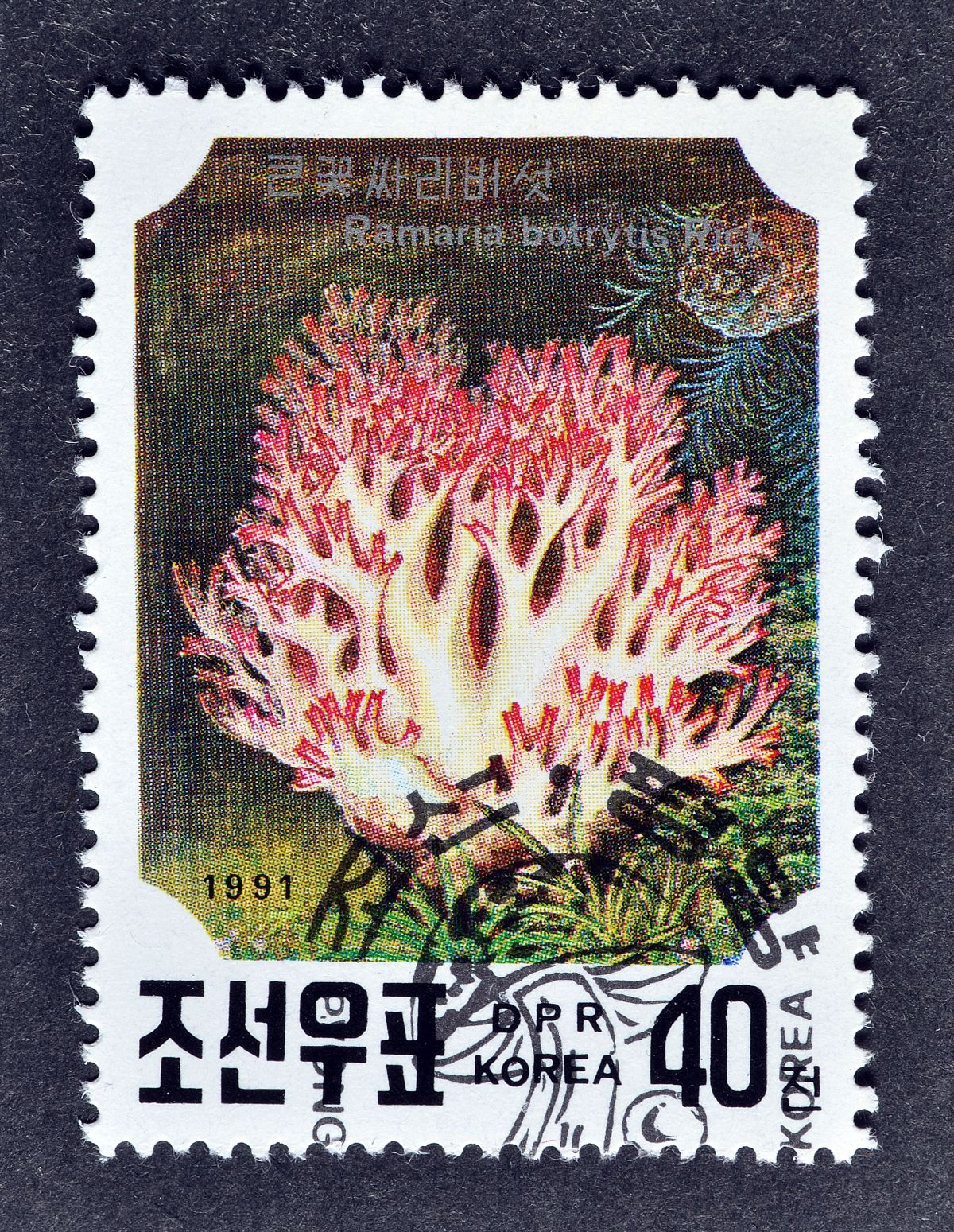 Cauliflower Coral Mushroom Identification Guide
Season
Summer and fall in most areas, winter and spring in warmer climates
Habitat
The cauliflower coral mushroom grows mycorrhizally with broadleaf trees, beech in particular. They grow on the ground, never from trees or wood. Specimens grow singularly, in scattered groupings or small flushes. This coral fungus also appears in fairy rings.
Cauliflower coral is a type of "snowbank fungus," which means it is not uncommon to see it growing near the edge of a melting snowbank in spring. There are many species that have adapted to fruit as soon as possible, even before snow is entirely gone from the land.
Ramaria botrytis is widely distributed across North America but is most common on the Pacific Coast and in the southeast.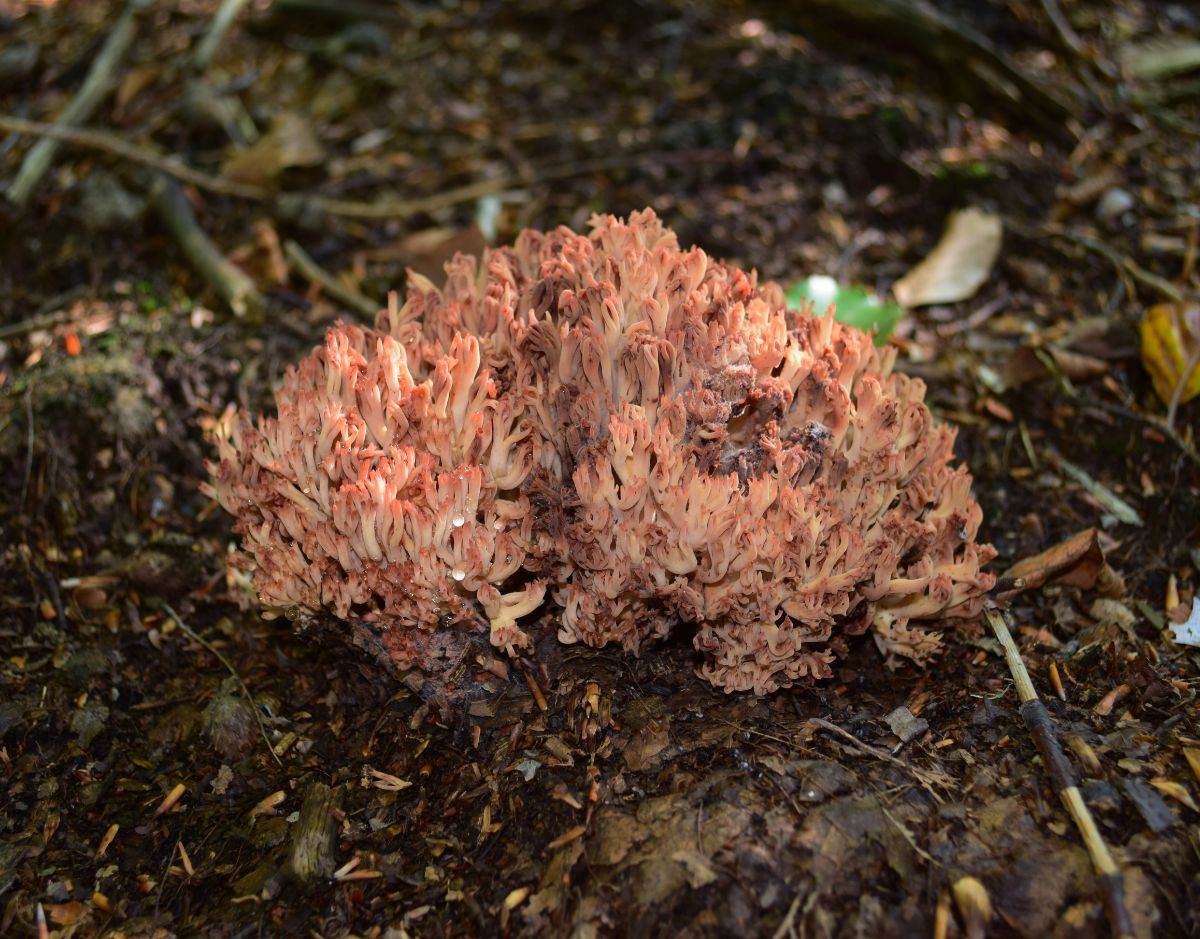 Identification
Coral fungi don't have caps and gills like more commonly known mushrooms. Instead, they have bodies that rise up like coral on the ocean floor with many branches.
Cauliflower coral fruit bodies are fleshy, with a stocky central stem and hundreds of pink branches. They range in size from 2.5-8 inches tall and 2-12 inches wide. The way the short branches cluster together en masse toward the top makes it look like a cauliflower sitting in the woods, hence its common name.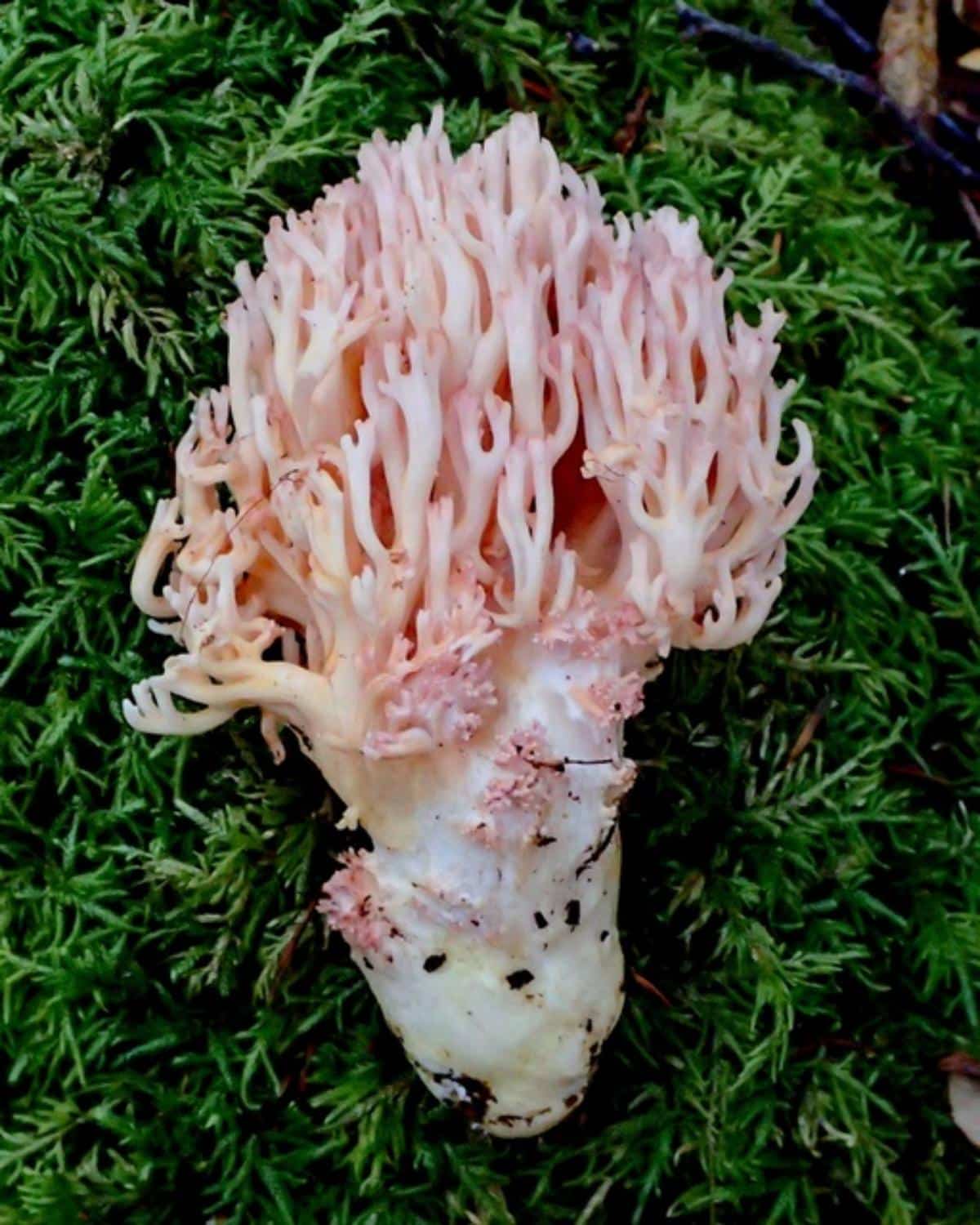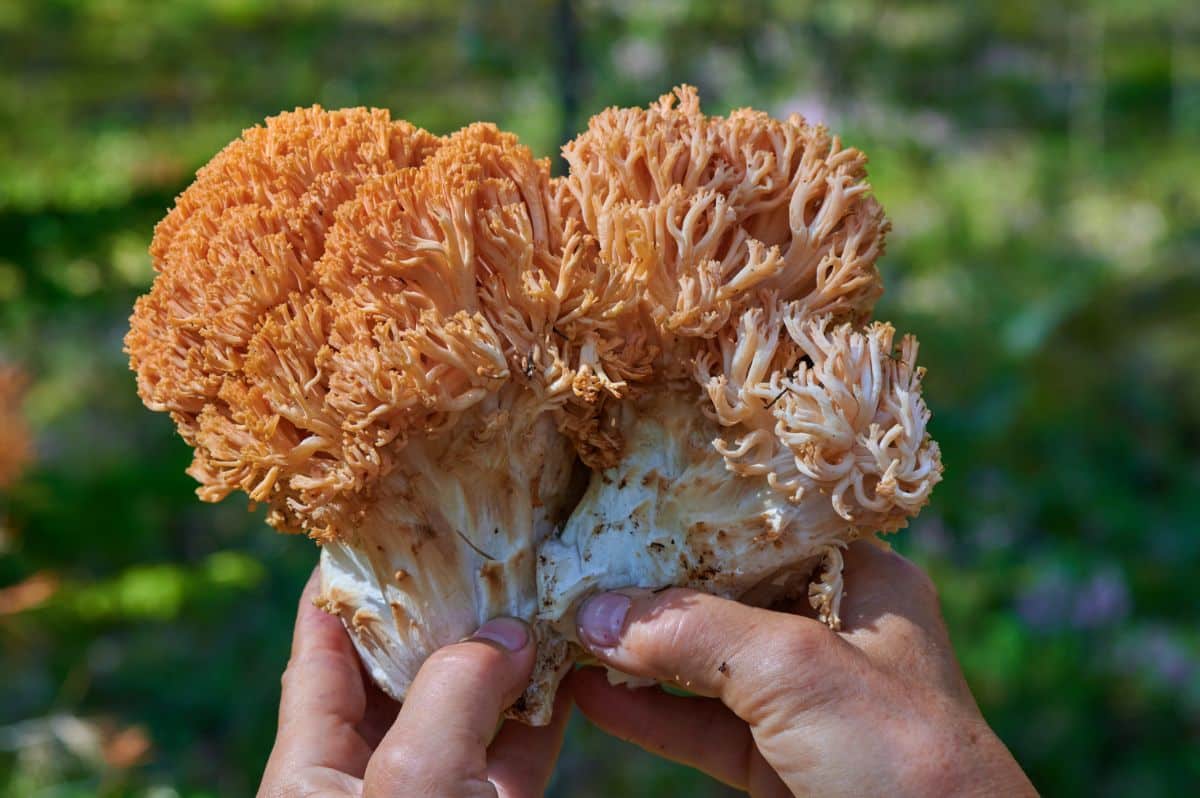 The main body is whitish, or buff in color, and the tips of all the branches are bright pink. With age, the branches and stem change from light yellow to buff to beige. Some even turn all buff-white in age. Identification after they turn beige is more complicated – the eye-catching purplish-pink tips greatly help.
Cauliflower coral mushroom stems are thick and narrower at the base, often giving them a bulbous appearance. Usually, a few branches come from the central base; then, those stems branch out repeatedly to create a dense cluster. The smooth branches grow irregularly, with thicker branches near the base and smaller, slender branches at the top. Each branching cluster is short, stubby, and tends to end with 5-7 branchlets with pink tips.
The flesh of the cauliflower coral is white and dense and doesn't change color when cut. It might smell pleasant or not have a noticeable scent.
The overall appearance is a stocky, dense whitish stem (just like the cauliflower vegetable) with a crown (or head) of short, branching stems clustered together (just like the cauliflower vegetable). The pink tips are the only non-cauliflower-vegetable trait and those fade with age. This stout fungus is impressive in size and density, which easily sets it apart from other looser-shaped coral fungi species.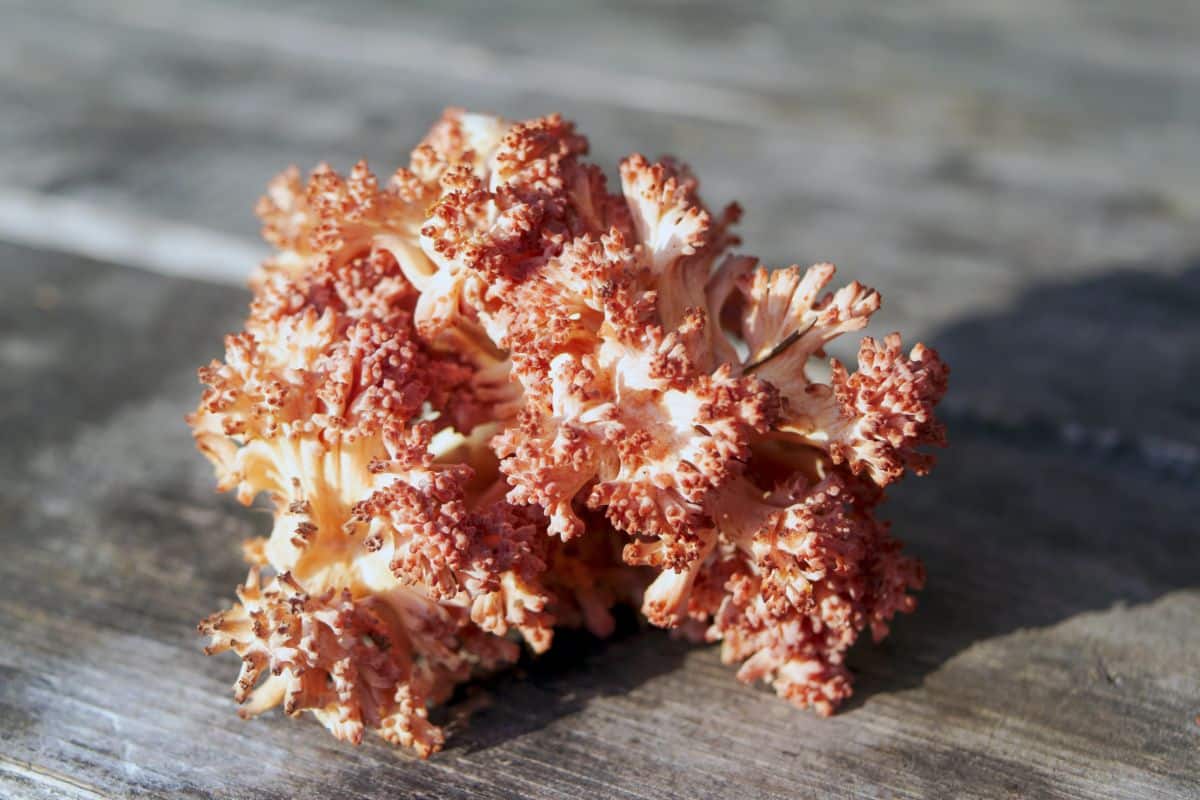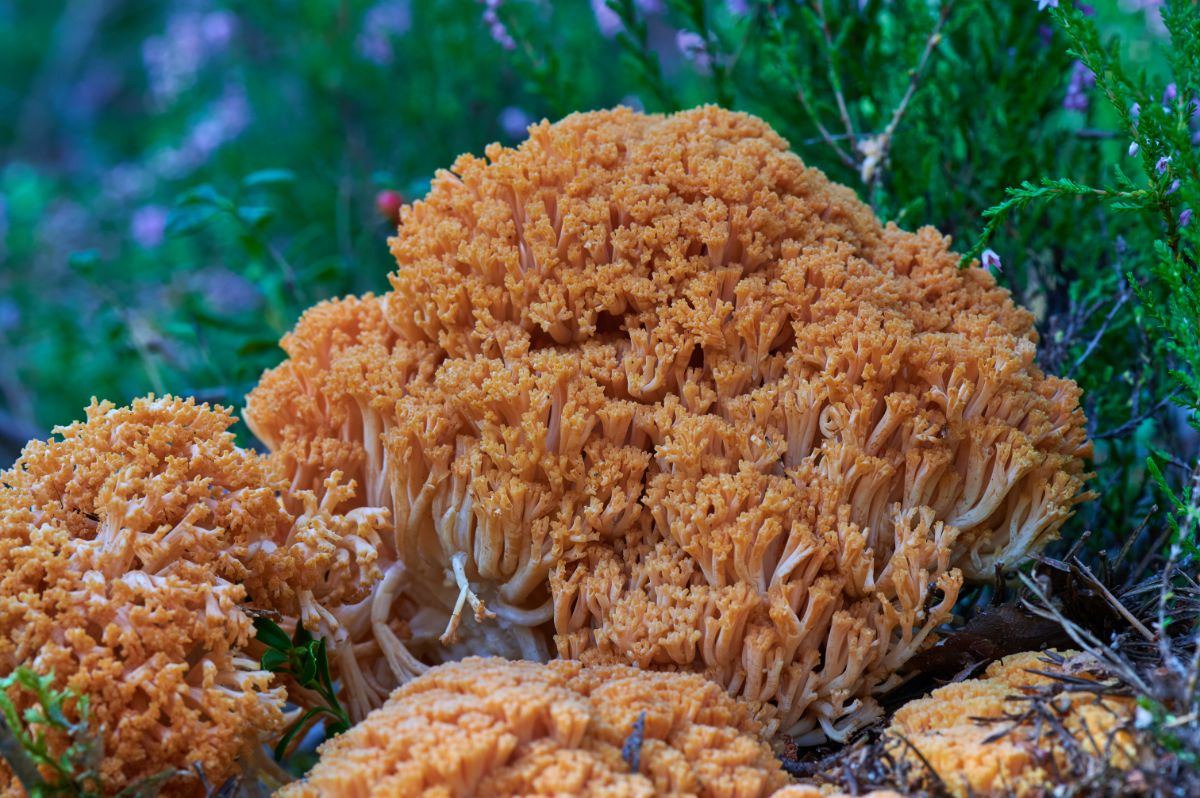 Cauliflower Coral Mushroom Lookalikes
Many species of Ramaria look similar to the cauliflower coral, but there are some key ways to differentiate them.
Ramaria formosa – this is the most commonly confused species. R. formosa has coral-pink branches that look similar to the cauliflower coral. However, the pink coloring is on the entire branch, not just the tips, and the tips are yellow, not pink. It ages quickly, too, and loses its bright coloring. More often, it is found with an entirely tannish-beige body and tips.
The primary point of distinction between this and the cauliflower coral fungus is the body coloring – the cauliflower coral is white with pink tips; R. formosa is pink with yellow tips. Once they both lose their bright colors and turn beige, they're much more difficult to tell apart. R. formosa will be beige all over, while R. botrytis is also all beige, but the base has a lighter base, and the top branches or "head" is darker beige-brown (usually).
Other coral mushrooms
Coral mushroom species are a vast family with many related and unrelated genera. Many are not pink, so they are easily differentiated from the cauliflower coral in youth. The best way to distinguish the cauliflower coral from other corals is to follow the identification points listed in the next section.
Key Cauliflower Coral Fungus Identification Points
Match your coral to all these points, and you most likely have a cauliflower coral mushroom.
Top looks like a cauliflower. The branchlets are short and clustered at the top, just like how cauliflower and broccoli look with their stems and heads. Many coral mushroom branches are straight or loosely gathered without a large stem (base) – those are not the cauliflower fungus.
Chunky stem, like a cauliflower, often rounded or bulging.
Proportions are more stem than branching tips. Most other corals are lots of branches without much stem.
Short, stubby, and crowded tips, like the florets of cauliflower.
Pink tips
Grows from the ground, not wood or trees.
Flesh is white, dense, and easily sliced.
Smell is mild, maybe a little fruity, and so is the taste, i.e., not bitter!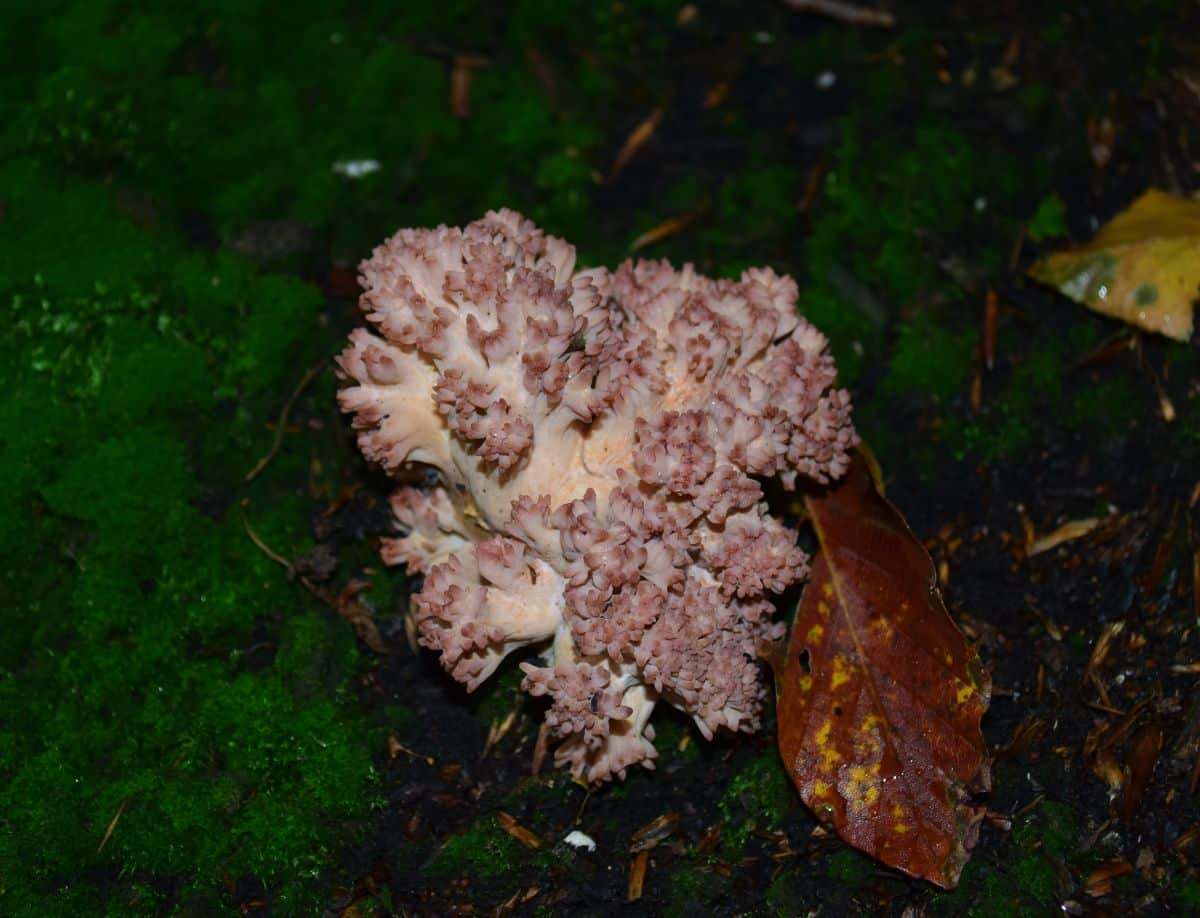 Foraging The Cauliflower Coral Mushroom
The best cauliflower coral specimens are young, tightly clustered, and still have their pink tips. Once the fruit bodies age, they develop an acidic quality and aren't great to eat. Look for specimens that are firm, look easily sliceable, with tips that won't crumble or break easily. Crumbly, fragile tips are a sign of age.
Finding the cauliflower coral and then finding a good specimen are challenging in most areas. While the species is widespread, they're not super common. Luckily, they grow back in the same spot or area year after year, so if you find one, bookmark that location!
It's a good idea to do a taste and spit test before harvesting to ensure the fungus isn't bitter due to age or because it's not a cauliflower coral. This mushroom should taste pleasant and light.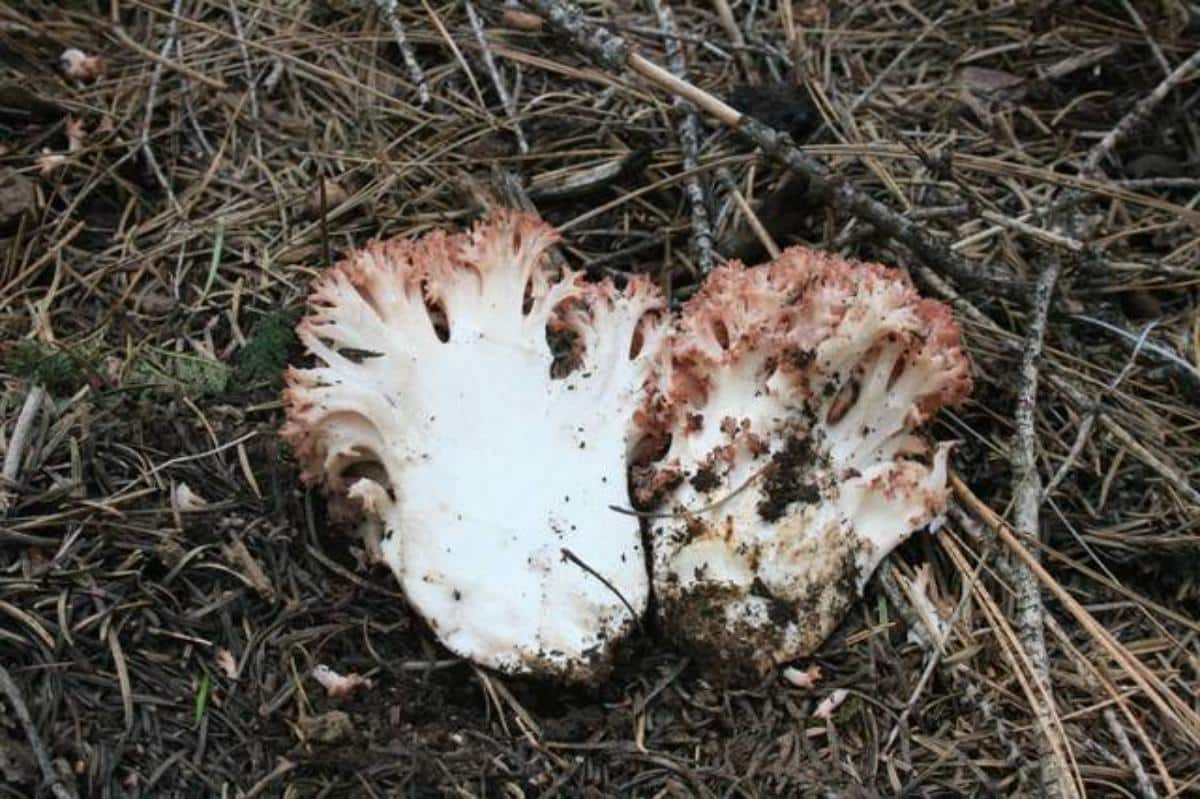 Cooking With Cauliflower Corals
The flavor of the cauliflower coral is light and fruity. It is said to taste like pea pods, green peanuts, or sauerkraut. The flesh is dense, firm, and slices easily. These mushrooms hold their shape during cooking and taste great roasted, fried, grilled, pan-fried, and pickled.
Cauliflower coral mushrooms lose their color quickly after harvesting. And, of course, it's that beautiful pink that disappears. A night in the refrigerator, and they will turn tan and bland-looking. This does not impact their edibility, but this could be frustrating if you were hoping for a visually stunning dish.
To prepare this mushroom, cut it up into smaller pieces and swish them through a bowl of cold water. Repeat this several times, then dry them off with a towel. This process removes most of the dirt and bugs; thankfully, there isn't much. Trim off any other dirty areas, or wipe them down well.
There aren't many recipes out on the interwebs for cauliflower corals. Do you have a favorite recipe or preparation method? We'd love to hear it!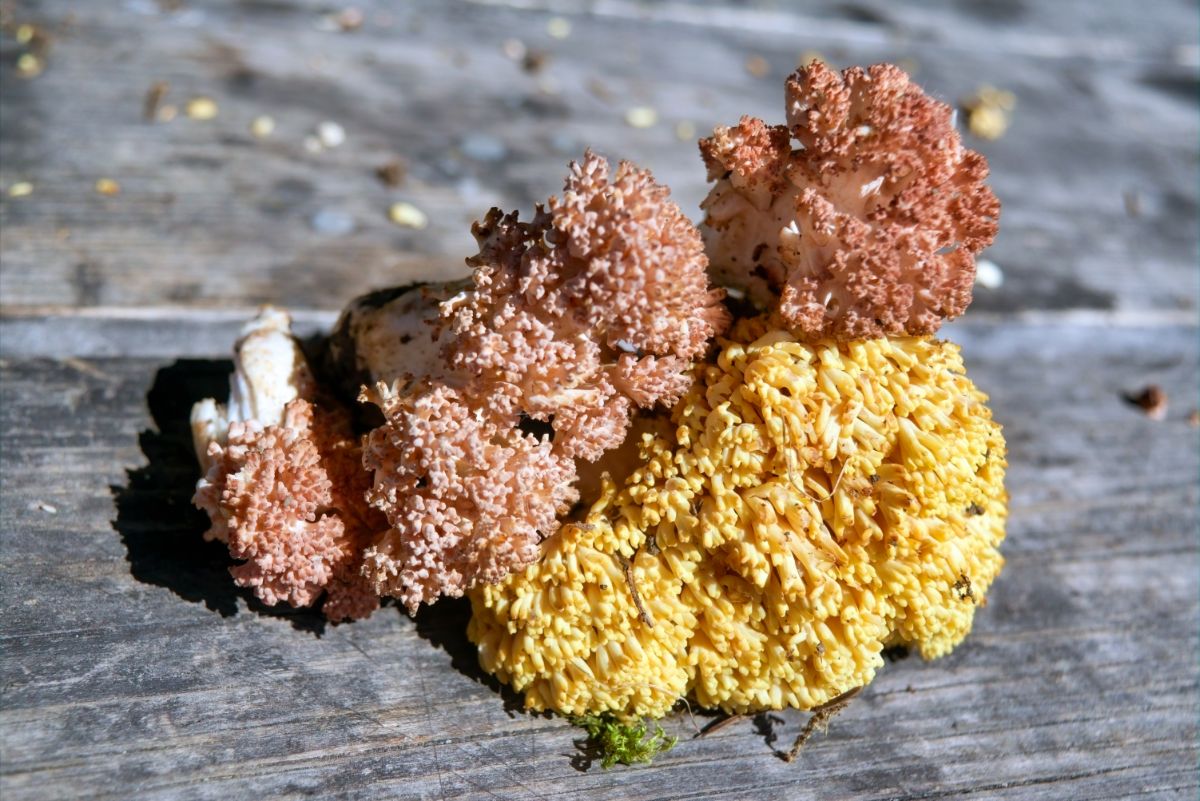 Common Questions About Cauliflower Coral Fungus
Are all Ramaria species edible?
No, in fact, some are toxic or poisonous. Please be extra attentive foraging this coral mushroom species.
How can I get rid of coral mushroom fungus in my yard?
Coral fungus is opportunistic and adores rich, wonderfully mulched habitats. There is no way to rid your yard or garden of this fungus unless you want to dig up all the mycelium in the soil. You can pick the fungus as soon as you see them to prevent them from releasing spores and spreading further.
However, the fungus already there will return every year in the same spot as long as there are nutrients for it to feed on. This isn't necessarily a bad thing. First off, it's a sign you have a healthy landscape. Second, if it's the cauliflower coral species, you've got dinner!