Laughing Gym is a large, deep brownish orange-colored mushroom that might send your mind sailing to outer realms if you eat it. Or may send you running to the bathroom. Or the hospital. This common species has a lot of folklore around it. And a lot of confusion when it comes to North American species. And, as if that isn't complicated enough, it also has some very troublesome lookalikes. Maybe the common name comes from how confusing it is to identify this one – it's a laugh even to try?! Or, you'll go raving laughing mad if you try?
This guide covers all the "Laughing Gym" species in North America as best as can be done. It is a complex species group, with more work to be done and likely changes to come in the future.
Scientific Name:

Gymnopilus junonius, syn Gymnopilus spectabilis, species complex

Common Names:

Big Laughing Gym, Laughing Jim, Spectacular Rustgill, Laughter Mushroom

Habitat:

From rotting wood, which may or may not be visible.

Toxicity:

Toxic/Potentially hallucinogenic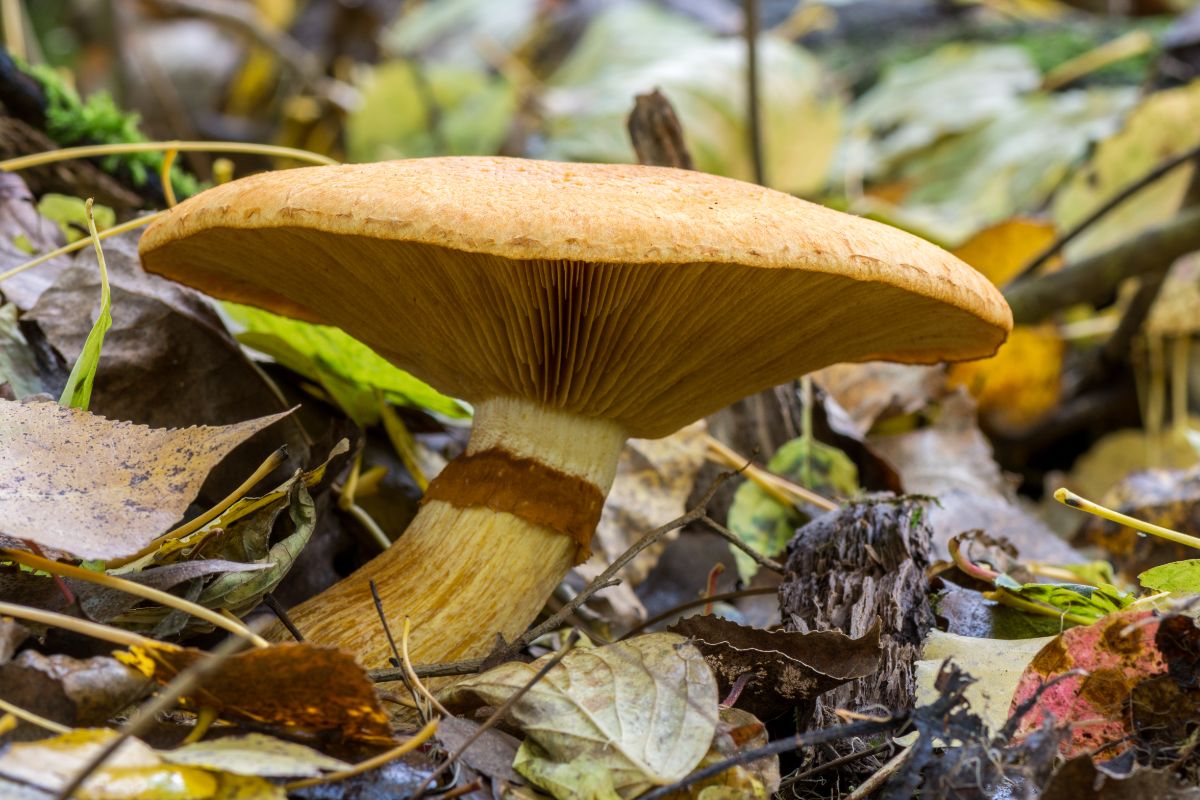 Jump to:
All About Big Laughing Gym
Laughing gym earned its common name due to its significant size and the reported hallucinogenic properties of certain species populations. In various parts of the world, this mushroom is said to induce uncontrollable laughter and unconventional behavior when ingested. It is known as waraitake in Japan, which literally translates to "laughing mushroom."
However, the levels of hallucinogens, such as psilocybin and psilocin, vary among different populations of the laughing gym, making it crucial to exercise caution. It might just make you very ill. Or do nothing at all.
The "original" laughing gym mushroom was initially described by the renowned Swedish mycologist Elias Magnus Fries in 1821. Originally named Agaricus junonius, it was later reclassified as Gymnopilus junonius by British mycologist Peter Darbishire Orton in 1960. The genus name "Gymnopilus" is derived from the Greek words "gymnos," meaning naked, and "pilus," meaning cap, alluding to the smoothness of its cap. The species epithet "junonius" pays homage to the Roman goddess Juno, known for her beauty and strength.
Depending on which resource you consult, the original laughing gym is solely a European species. Or, it does occur in North America and is synonymous with Gymnopilus spectabilis. In addition, depending on your source, G.junious does or does not contain hallucinogenic properties. But, G. spectabilis does contain hallucinogens. But if they're synonymous, well…what does that all mean?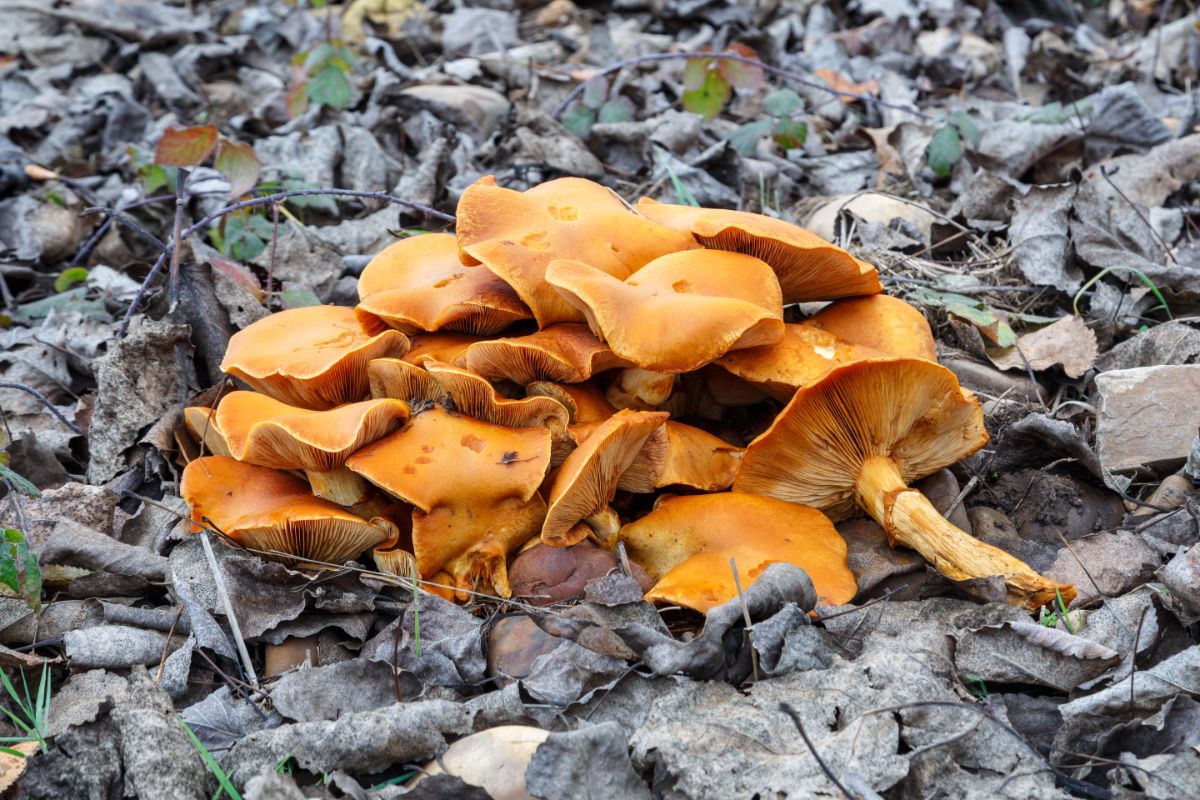 The reason all this naming is important to mention is because mushroom identification guides over the years may use either of these names as the primary North American laughing gym species. And the descriptions of its properties may be quite varied as well. So, if you're cross-checking in any mushroom identification book, don't be surprised to see either name. (As a side note, there are over 200 Gymnopilus species worldwide, and the laughing gyms comprise just a small section.)
It seems most sources agree that G.junious is not hallucinogenic, but related lookalikes are, hence the confusion. Or, the hallucinogenic properties of the species vary widely depending on where the mushroom is growing on the planet. Whether the psychoactive properties vary within the same species or whether they are actually all different species with different levels, this is a group to avoid unless you are very sure and very experienced.
The most recent study we found states that Gymnopilus junonius, synonymous with Gymnopilus spectabilis, does not occur in North America. At least, based on their limited but still very thorough sequencing (after all, you can't DNA sequence every mushroom everywhere). Instead, North America has five species in the Gymnopilus laughing gym complex:
Gymnopilis luteus
Gymnopilis subspectabilis
Gymnopilis ventricosus
Gymnopilus voitkii
Gymnopilus speciosissimus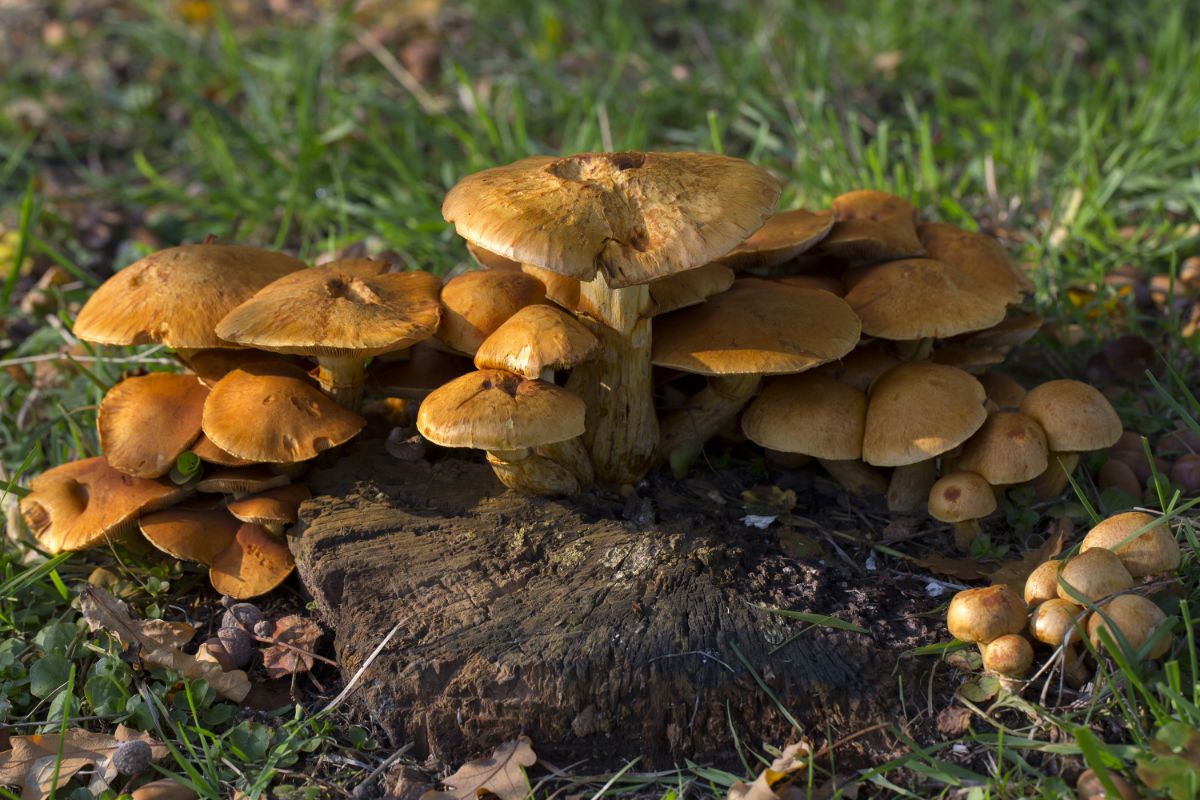 Big Laughing Gym Identification Guide
This guide describes the Gymnopilus junonious, aka Gymnopilus spectabilis species, which may or may not occur in North America. The following section in this article covers the other North American species in the complex, which may more accurately represent what you'll find on this continent, at least scientifically. Appearance-wise, they all look pretty similar.
Season
This fungus tends to emerge from spring through early winter, with its peak season typically occurring from August to October.
Habitat
The laughing gym is a saprobic species that thrives on decaying organic wood. It can be found growing in clusters on the stumps and trunks of both hardwood and conifer trees. It may appear to be growing on the ground, but there is sure to be buried wood, which the mushroom's mycelium can stretch to from quite a distance.
Its occurrence is widespread in North America, Britain, Ireland, and many other parts of the world, including mainland Europe, Asia, and North Africa.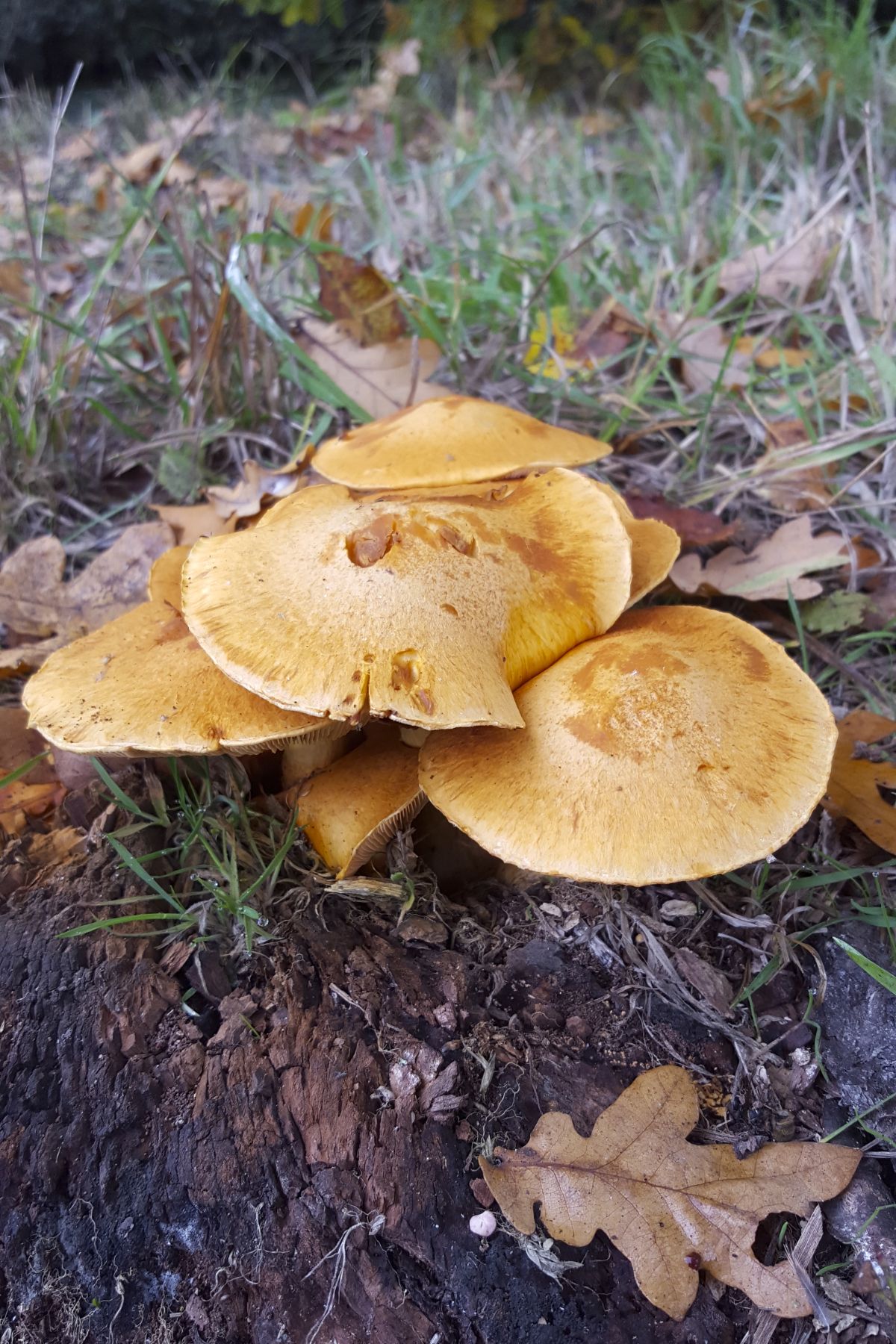 Identification
Cap
The cap starts off convex (rounded) with edges rolled under and ranges from 3 to 7 inches in diameter. With age, it flattens out but usually has a raised bump in the center. The cap color is highly variable, ranging from deep orange to apricot to reddish-brown to fawn. The surface of the cap is usually smooth but may be adorned with minute scales. If there are scales, they are usually arranged concentrically, radiating out from the center. The cap is thick and fleshy.
Gills
The gills of the laughing gym are initially pale yellow, then gradually transition to a rust color as the mushroom matures. These gills are densely packed and attached to the stem.
When young, the gills are covered by a thin, fibrous yellow veil. As the cap grows, the veil breaks apart to reveal the gills but may leave some fibers behind.
Stem
The stem of the laughing gym measures 2 to 10 inches in length and ¼ to 1½ inches in width. It is either equal-sided or club-shaped. The stem's color ranges from a pale yellow to an ocher hue, usually the same color as the cap.
The stem usually has a ring around the top portion, which is a remnant of the veil that was there in youth. Even if there isn't a physical ring, there is a mark around the top of the stem where it was, called a ring zone. The ring varies in thickness and may fold outward at the top. Below the ring, the stem surface is covered with tiny fibers.
Flesh
The flesh is dense, thick, and an orangish-yellow color. The flesh doesn't change color when cut.
Odor and Taste
The laughing gym emits a faint fruity smell, which becomes more pronounced when the flesh is cut. However, its taste is quite bitter, making it unpalatable for culinary purposes.
Spore Print
The spore print is a rusty orange-brown. It is not uncommon to find adjacent mushrooms, logs, and leaves coated in the dark spores. You may not even have to do a spore print to figure out the color. Be careful when handling this one, as the spores can and will dye your hands and clothes.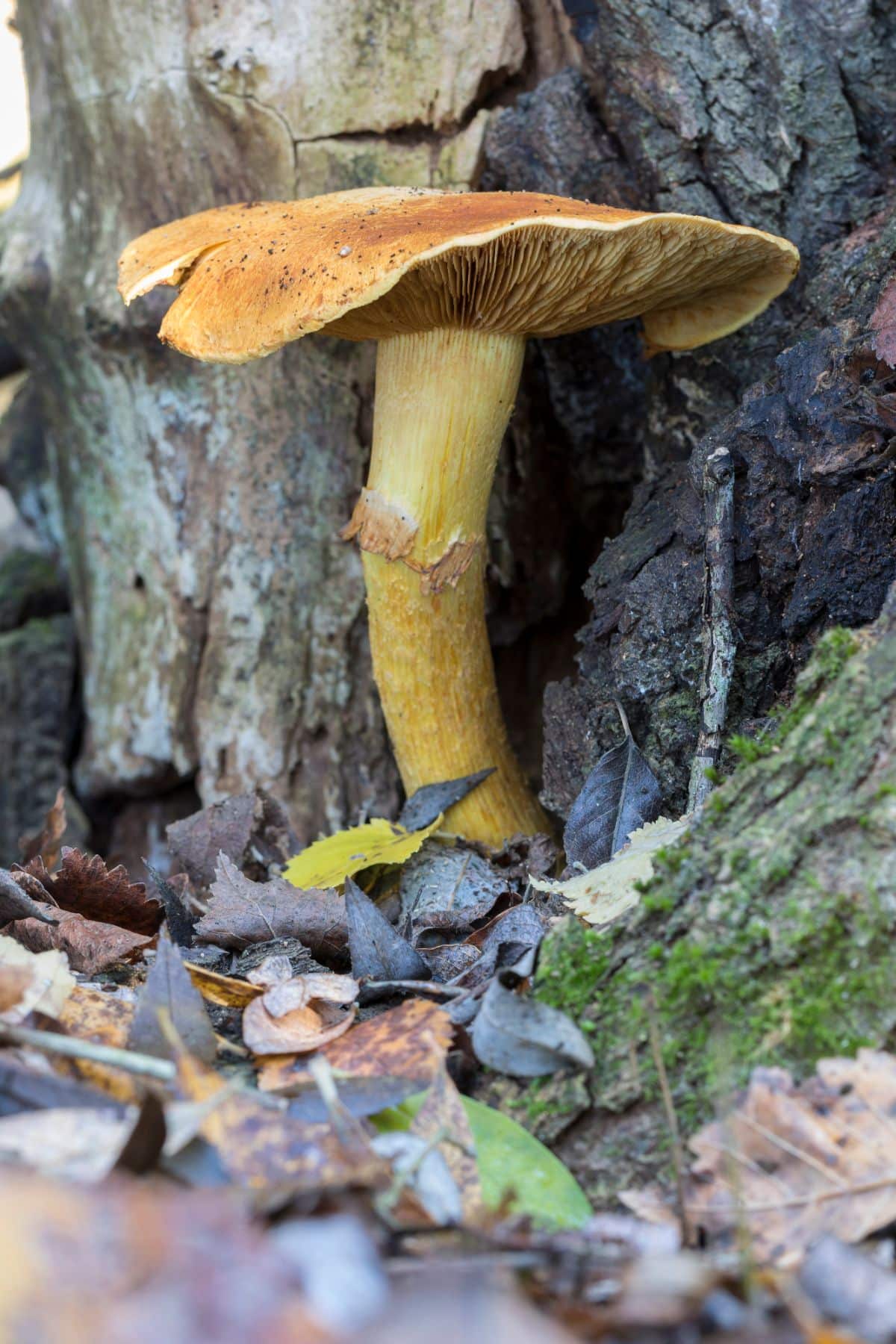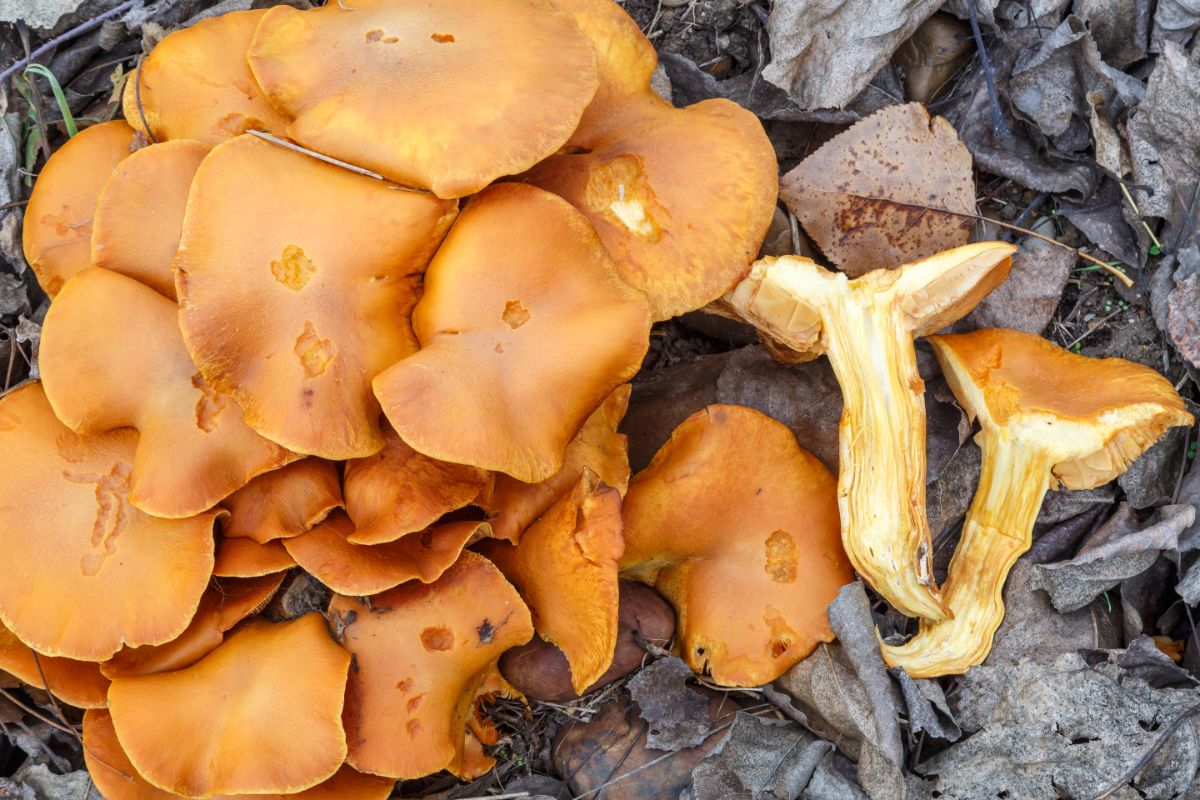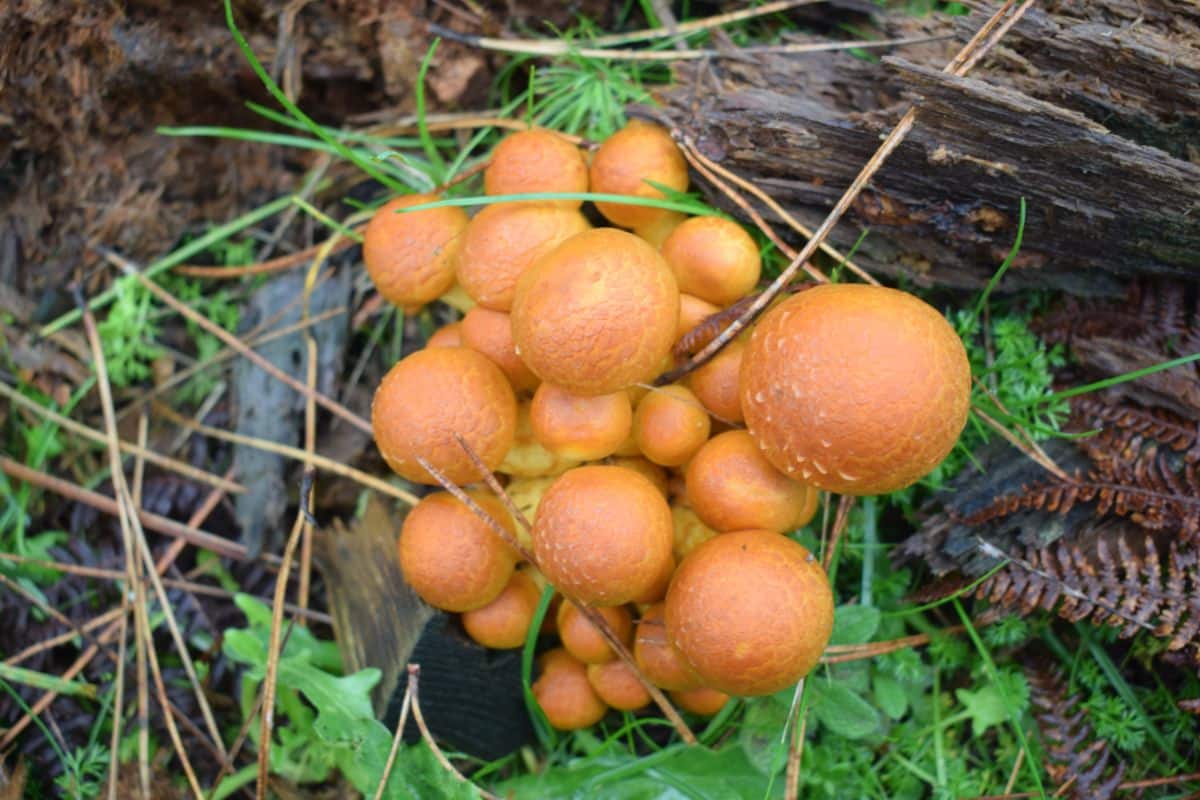 Verified North American Laughing Gyms
Gymnopilis luteus, aka yellow gymnopilus – Found in eastern N. America, grows on decaying hardwoods, possibly conifers. Caps grow up to 4″ wide. Smells like anise. Contains psilocybin and psilocin. May bruise light blue or green on the stem base and on the cap, or not bruise at all. All other features, colors, and decorations match the description above for Gymnopilus junonious.
Gymnopilis subspectabilis – Found on the East Coast and in the Midwest. Looks very similar to Gymnopilus junonious described above except with a scaly cap. Prefers hardwoods. Grows rather large, up to 6" wide. Contains psilocybin.
Gymnopilis ventricosus, aka jumbo gyom – Found on the west coast growing on conifer wood. Thick and bulbous stem. Large caps grow up to 8" wide – dinner plate size! Appears in large clusters. Same coloration as Gymnopilus junonious described above. Does not contain psilocybin.
Gymnopilus voitkii – Found on the east coast growing on conifers. Grows up to 6″ wide. Same coloring as Gymnopilus junonious and was only recently recognized as a distinct species in 2020. Smells like mushroom combined with undertones of coconut or mint.
Gymnopilus speciosissimus – Found on the east coast growing on hardwoods. An especially large species with a cap between 5-15.5″ in diameter. Same coloring as Gymnopilus junonious except has reddish-brown scales on the cap and green coloring right below the stem ring. Smells strongly rancid. It was also only recently recognized as a distinct species in 2020.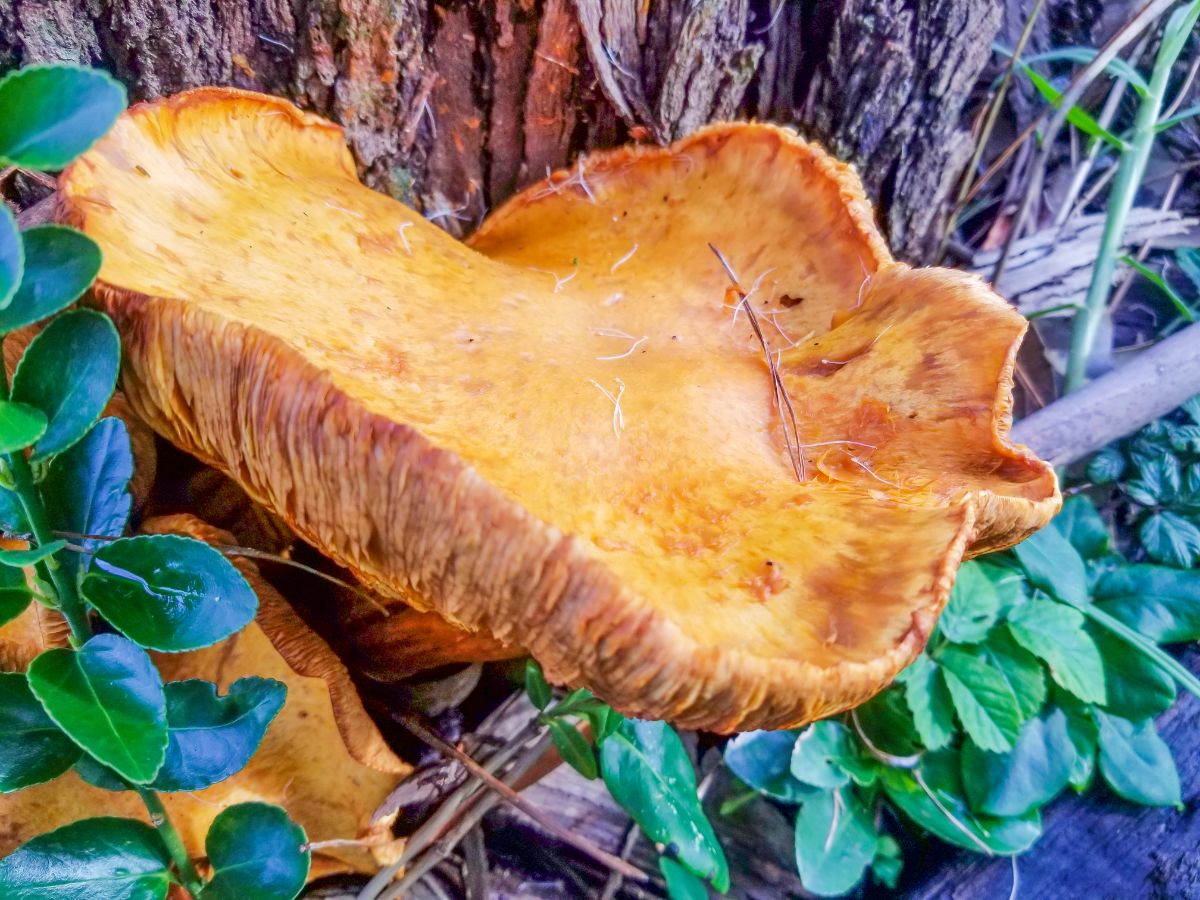 Laughing Gym Lookalikes
Honey mushroom (Armillaria mellea)
This honey-colored mushroom has short, closely spaced whitish gills and a white spore print, which distinguishes it from the laughing gym. Generally, it is much lighter in color than the laughing gym, being more pale yellow to white (honey-colored, as the name suggests), as opposed to orange. Its flesh is whitish, not yellow or orange, and it has no distinctive odor.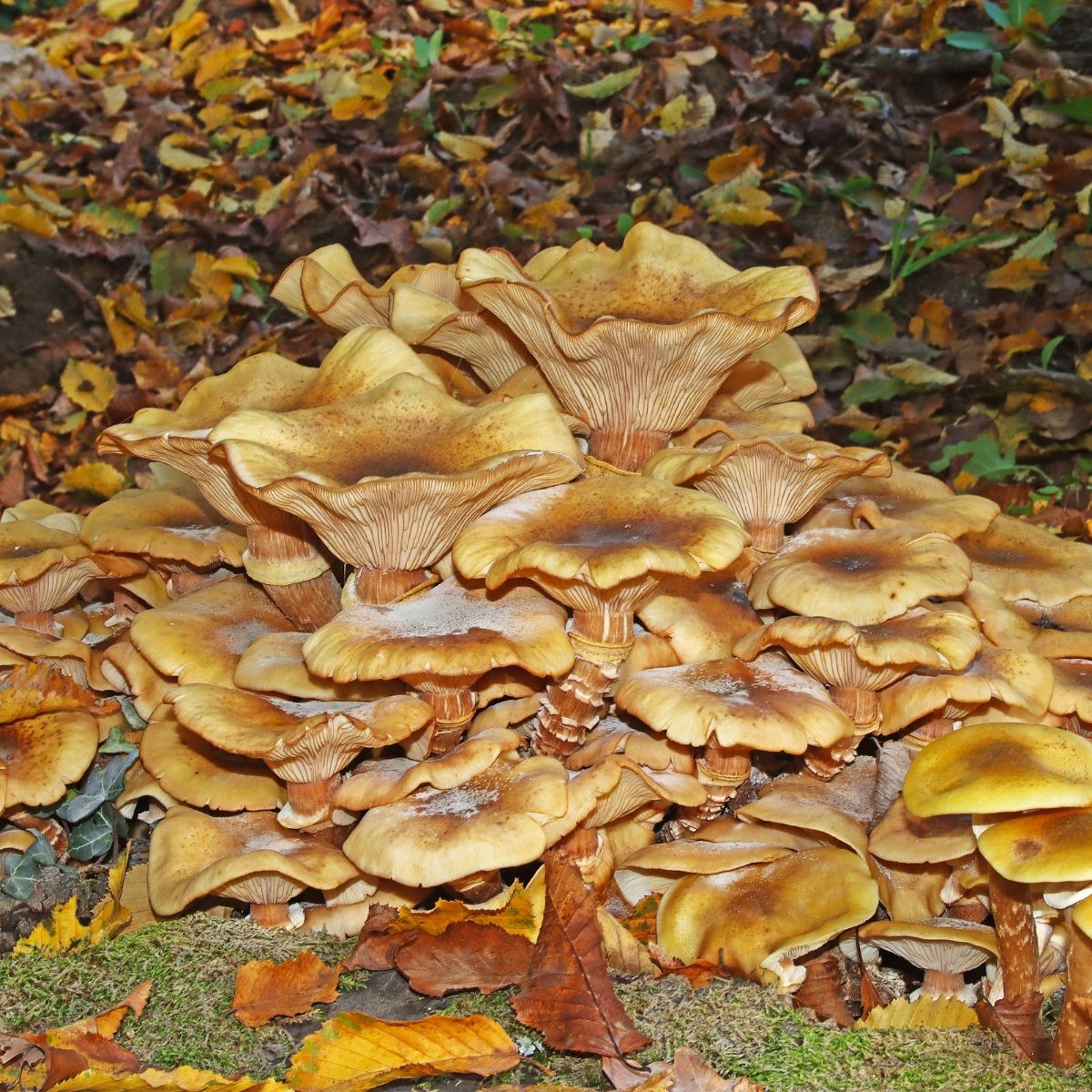 Ringless honey mushroom (Desarmillaria caespitosa, formerly Armillaria tabescens)
It is somewhat similar in color to the laughing gym, though it is usually more honey-colored than orange. This mushroom lacks a ring around the stem, as well, and has a white spore print.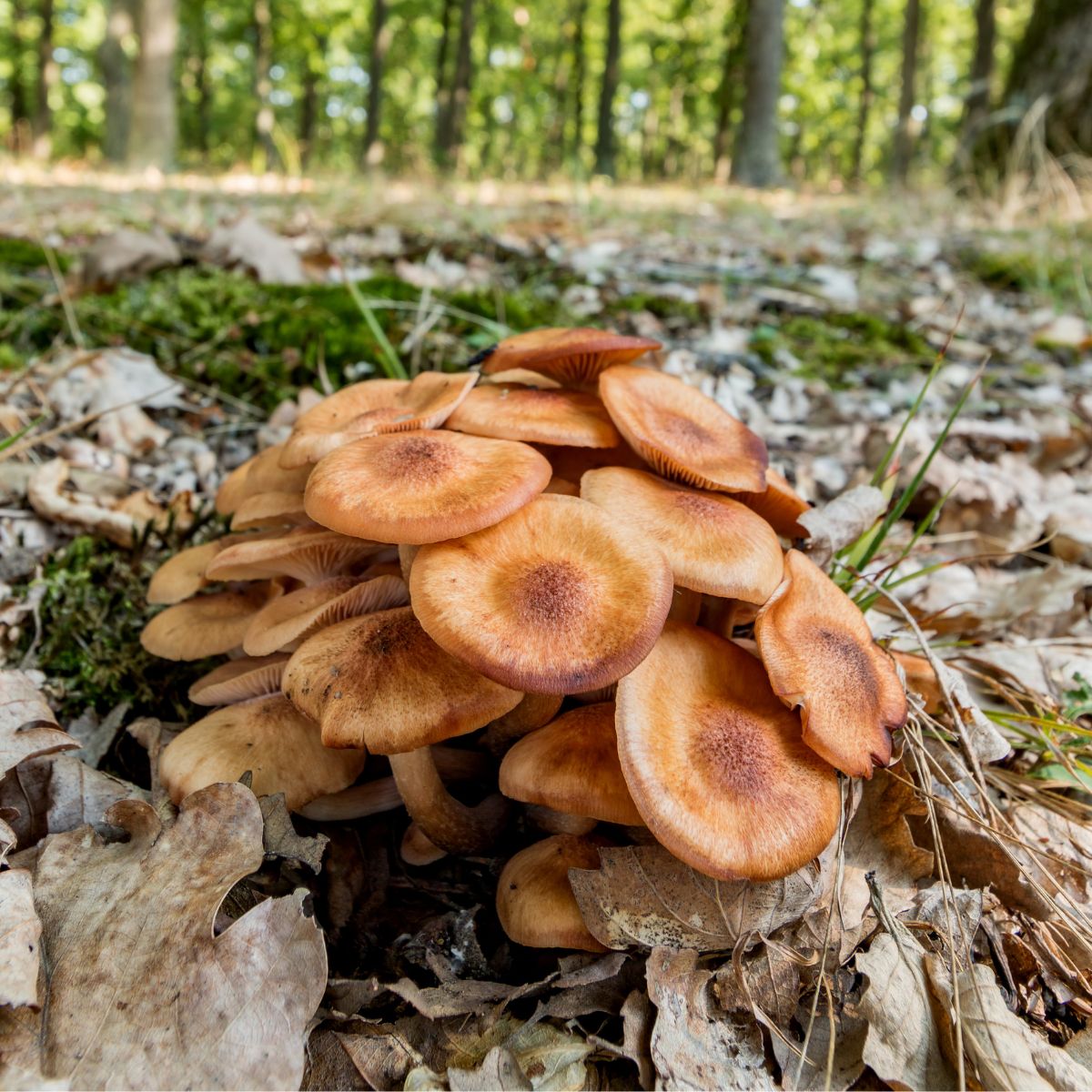 Jack-o'-lantern (Omphalotus illudens)
This one is the most similar in color. Jack o lantern mushrooms are orange, grow on wood, and grow in dense clusters, very much like the laughing gym. They tend to be brighter colored, with gills as orange as the cap. Unlike the laughing gym, though, the Jack-o'-lantern doesn't have a veil or ring around the stem and has a whitish-cream spore print. This species is toxic but not deadly.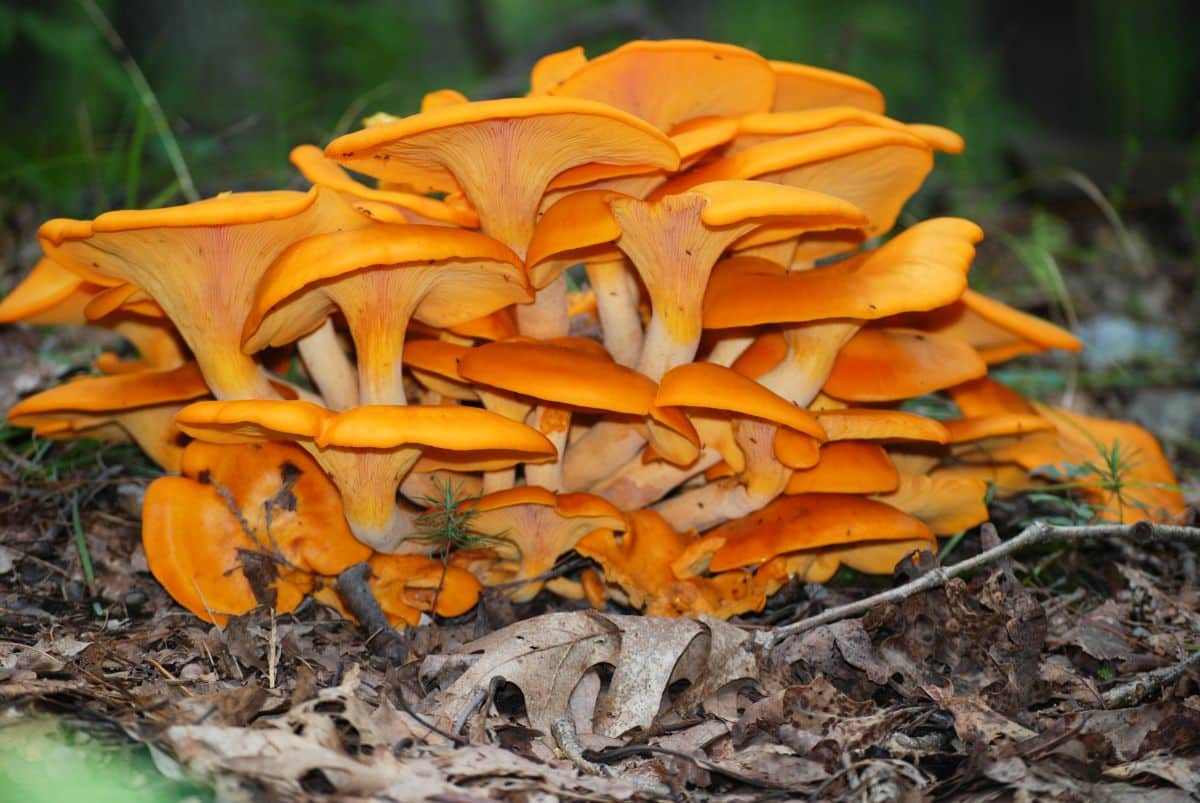 Deadly galerina (Galerina autumnalis)
Smaller and browner than the laughing gym, the deadly galerina mushroom shouldn't be that confusing except when the laughing gym is still small and immature. We mention it because it is deadly toxic, and you do not want to get mixed up with it.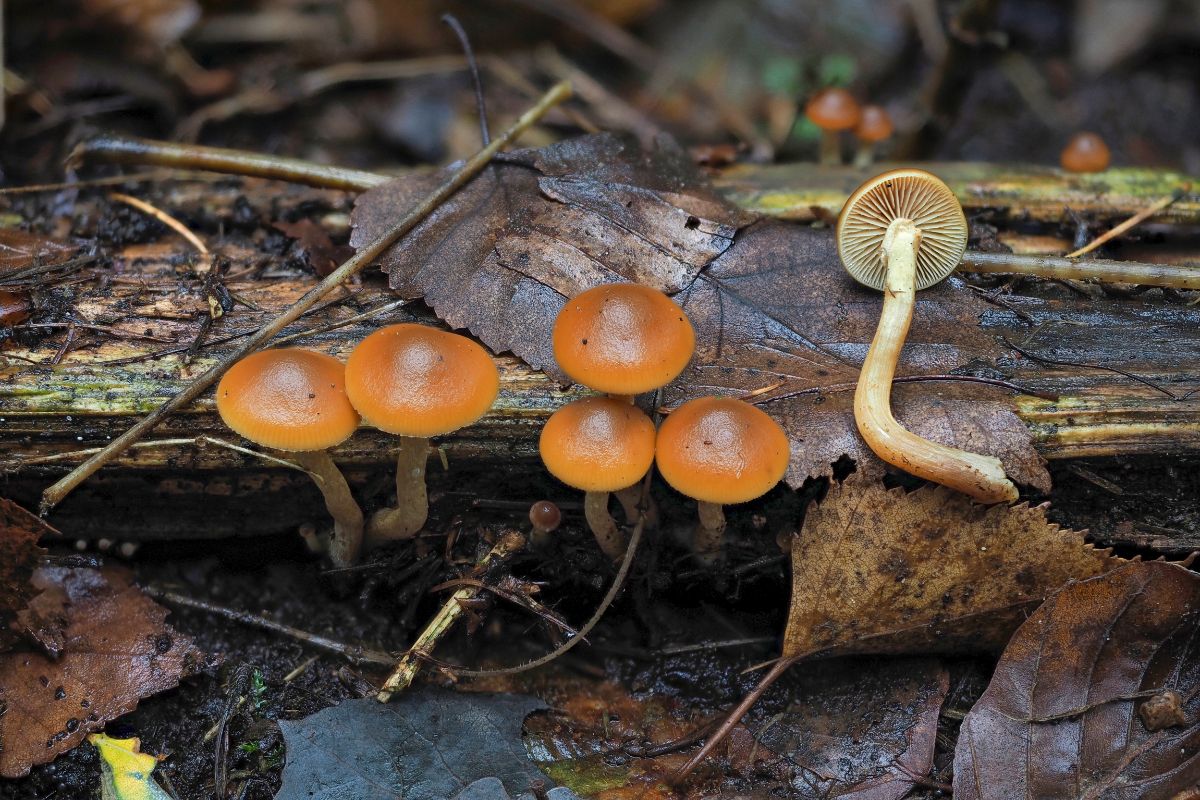 Hallucinogenic Properties of Big Laughing Gym
The psychoactive species of laughing gyms contain psilocybin and/or psilocin. The levels vary among specimens, with some having a little and some having quite a bit. Some specimens don't even have measurable amounts of hallucinogens. The effects of consuming this species range from heightened perception, hallucinations, mood swings, hilarity, vomiting, nausea, and gastrointestinal distress. We do not recommend messing around with the laughing gym; there's a very, very good chance you won't be laughing at all.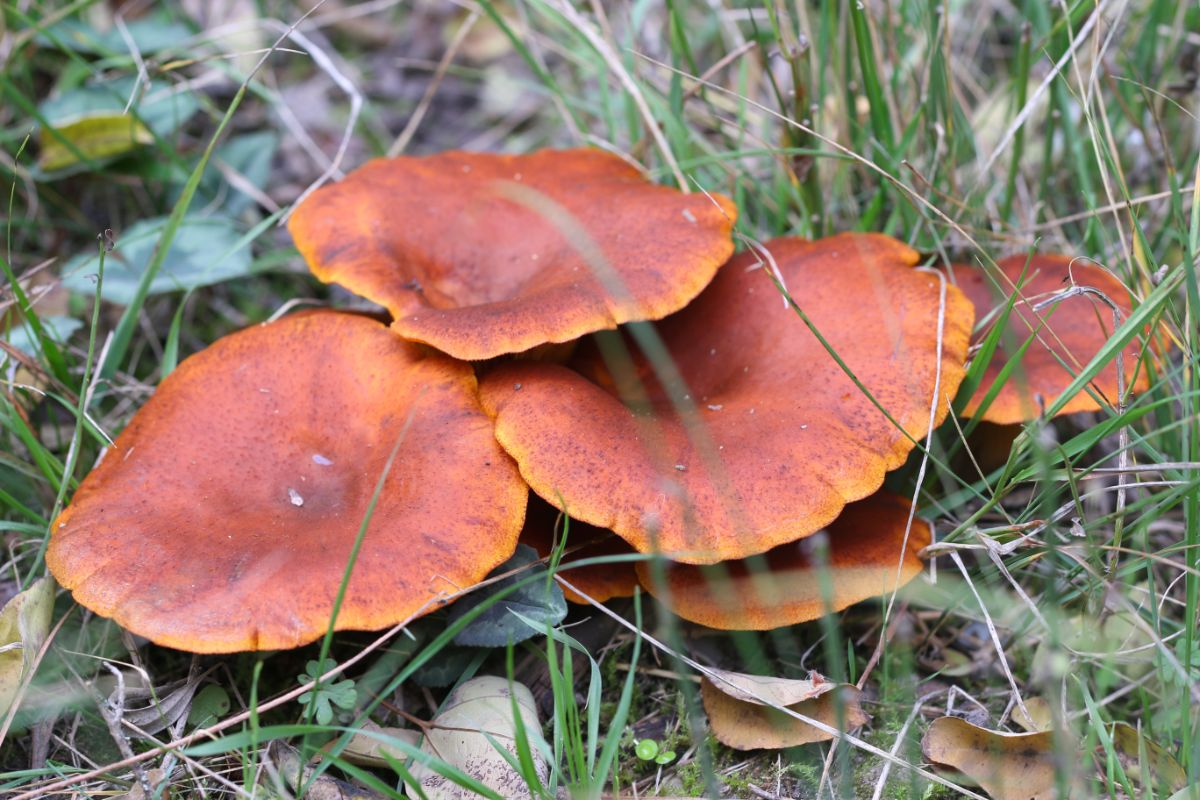 Does laughing gym mushroom have medicinal properties?
There is currently no scientific evidence supporting any medicinal use for laughing gym species.
Are Gymnopilus mushrooms psychoactive?
It depends on which one you've found. There are over 200 Gymnopilus species in the world. Some have hallucenogenic properties, many do not. Of the 200, only a handful fall into the "laughing gym" species complex. And even among this handful, the psychoactive compounds vary widely.
Do Gymnopilus mushrooms bruise blue?
Some do, some don't. There are over 200 species in the genus.
What are the effects of consuming Gymnopilus?
Gymnopilus junonius is reported to induce hallucinations (hence the fun name, laughing gym); this doesn't seem to be true. It is more likely related species. Or, it depends on where the mushroom is growing. However, it is widely agreed that eating this species is more likely to make you sick instead of giving the hoped for hallucinogenic experiences.