With its vibrant red and yellow colors, the bicolor bolete is a true showstopper. And, not only is it visually stunning; it is also an outstanding edible. This isn't a species for beginning foragers, though. There are some tricky lookalikes that can be problematic for newbies.
While its identification can be challenging due to its variable features, careful observation, and consultation with experts can help ensure a safe and enjoyable foraging experience. And, if you're firm in your mushrooming skills, the bicolor bolete is an excellent edible species to add to your repertoire.
Scientific Name:

Baorangia bicolor, formerly Boletus bicolor

Common Names:

Bicolor bolete, Red and yellow bolete, two-toned bolete, two-colored bolete

Habitat:

Woods, around oaks

Edibility:

Edible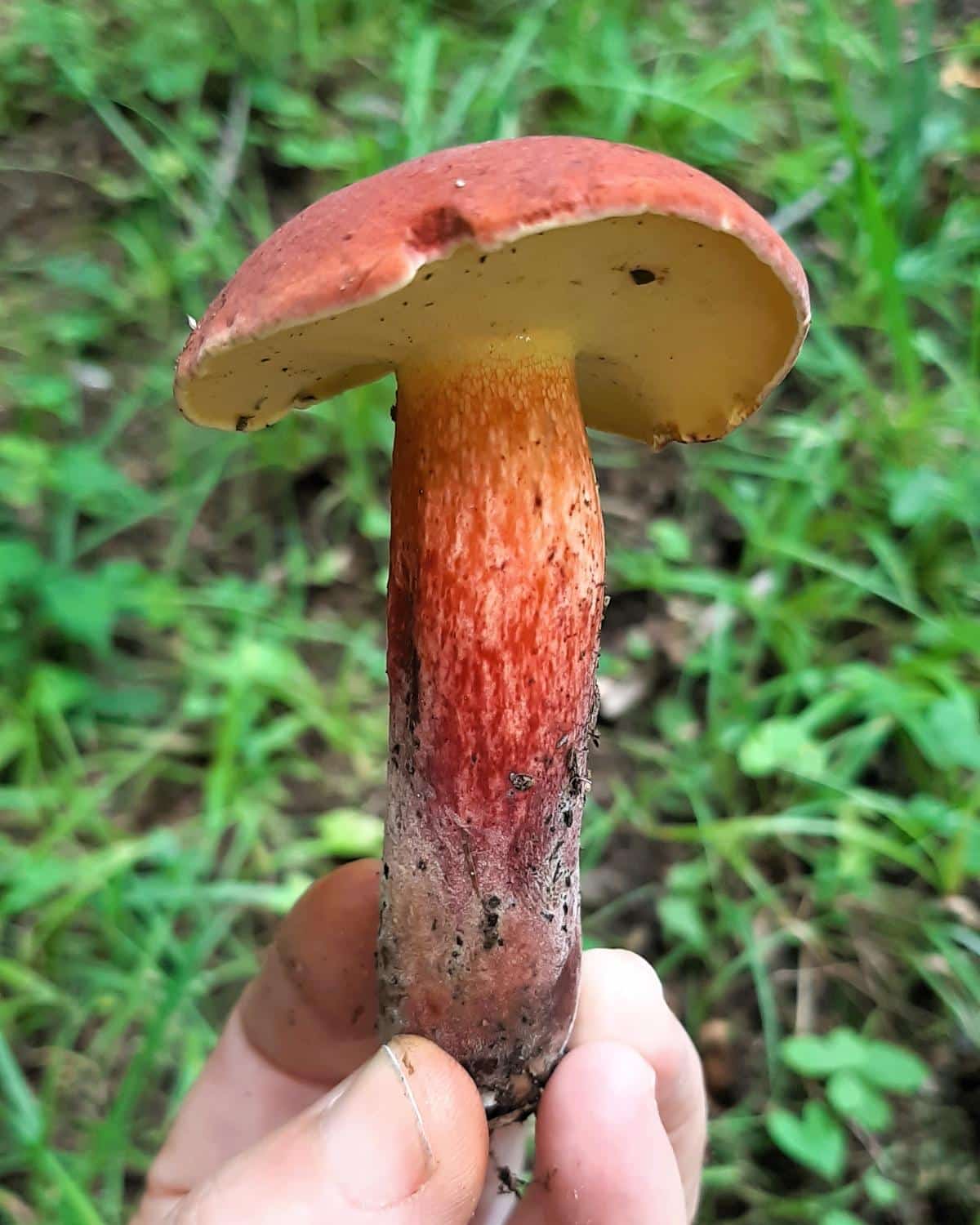 Jump to:
All About The Bicolor Bolete
The bicolor bolete, scientifically known as Baorangia bicolor, traces its roots back to the early 19th century when Italian botanist Giuseppe Raddi first described it. The species name, bicolor, simply means "two colors" in Latin, which perfectly describes the mushroom's striking red and yellow hues.
The bicolor bolete is known by many names around the world, reflecting its global distribution and cultural significance. The mushroom's two-tone coloring scheme of red and yellow has earned it names such as the two-colored bolete and red and yellow bolete. In some regions, it is also referred to as the two-toned bolete. While this naming is nice, it is complicated because it is certainly not the only bolete featuring two bright colors!
The bicolor bolete is considered a culinary delight. It's often described as having a mild or distinctive taste, similar to the king bolete. Some even say better than the king bolete (aka porcini, aka cep)!
If you decide to forage these, you might want to read up on the fun times with red-capped boletes in North America.
Did you know? The term 'bolete' is derived from the Greek word 'bolites,' which translates to 'clod,' referring to the mushroom's clod-like appearance.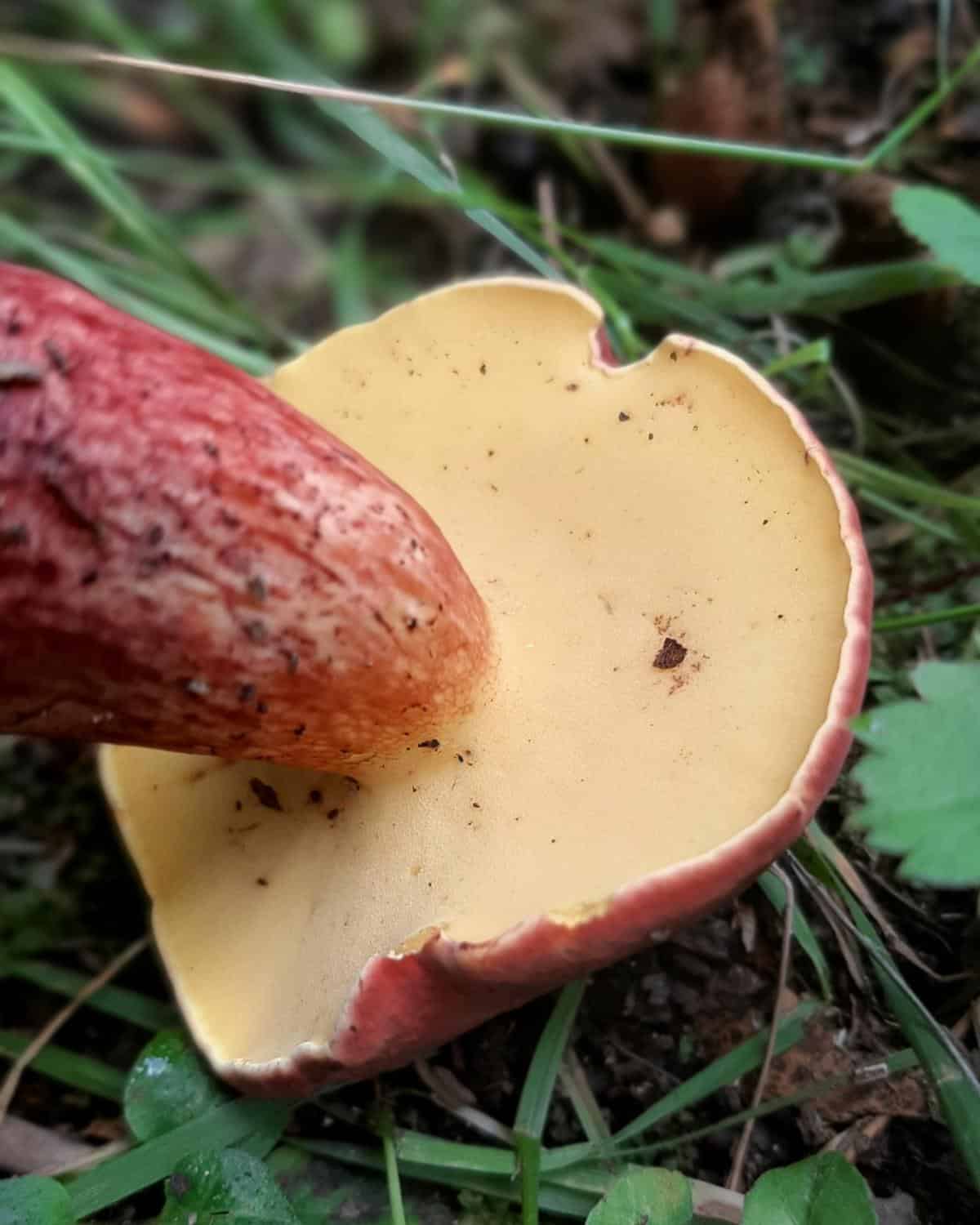 Bicolor Bolete Identification
Season
These mushrooms typically make their appearance from late June to mid-October, with multiple flushes occurring during this period.
Habitat
Bicolor boletes are mycorrhizal fungi forming symbiotic relationships with oak and other hardwood trees. They are often found growing scattered or in small clusters on the ground under these trees. It always fruits from the ground, never from the tree or wood.
The bicolor bolete has a diverse habitat, ranging from eastern North America to the Rocky Mountains, the Florida peninsula, and Wisconsin. It also inhabits the Great Lakes Region and southeastern Canada. The bicolor bolete is also found across the globe in China and Nepal, making it one of the oddly fascinating fungi species that inhabits widely separated continents without any specimens found on lands between them.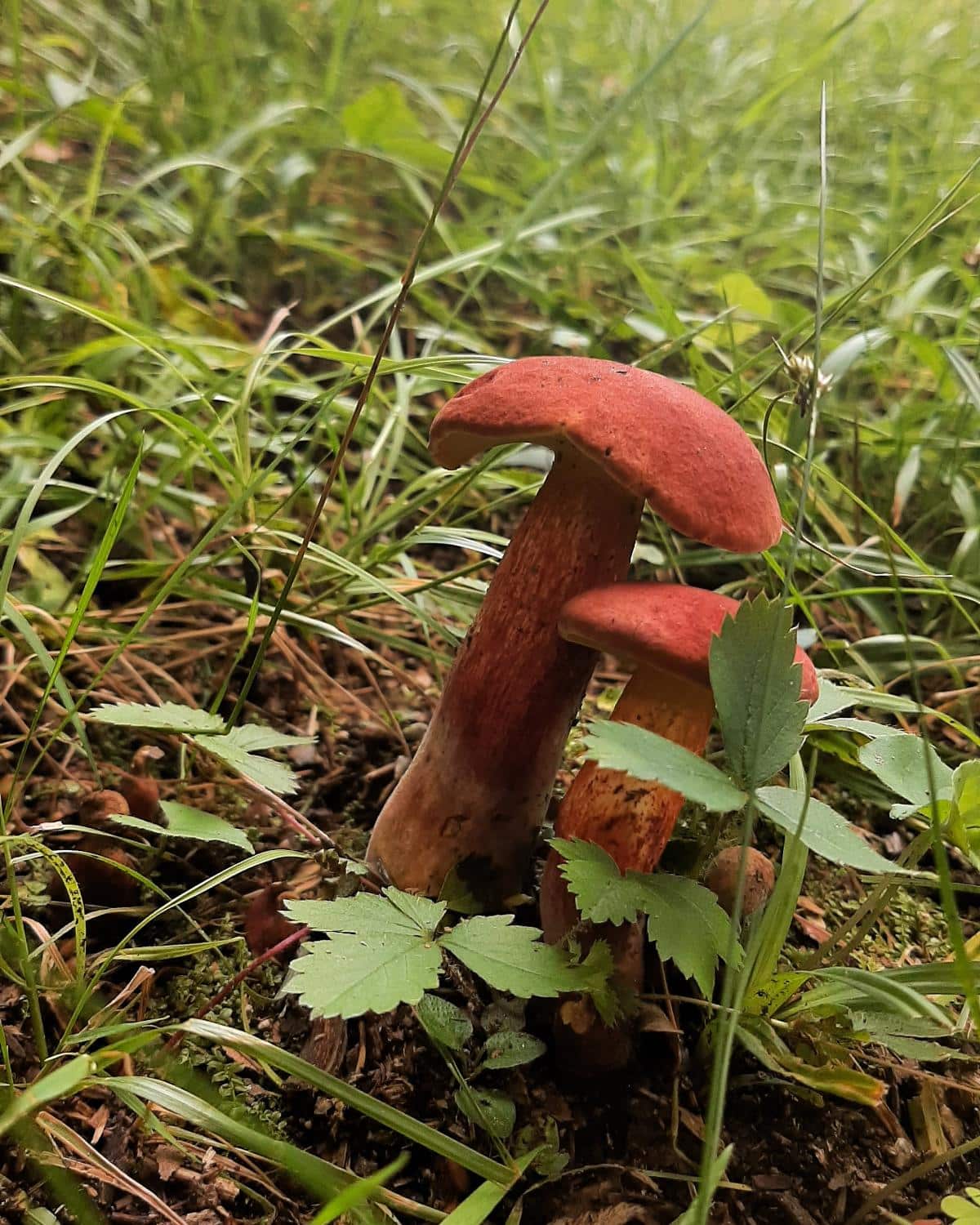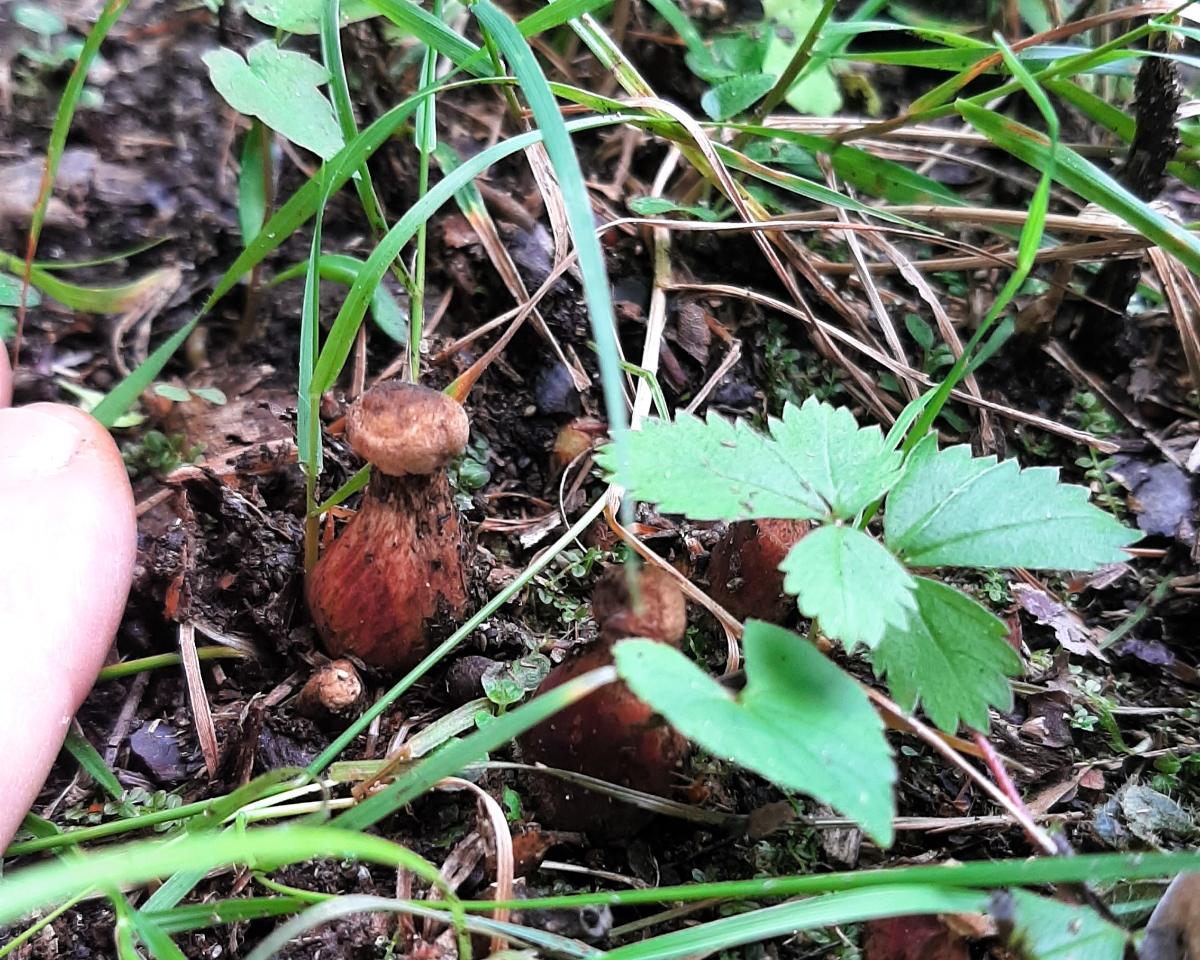 Identification
Cap
The cap of the bicolor bolete ranges from 2 to 6 inches in width and is typically pinkish to dark red, sometimes with yellow tones near the edges. When young, the cap is a rounded semi-circle and becomes flatter with age. Its surface is initially smooth and dry, often with a velvety texture that may crack as the mushroom ages. While the majority of caps are red, there are rare instances where the cap can be yellow, adding an element of surprise to its appearance.
Pores
The underside of the bicolor bolete is covered with tiny yellow pores. These pores slowly bruise blue, a characteristic that distinguishes this mushroom from its lookalikes. It is important to note that the blue bruising can lighten to a tan color after a few minutes.
Stem
The stem of the bicolor bolete can be quite thick and may have a club-shaped appearance. It is usually streaked with pink or red, with a band of bright yellow near the top. There is often some minor reticulation (webbing) at the top, as well, but not always. The texture of the stem is dry, dull, and smooth.
The stem flesh is yellow throughout. When damaged, the flesh of the stem may slowly bruise blue, although this reaction can vary. If there are bug tunnels in the stem flesh, they'll be red to dark red in color.
Flesh
The flesh of the bicolor bolete is strongly yellow and may slowly and lightly bruise blue when sliced. Or, it may not bruise at all. This is a key point, as other lookalike species turn blue quickly and the blue is dark.
Scent and Odor
The odor of the bicolor bolete is not distinctive, though sometimes it can have a smell reminiscent of bouillon or curry-like. The taste is not distinctive or slightly acidic.
Spores
The bicolor bolete spore print is olive-brown.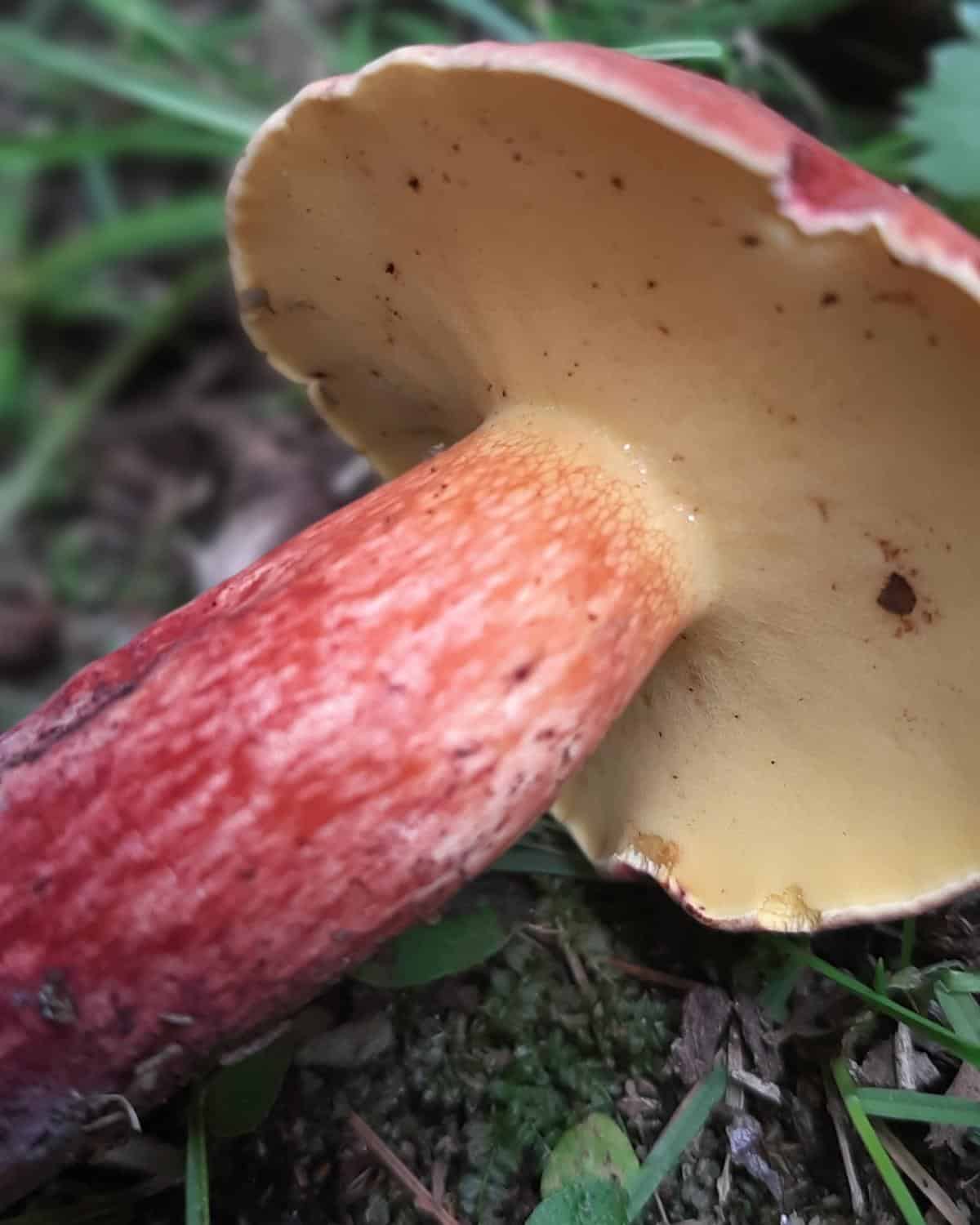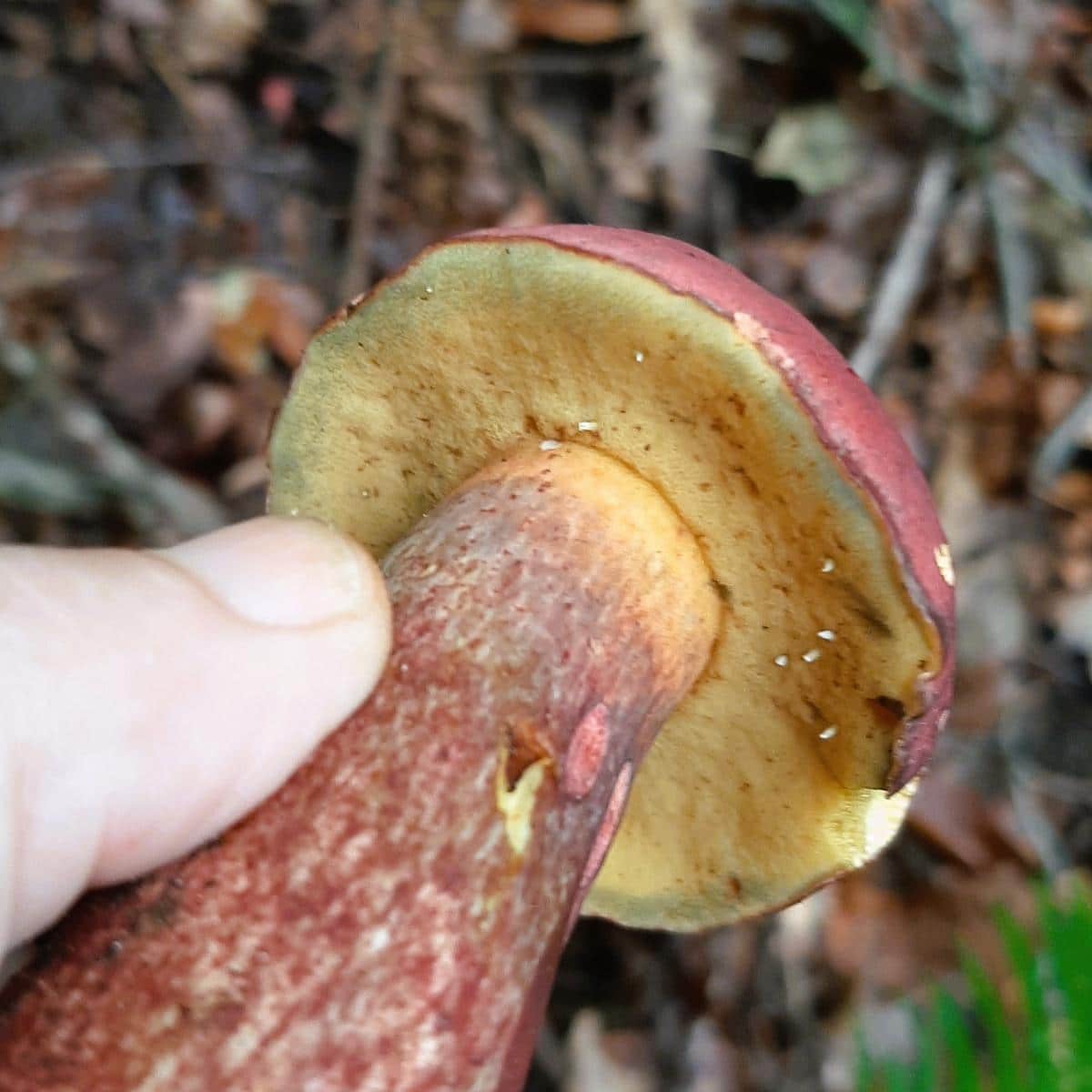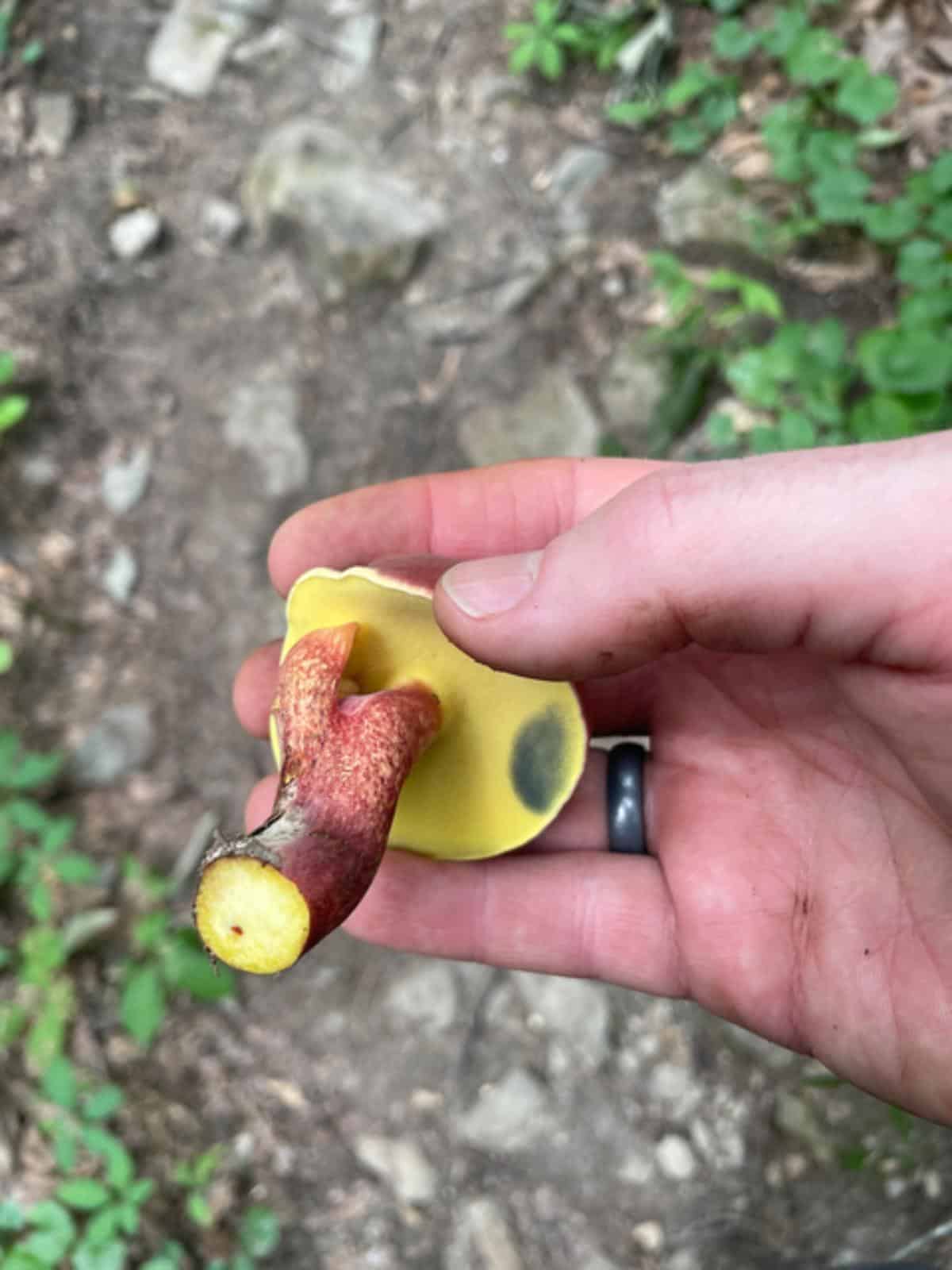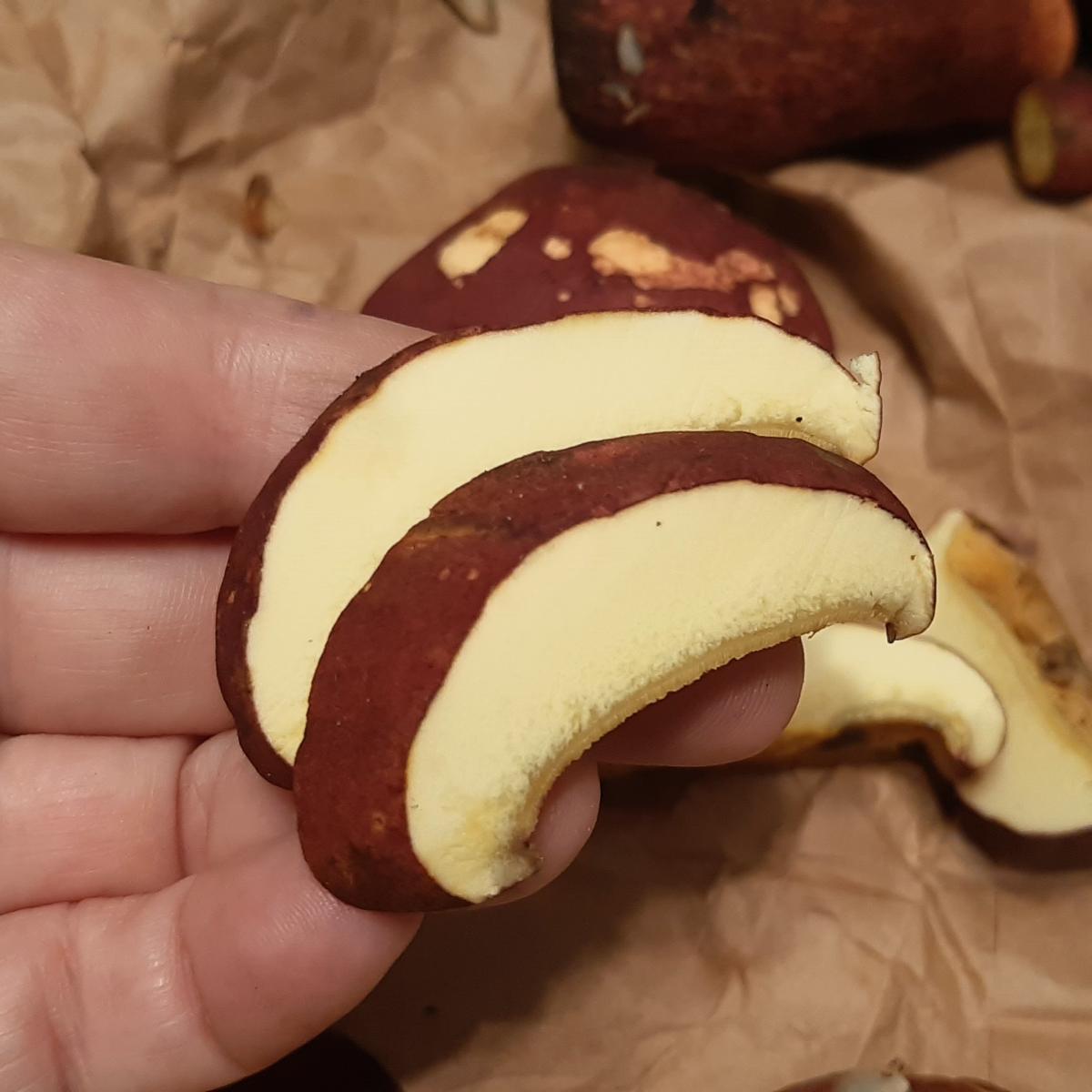 10 Steps To Bicolor Bolete Identification
Look at the habitat – is the mushroom growing with or near oaks? These are an oak-specific species.
Check the cap color – it should be pinkish to dark red, sometimes with yellow tones near the edges.
Check the cap texture – it should be smooth and dry, not sticky or shiny.
Check the pore color – they are yellow.
Press your finger into the pores – the pores should turn blue quicky and darkly. They may lighten to tan after a few minutes.
Check the stem color – it should be streaked pinkish or reddish, with a bright yellow section at the very top.
Cut the cap in half – the flesh is pale yellow and should not turn blue. Or, if it does, it happens very slowly (2-3 minutes) and is quite pale.
Cut the stem in half – the stem flesh is deep yellow and should turn pale blue or not turn color at all. The stem flesh is usually significantly darker than the cap flesh. If there are bug tunnels, they will be red to dark red against the yellow flesh.
Smell the mushroom – it should not have a scent or smell a bit like curry.
Do a nibble and spit taste test – put a small piece on the tip of your tongue for a few minutes, then spit it out. It should not taste bitter or like anything; the taste is undistinctive.
To help you confidently identify the bicolor bolete, here is a comprehensive guide detailing its distinguishing features: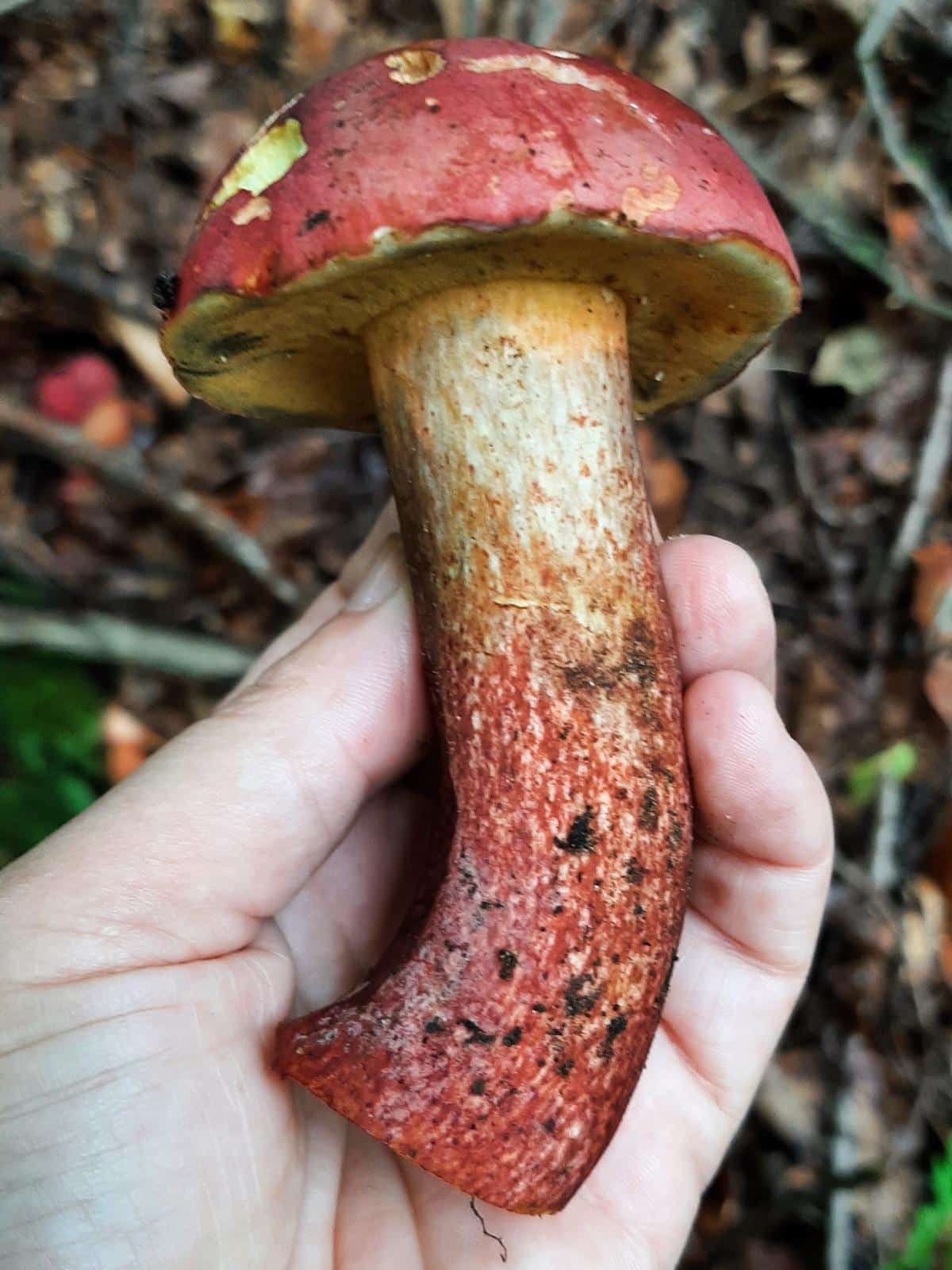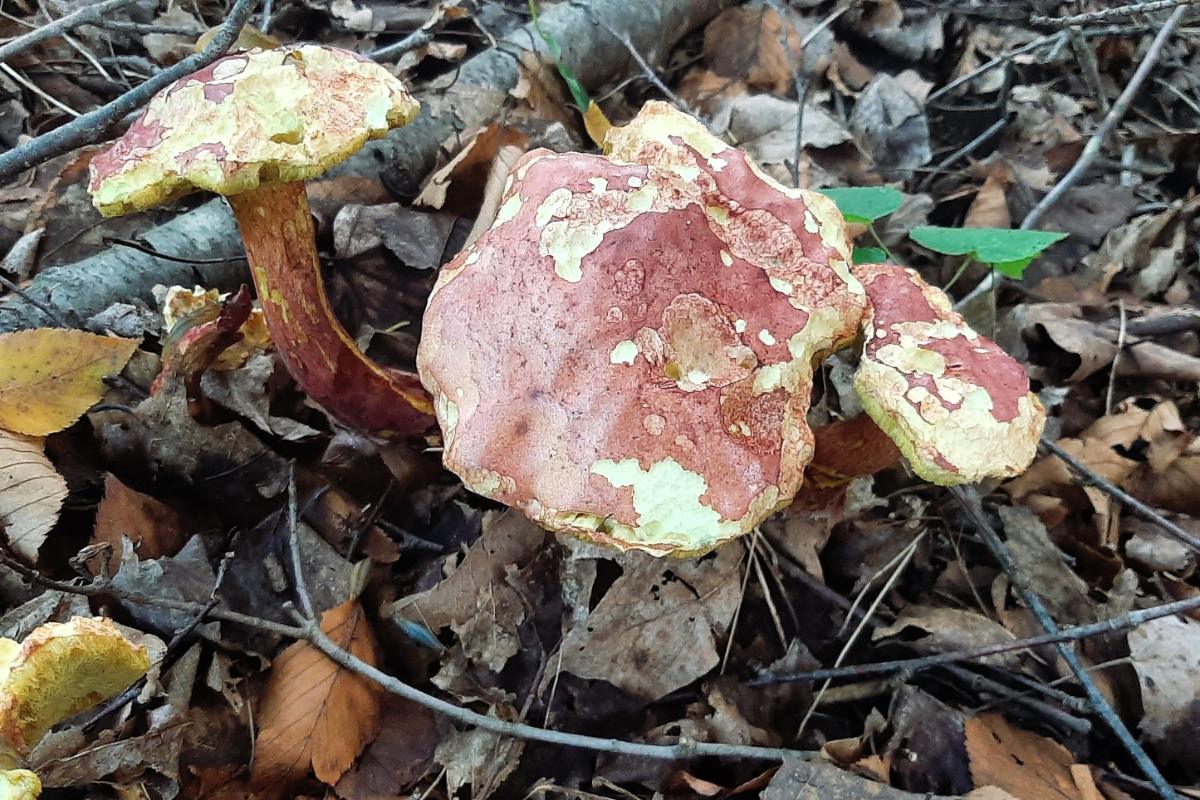 BiColor Bolete Lookalikes
While the bicolor bolete is a captivating mushroom, it shares similarities with other bolete species. One of the primary issues is that there are many red-capped boletes, and these species tend to be brightly colored overall, like the bicolor bolete. And there is a wide range of bluing functions between them all. Red and yellows are a common color combination, and staining blue is not a unique feature, meaning they are easily mixed up when you're new to boletes. It is essential to be aware of these lookalikes to avoid any potential confusion.
Boletus sensibilis
This toxic bolete very closely resembles the bicolor bolete. However, a key distinguishing factor is the blue bruising reaction, which occurs immediately in Boletus sensibilis, from top to bottom. The cap flesh and stem flesh, head to toe, all turn blue within 10 seconds, something the bicolor does not do.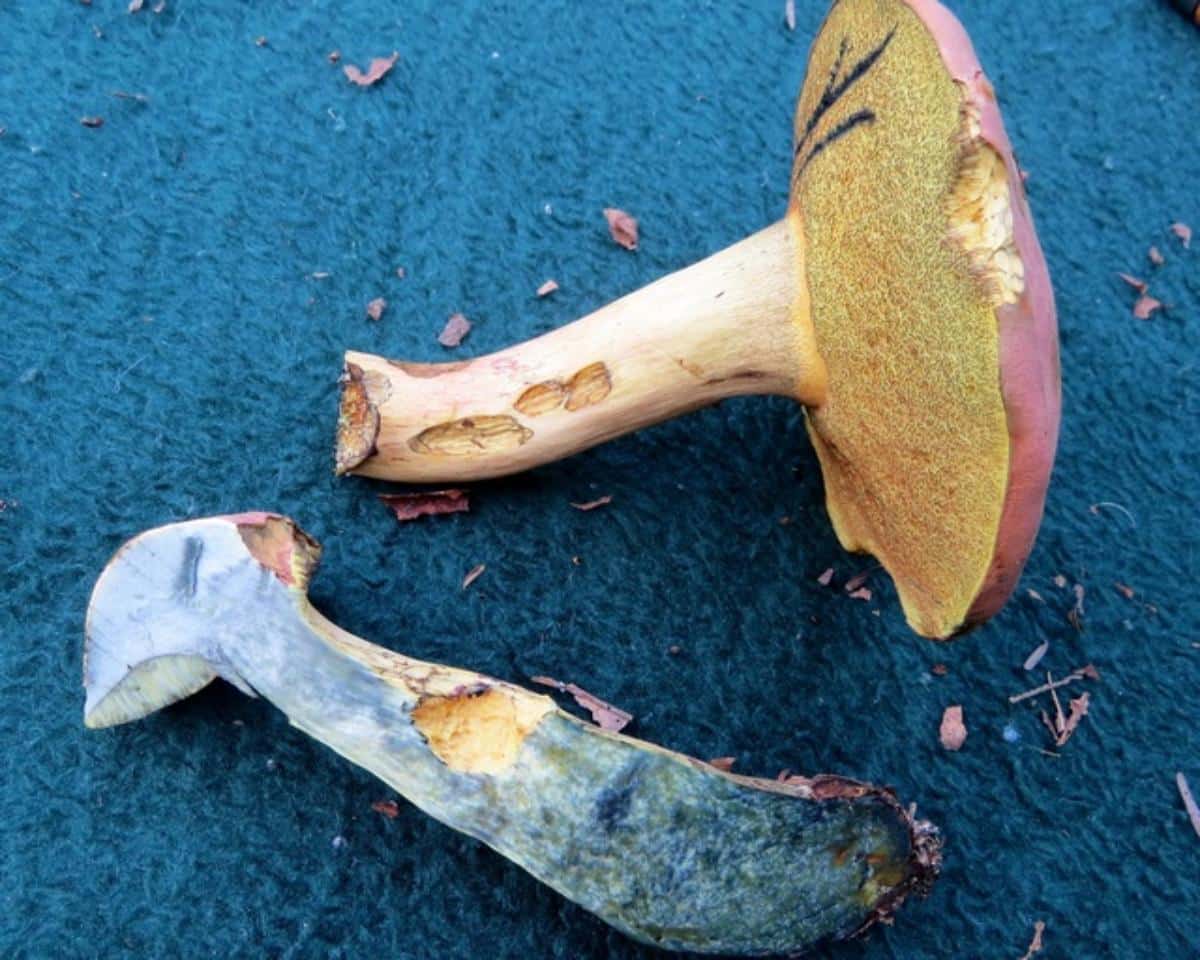 Boletus subvelutipes aka Neoboletus subvelutipes
Another tricky, possibly toxic (depending on who you ask and where they live) bolete that can be mistaken for the bicolor bolete is Boletus subvelutipes. However, it has orange or red pores, not yellow ones. And, it bruises blue all through the cap and stem flesh.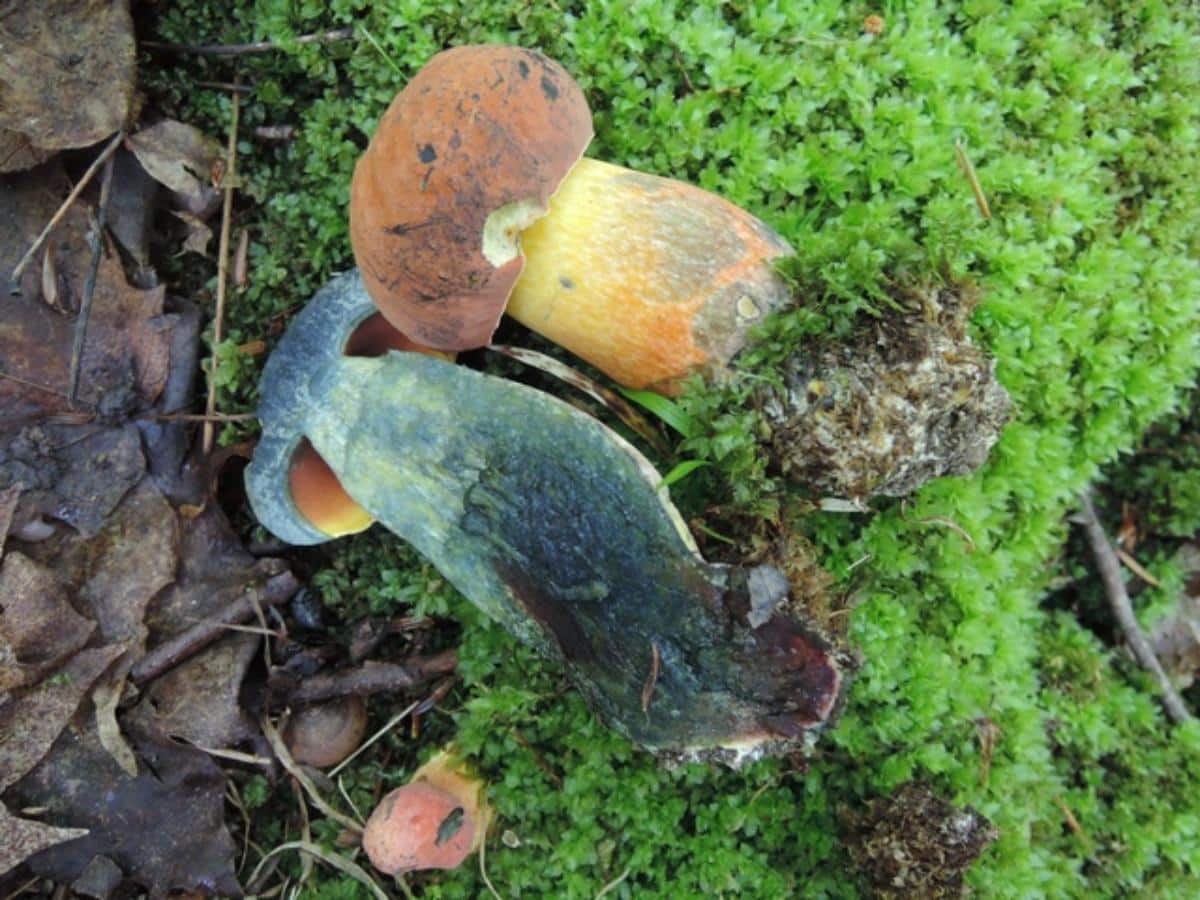 Boletus miniato-olivaceus
This mushroom has a fully yellow stem and slightly lighter cap coloration. It also bruises blue more quickly than the bicolor bolete.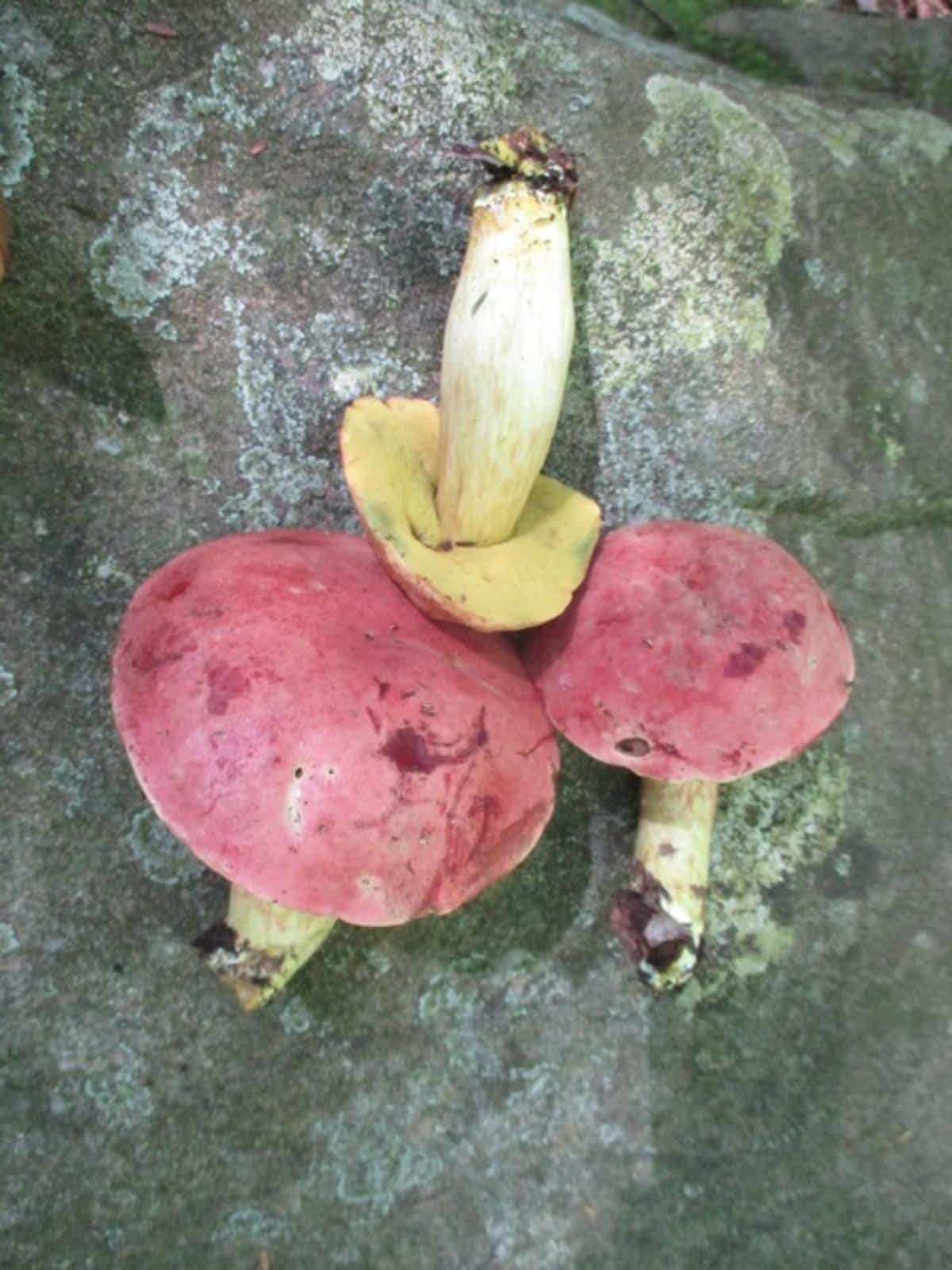 Hortiboletus rubellus
This mushroom is almost identical to the bicolor bolete and sometimes cannot be distinguished by appearance alone. Thankfully, it is also edible, and considered a good one. It is less common than the bicolor bolete and appears on the east coast of the US.
The coloring is almost exactly the same but there are some minor, yet major, differences. Hortiboletus rubellus is a small mushroom, rarely with a cap larger than 2.5 inches in diameter. Of course, a young bicolor will also have a smaller cap, but if you find a specimen with a much larger cap, it is most certainly a bicolor bolete. The cap of this species also tends to crack to create a mosaic effect, something the bicolor does not do.
The other main difference is in the stem flesh coloring. The often quite long stem has pale yellow flesh towards the top and a deeper yellow flesh further down. At flesh at the bottom of the stem may have distinctive brick-red or orange spotting.
Lastly, this mushroom is said to frequently taste soapy. So, if you do the nibble/spit taste and get any soapy flavor, its probably this bolete and not the bicolor.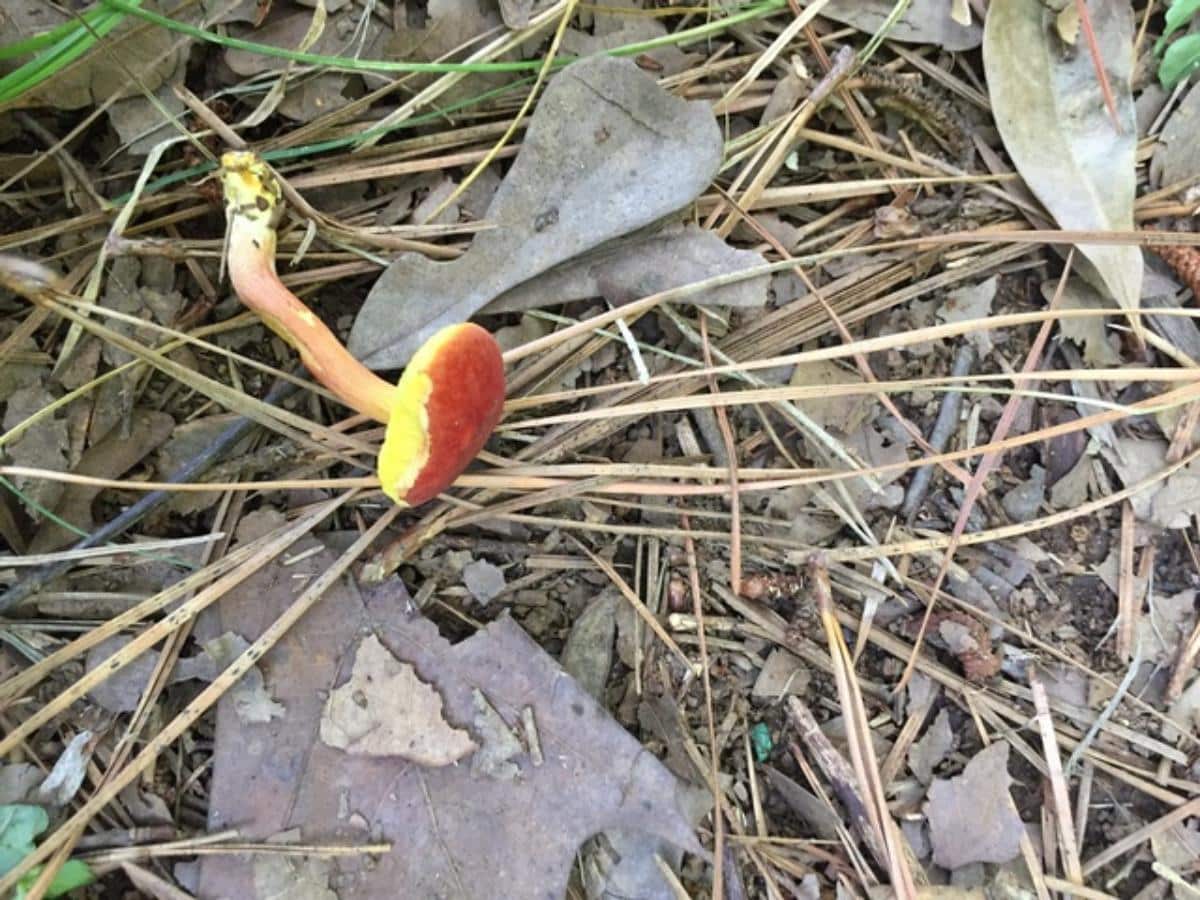 Caloboletus peckii aka Butyriboletus peckii aka Boletus peckii
This mushroom differs by having a smaller average size, a rose-red cap that turns almost brown with age, and a bitter taste.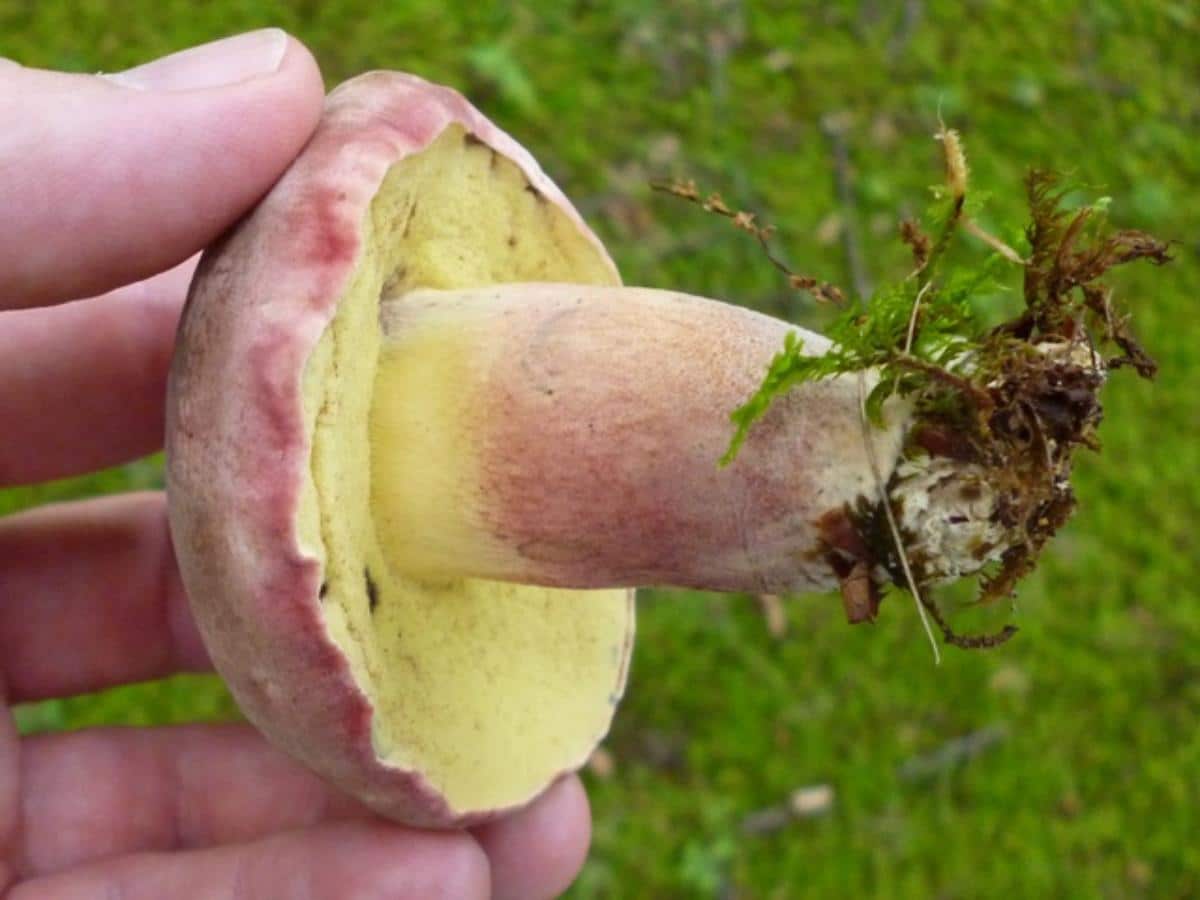 Boletus speciosus
This species has a fully reticulated stem, more brilliant colors, and the cap and stem flesh turn blue instantly when cut. This is an uncommon species.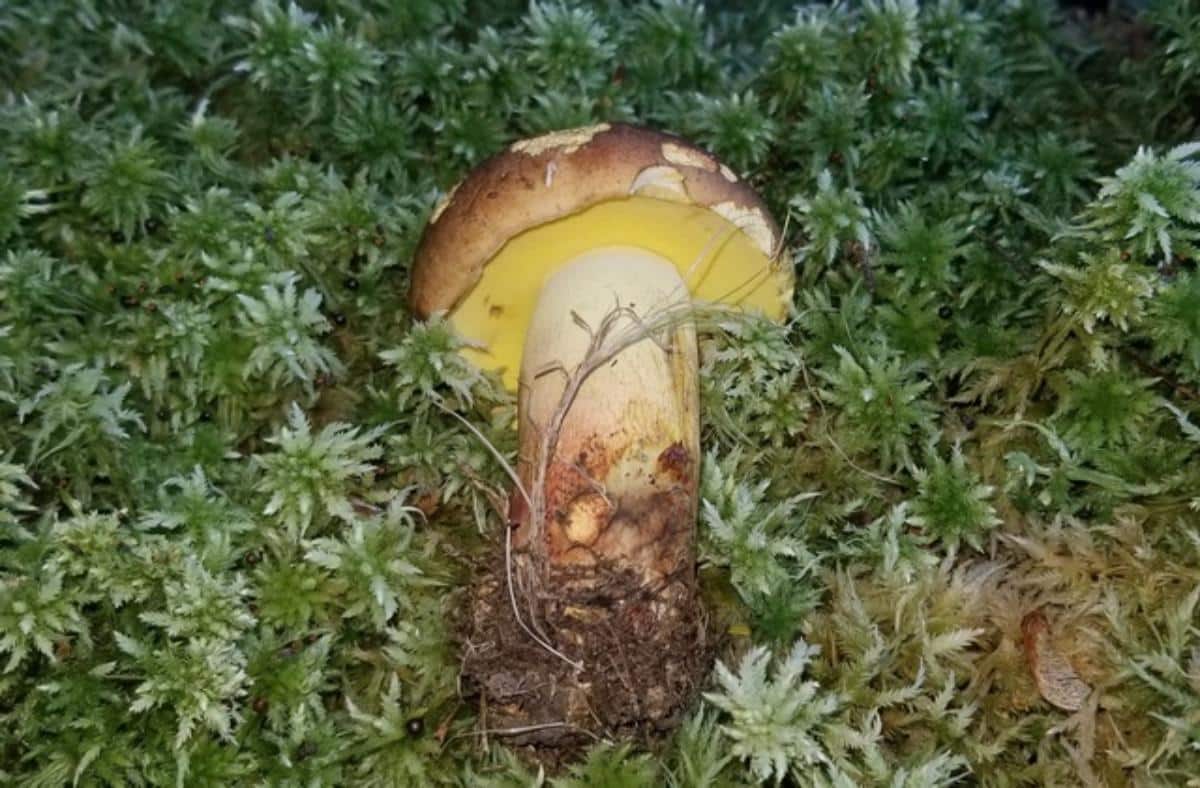 Bicolor Bolete Edibility
The bicolor bolete is not only visually stunning but also highly regarded as an excellent edible mushroom. In fact, it is often considered superior to the highly sought-after king bolete (Boletus edulis) in terms of flavor and eye appeal. It has a mild, yet distinctive umami mushroom flavor.
When cooked, the bicolor bolete's bright yellow flesh, edged in red, adds a delightful pop of color to any dish. Its unique flavor stands out in complex recipes, making it a versatile ingredient that pairs well with various foods.
It is worth mentioning that any bluish discoloration of the flesh tends to disappear during cooking.
Always check specimens for bug or larvae infestations, as finding them tunneled into the pores is common. Any buggy bicolors should be discarded.
To fully enjoy the bicolor bolete's culinary potential, it can be prepared in a variety of ways, including sautéing, frying, grilling, or even microwaving. Additionally, these mushrooms dry and rehydrate well, allowing for long-term storage and future use.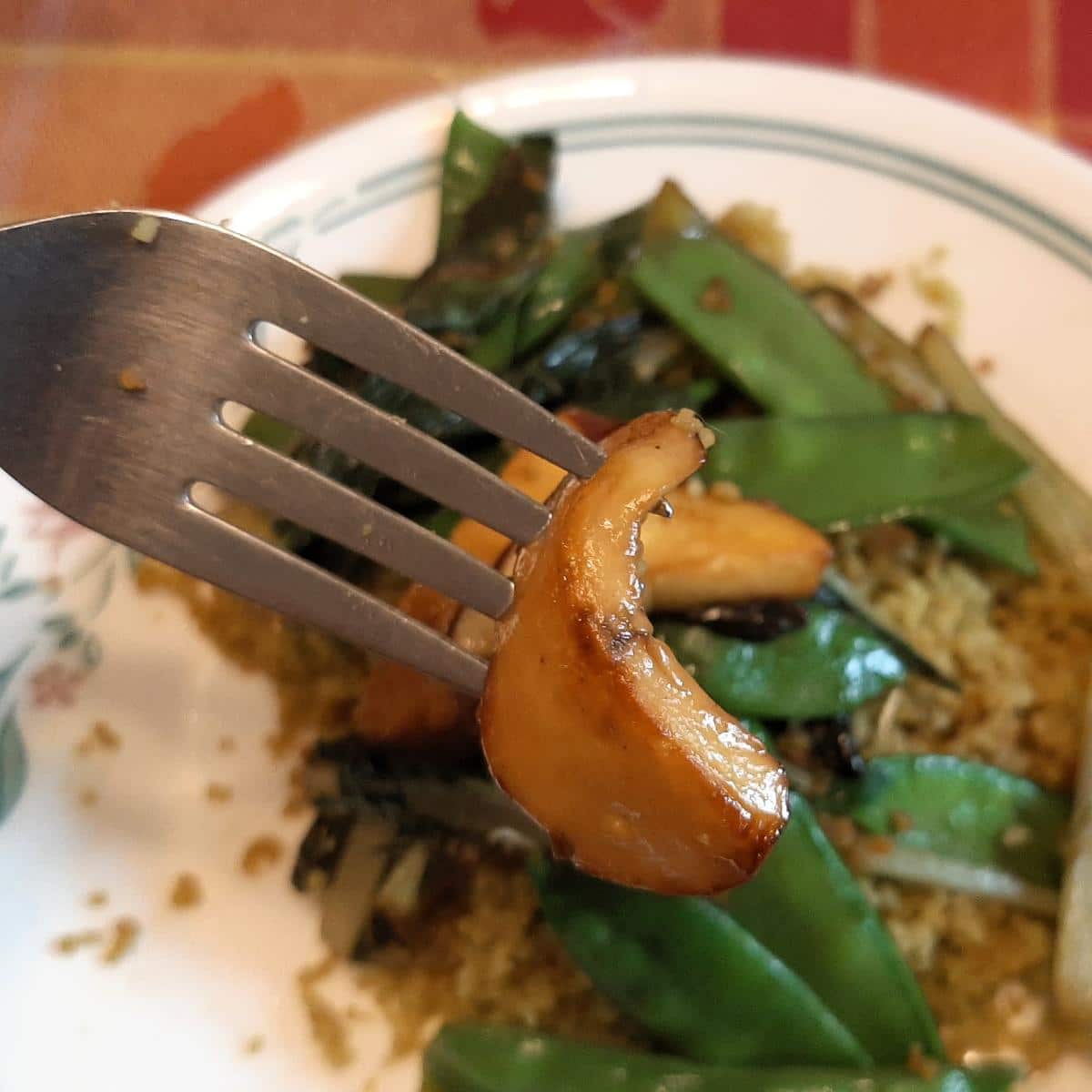 Bicolor Bolete Medicinal Properties
While the bicolor bolete is primarily appreciated for its culinary attributes, it is worth exploring its potential medicinal properties. However, it is important to note that further research is needed to fully understand and validate any medicinal claims associated with this mushroom. As always, consult a healthcare professional before using any wild mushroom for medicinal purposes.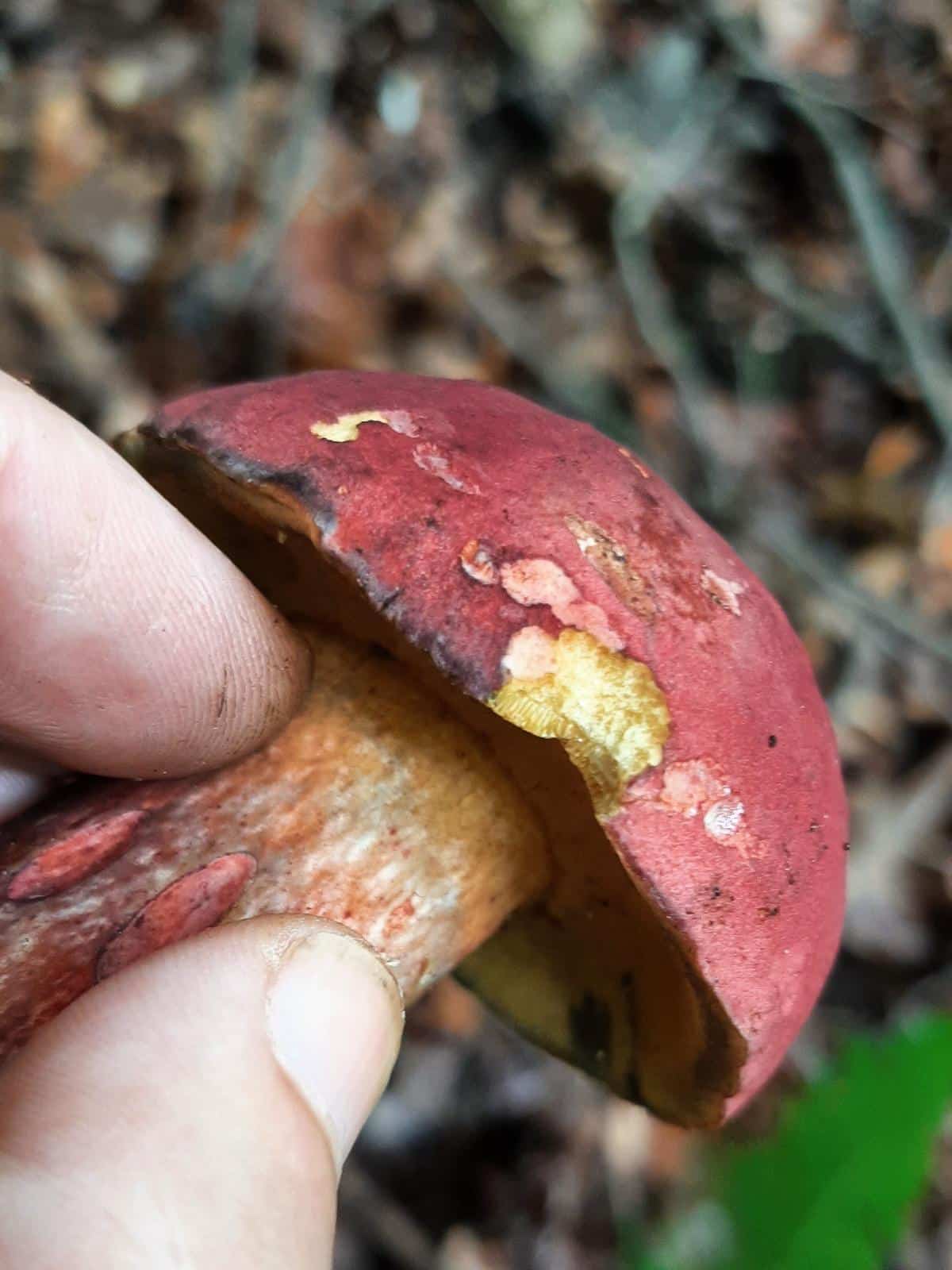 Bicolor Bolete Common Questions
Do bicolor boletes stain blue?
The pores bruise blue quickly, but the mushroom's other surfaces (stem, cap surface) usually do not. The sliced flesh may turn light blue, very faintly. But it also may not turn blue at all.
Is bicolor bolete poisonous?
The two-colored bolete is a safe and tasty edible mushroom. However, it can be easily confused with poisonous boletes that also bruise blue. Use high caution when foraging this species.