The Scaly Hedgehog mushroom (Sarcodon imbricatus) is an edible tooth fungus known for its distinguishing features, particularly its cap. With a large, darkly scaled brownish cap and greyish, brittle teeth, this mushroom stands out. The Scaly Hedgehog is a widespread species, making its home across North America and Europe. It usually grows in association with spruces and firs, especially in hilly or mountainous areas.
Scientific Name:

Sarcodon imbricatus

Common Names:

Scaly hedgehog, Hawk's wing, Shingled hedgehog, Scaly Tooth Fungus

Habitat:

On the ground with conifers and sometimes hardwoods

Edibility:

Edible, sometimes bitter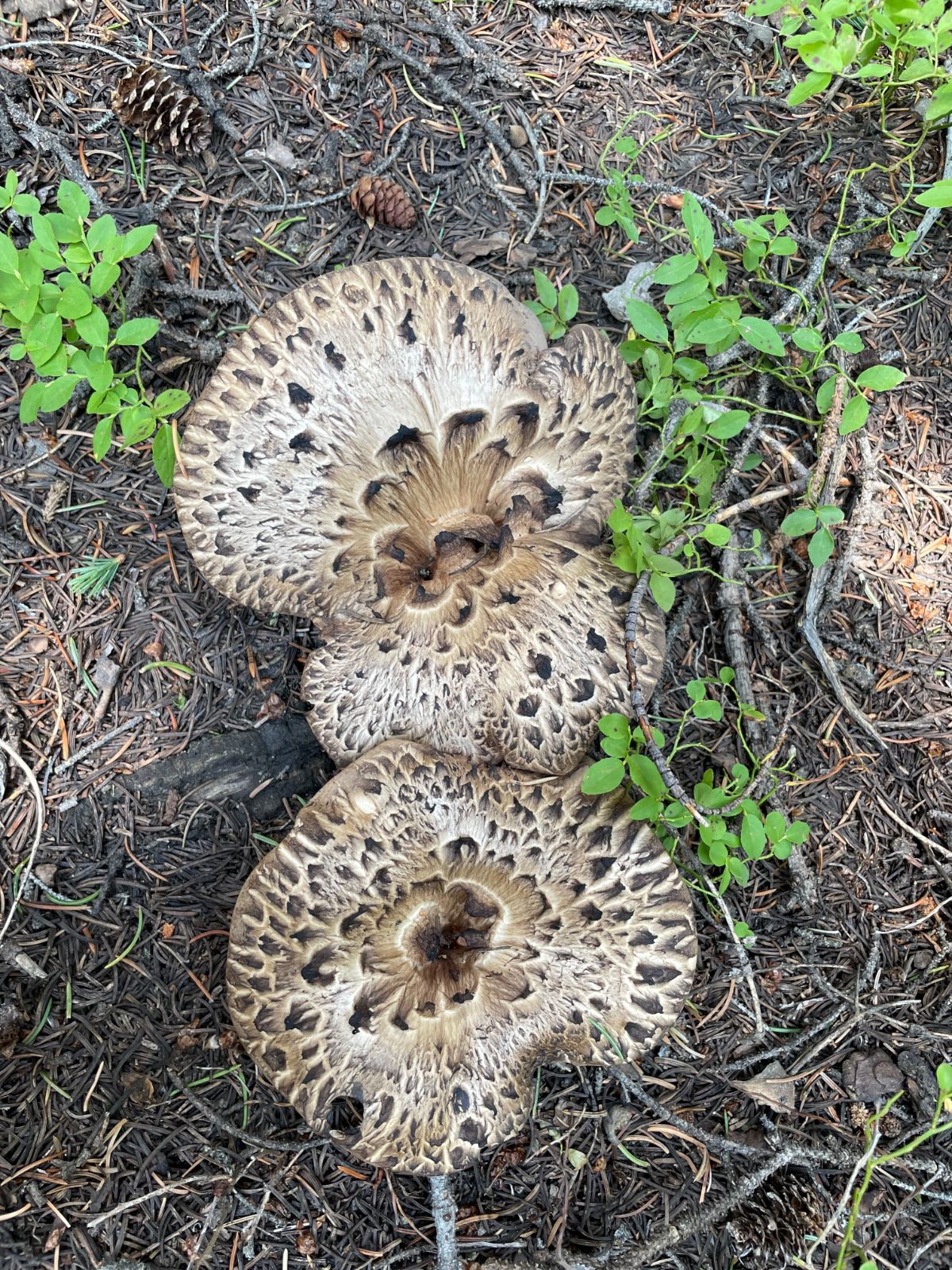 Jump to:
All About The Scaly Hedgehog Mushroom
The Scaly Hedgehog's name imbricatus, derives from Latin, signifying "tiled" or "with overlapping tiles". This nomenclature is a fitting tribute to the mushroom's distinct cap, which resembles overlapping tiles or shingles.
There are several species of "scaly hedgehog" mushrooms, or, more correctly, several species sharing the same common name. In addition, the one in this article, Sarcodon imbricatus, as we call it in North America, may actually represent more than one species. The propensity for S. imbricatus to grow with pines and hardwoods and its wide variance in taste profile among populations and growth habitats leads many to think they're actually different species lumped all together.
Scaly hedgehogs are valued across many different cultures and for many reasons. In Norway, the old mushrooms of Sarcodon imbricatus and related species a valued for their blue-green pigments, which are used for dyeing wool. In Bulgaria, it is collected, dried, and finely ground to create aromatic mushroom flour.
In Korea, a mushroom tea is made from the scaly hedgehog. Additionally, the fried younger specimens are a sought-after delicacy in the Japanese food market.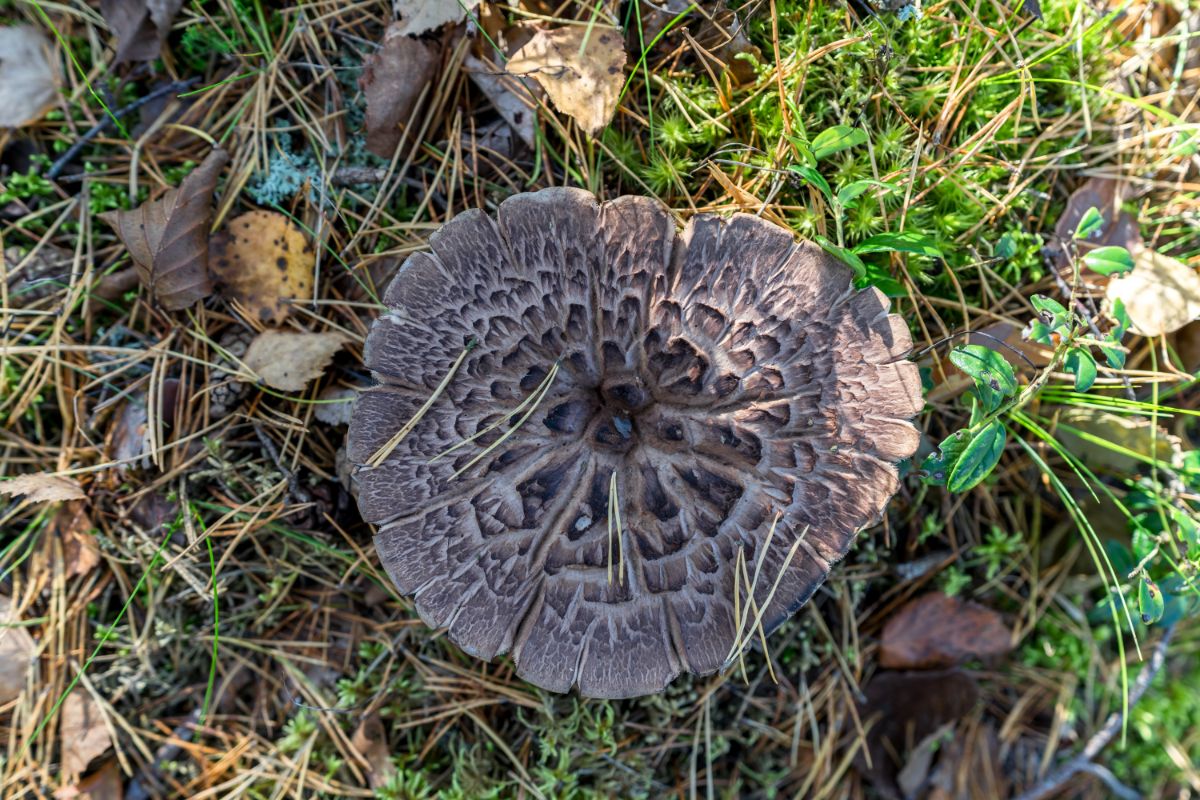 Scaly Hedgehog Identification Guide
Season
It typically grows from July through September.
Habitat
While it can be found across North America and Europe, the scaly hedgehog exhibits an affinity for specific environments. In North America, Sarcodon imbricatus is commonly associated with spruce and fir trees. However, there are also reports of it growing among hardwoods. It appears most commonly in the Rocky Mountains, where it grows with subalpine fir and Engelmann spruce during the monsoon season.
Scaly hedgehogs grow from the ground, never from trees or wood. The fruiting bodies appear alone or in close or scattered groupings. Often they form small, overlapping clusters. They've even been known to form fairy rings.
Explore higher-elevation areas with spruce-fir or mixed conifer forests to increase your chances of encountering the scaly hedgehog mushroom. Look for locations near water sources, such as stream edges, swamps, marshes, or areas where water runoff occurs. While water is not always necessary for their growth, these mushrooms tend to favor moist environments, creating an ideal hunting ground for foragers.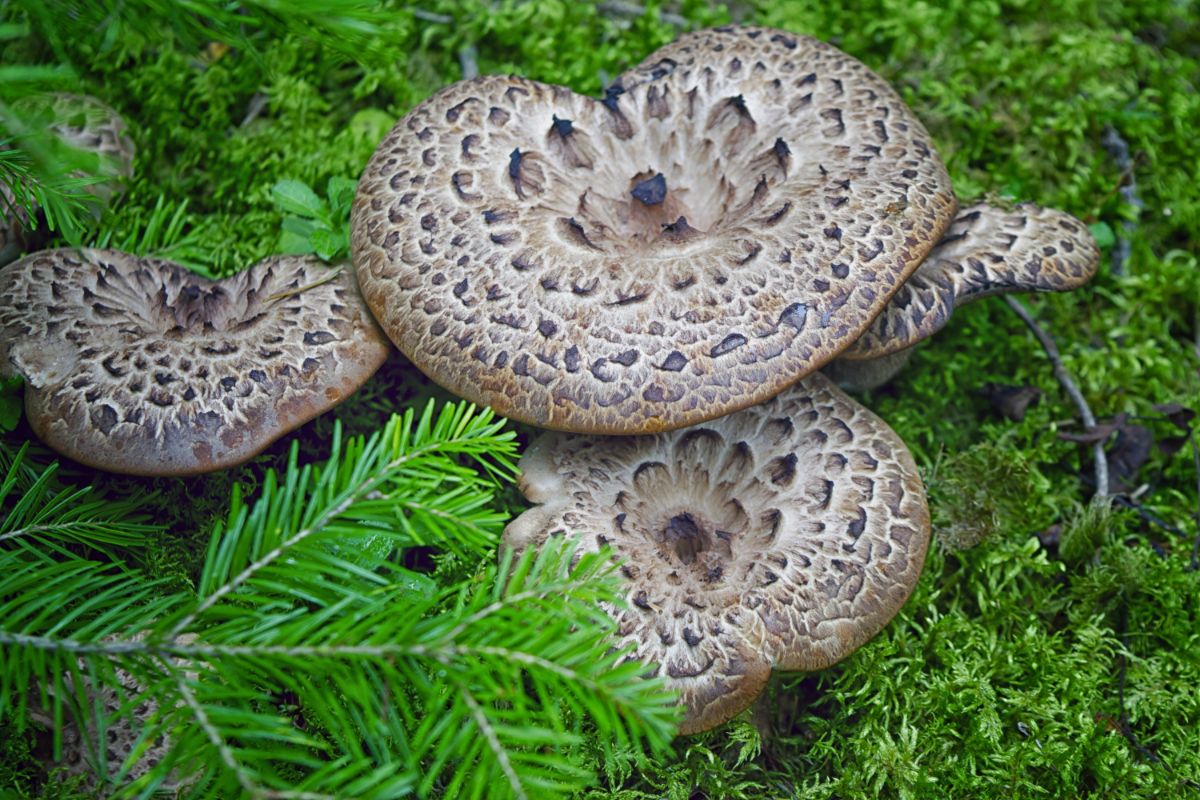 Identification
Cap
The cap of the Scaly Hedgehog is a crucial element in its identification. It is large and brownish, with a diameter that may stretch up to 12 inches, but usually, it is smaller than that. The edges of the cap are generally rolled under, especially when young. With age, the edges flatten out. The color range is quite varied, from creamy tan to dark chocolate brown.
The cap's surface is adorned with large brown scales, giving it a shingled appearance. These scales darken as the mushroom ages and turn upwards. The middle of the cap is indented, creating a central depression that is perfect for collecting water and debris.
Teeth
Instead of gills or pores, the scaly hedgehog mushroom has teeth on its underside. These teeth extend downward from the cap and are pale brown to light to medium brown and darken with age. When young, the developing teeth may resemble pores, but they become more defined as they mature.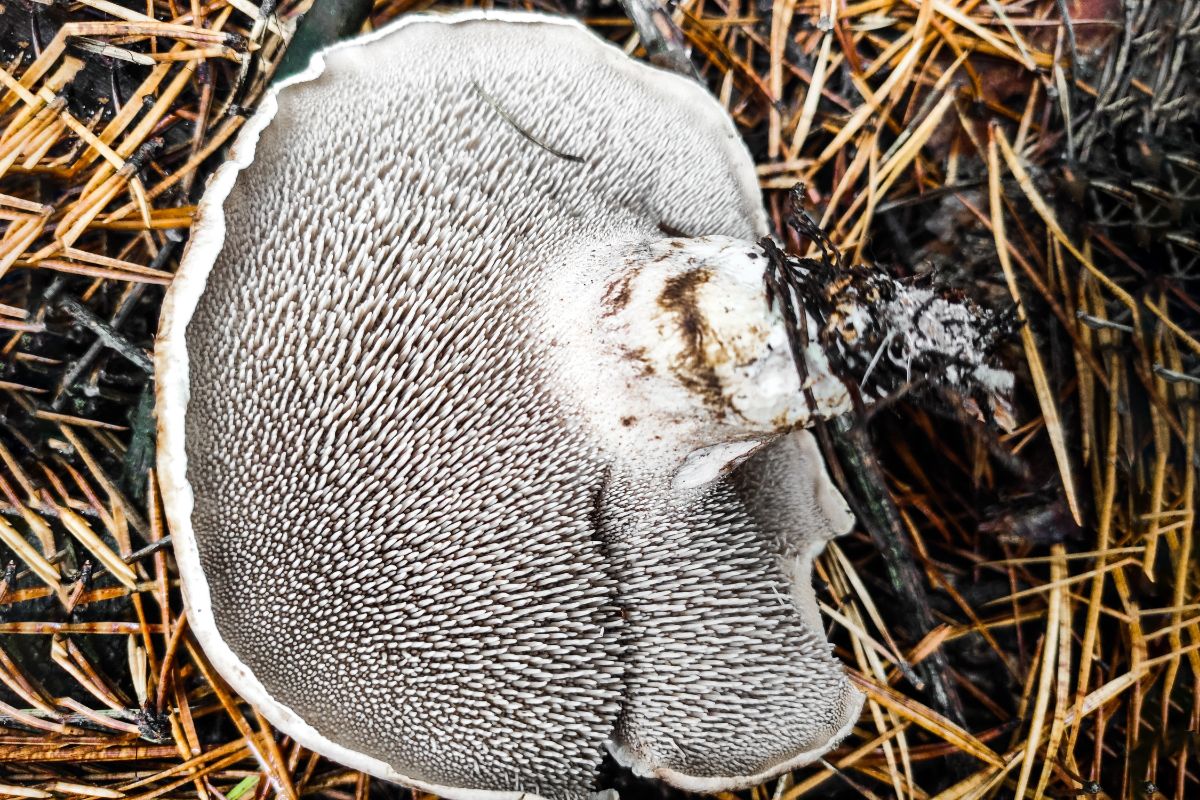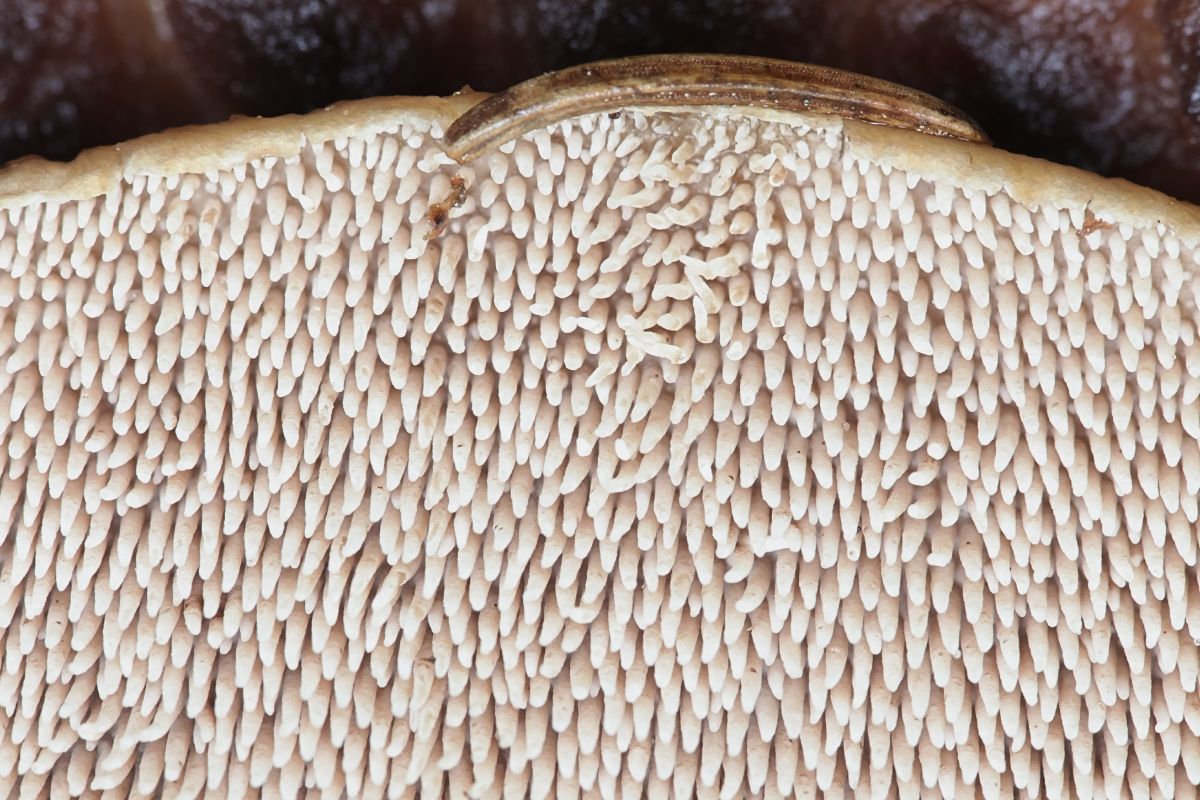 Stem
The stem of the Scaly Hedgehog is stout and may reach 4 inches in height and 1.5 inches in width. The stem is usually pale or brownish and becomes hollow as the mushroom matures. The surface of the stem is dry and may have fibers on it, matching the coloration of the cap. At the base of the stem, white mycelium can usually be observed.
Flesh
The flesh of the scaly hedgehog mushroom is soft and ranges in color from whitish to pale brownish. When cut or bruised, it does not change color.
Odor and Taste
The scaly hedgehog mushroom has a mild odor that is not distinctive. When it comes to taste, the Scaly Hedgehog can be a bit of a wildcard. Some find it delicious, while others report a bitter flavor. This variation in taste could potentially be linked to the mushroom's growing conditions or the specific subspecies. It is entirely possible that reports of bitter specimens are actually different very similar-looking species.
Spore Print
The Scaly Hedgehog's spore print is brown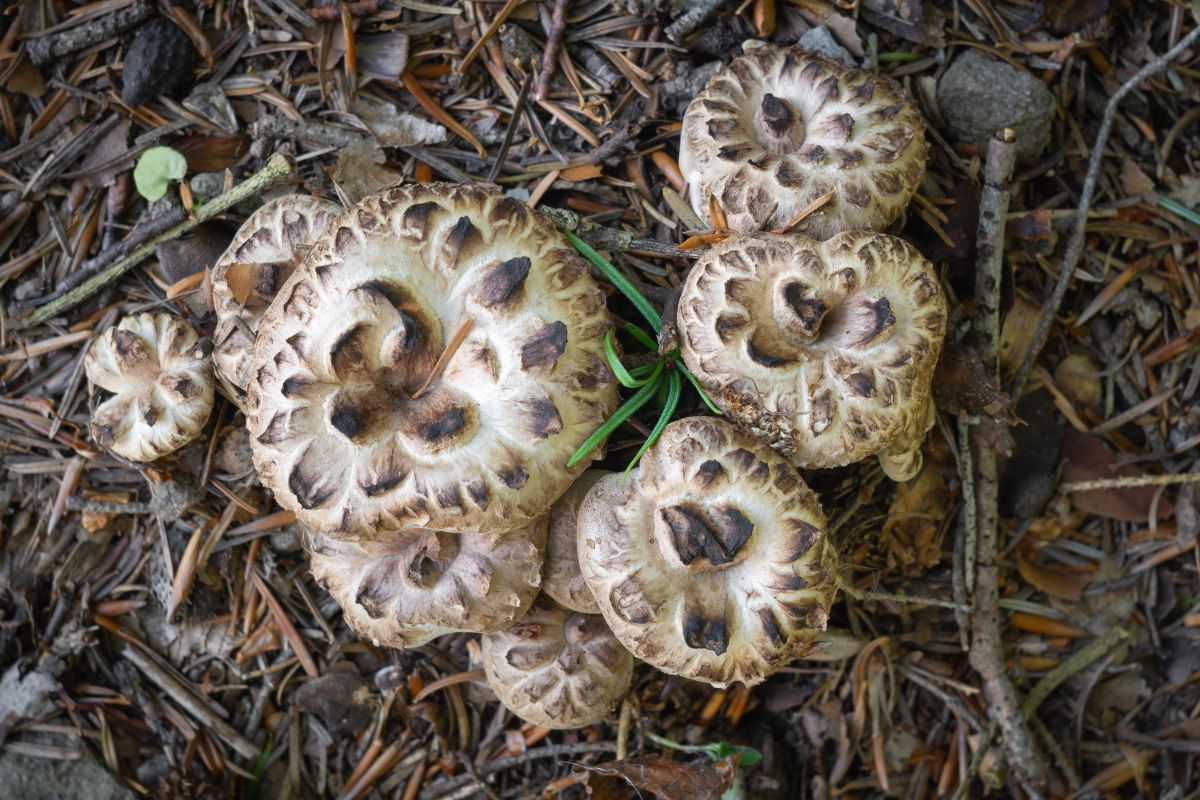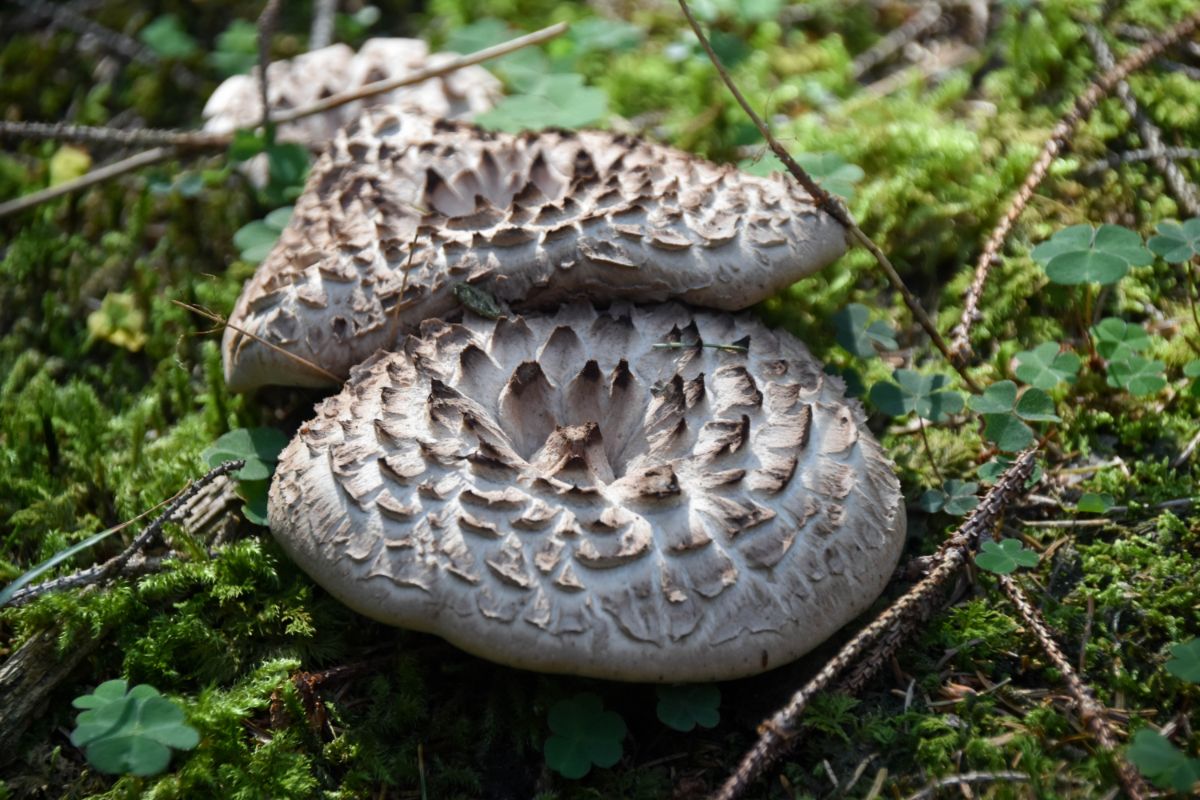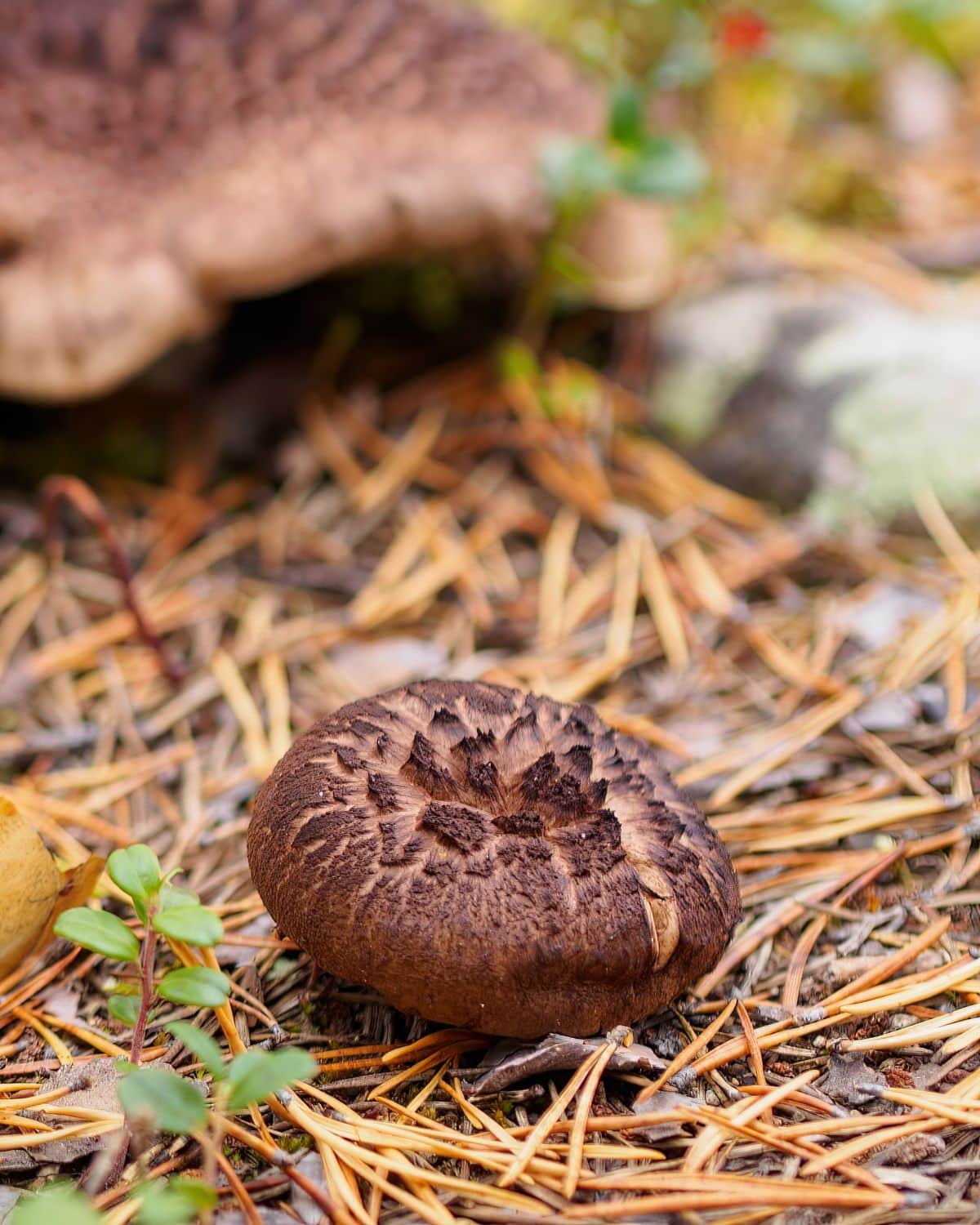 Scaly Hedgehog Lookalikes
While the scaly hedgehog mushroom has distinct characteristics, there are a few mushrooms that may resemble it:
Dryad's Saddle, aka Pheasant's Back (Cerioporus squamosus)
The cap of the dryad's saddle features many dark brown scales, just like the scaly hedgehog. In fact, some people call Dryad's Saddle the Hawks-wing mushroom – this causes a lot of confusion! There are three main differences, though, that easily set these two apart. Dryad's saddle has pores under the cap, not teeth.
It also grows exclusively on dead or dying trees, not on the ground like the scaly hedgehog. And it most commonly appears in spring when morels are fruiting. Dryad's saddle may appear in fall, too, as it likes cool weather, but the growth habit and lack of teeth are easy tells.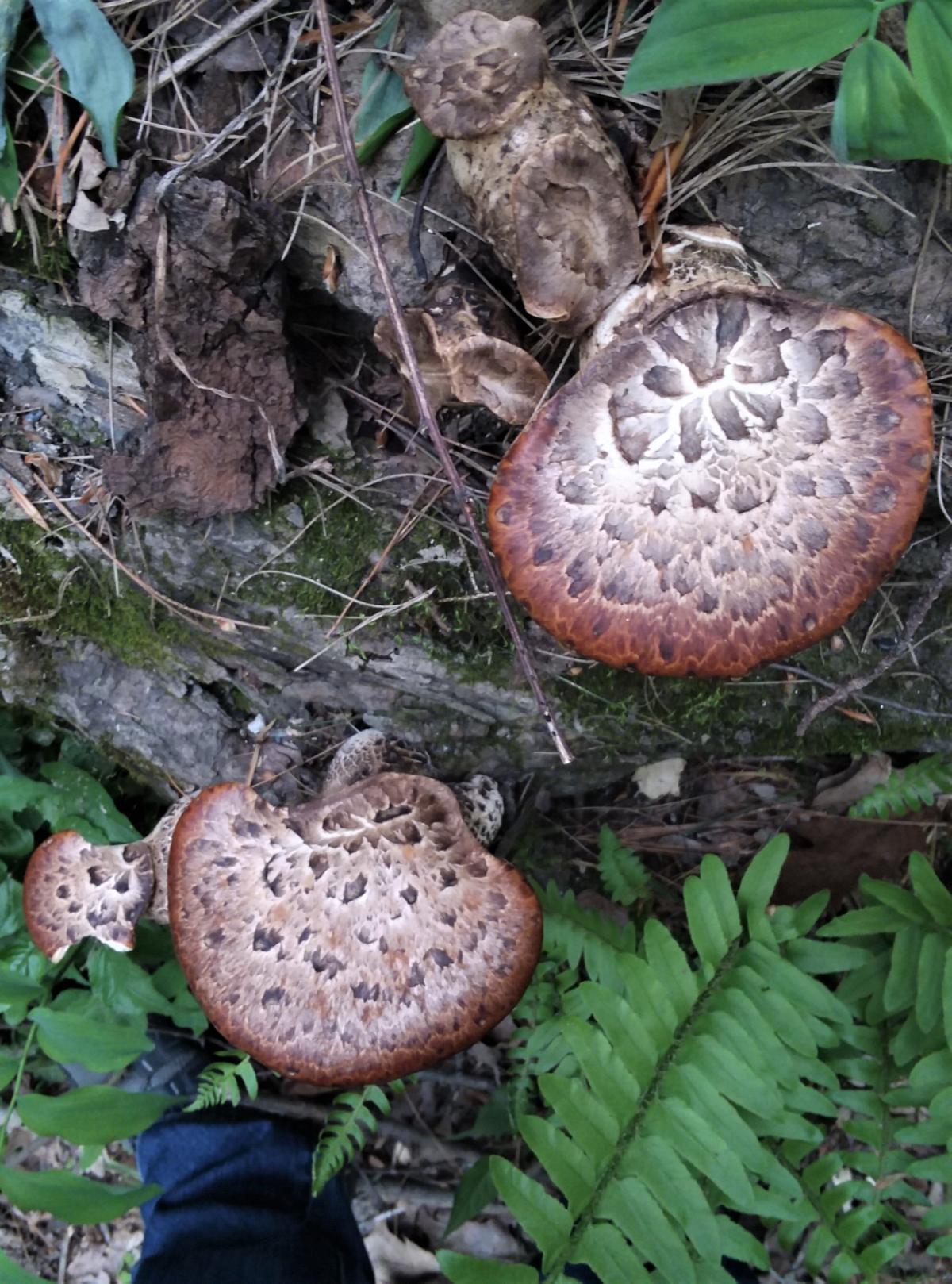 Old Man of the Woods (Strobilomyces strobilaceus)
The old man of the woods shares a similar shaggy cap with the scaly hedgehog mushroom but can be distinguished by its pores instead of teeth and bitter taste.
Bitter Scaly Hedgehog (Sarcodon amarascens)
As the name suggests, this species is bitter and inedible. It won't make you sick, it'll just taste awful. It can be differentiated from the scaly hedgehog mushroom by its bluish-black stripe.
Bitter Tooth Hedgehog (Hydnellum scabrosum)
This mushroom closely resembles the scaly hedgehog mushroom but exhibits some subtle differences. The cap is usually smoother without the prolific and clearly defined scales. It also often stains blueish-green at the base of the stem, but not always. If it does, this clearly indicates it is not Sarcodon imbricatus. This species is also incredibly bitter, so a quick nibble and spit taste test will clarify whether you want to eat it or not.
There is debate as to whether this species actually occurs in North America and if so, how widespread it is. The bitter tooth hedgehog is a European species for sure, which may also be in North America. It also just may be a constant misnomer because it looks so similar and by default, we use the European taxon until we know better.
Foraging Scaly Hedgehog Mushrooms
Look on the ground in late summer and fall for a short, squat mushroom cap covered with scales. The best edible specimens are under 5″ wide – they usually get buggier and more bitter as they develop. Cut the stems at the base with a knife – this also helps determine the overall bugginess of the specimen, as you can see the bug holes in the stem flesh.
The teeth and scales of the scaly hedgehog are brittle and fall off easily. It's best to transport this species in a basket or hard-sided bag so they don't get too beat up. It's okay if they do, but you'll find the specimens (and any others sharing its space) covered in teeth and scales when you empty the bag.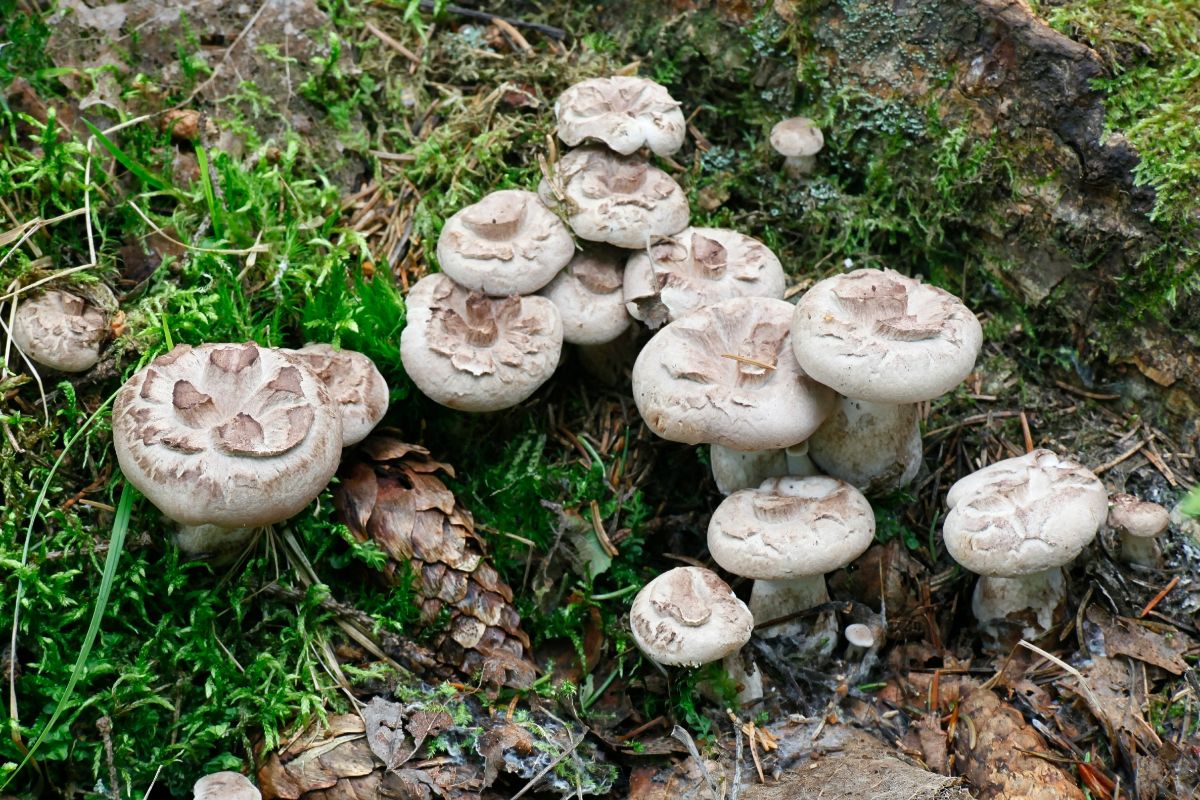 Cooking With Scaly Hedgehogs
When young and properly prepared, the scaly hedgehog is considered edible and highly sought after by mushroom enthusiasts. The flesh is dense and meaty, with a nice umami, earthy flavor. This mushroom holds up well to long cooking and easily absorbs flavors and spices.
However, it is essential to note that individual tastes and reactions to mushrooms can vary. While many people find the slight bitterness not an issue or don't encounter any bitterness at all, others find it entirely too bitter. Also, some sources suggest that the scaly hedgehog mushroom may cause gastrointestinal upsets, so it is advisable to exercise caution, especially when consuming it for the first time.
The bitterness seems to be less of an issue in younger specimens, so seek those out. Before cooking, scrape off the teeth under the cap. They tend to burn, and some people advise they increase the bitter flavor, so it's best to remove them.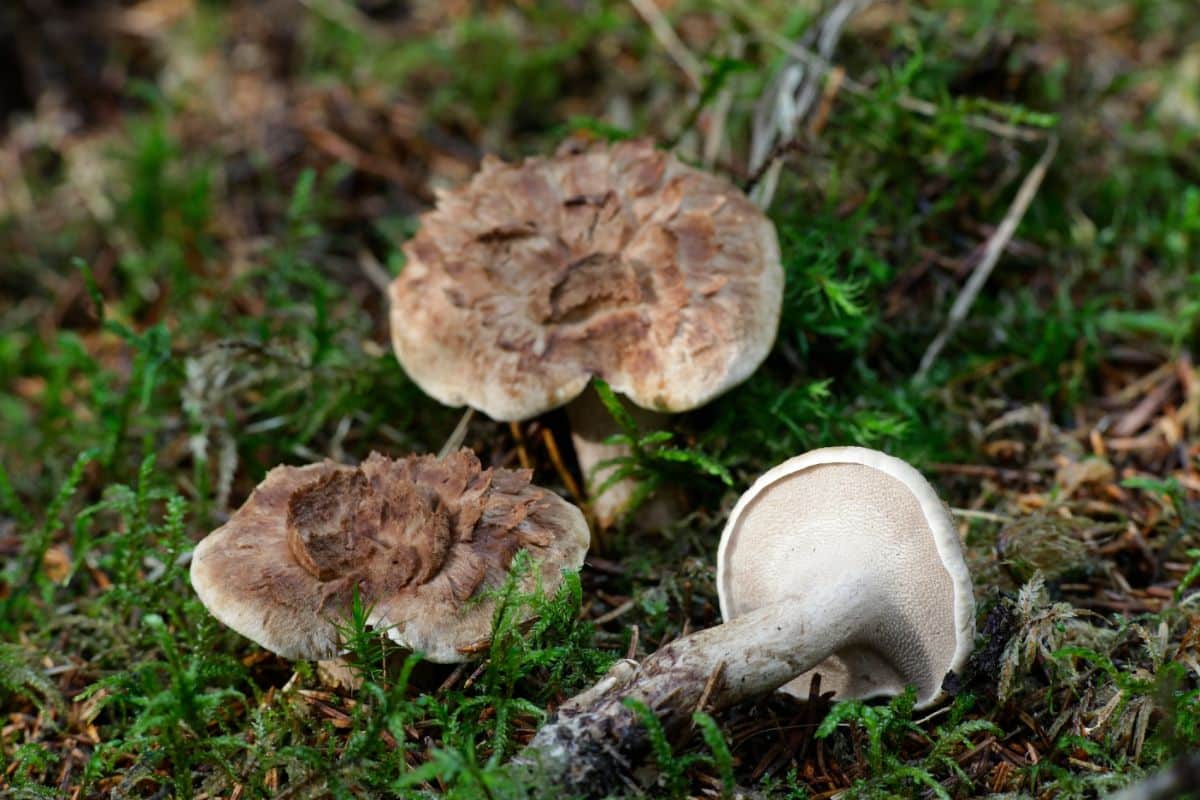 If the specimens you have are too bitter for your liking, immerse the mushrooms in salted boiling water for 5-10 minutes to remove the bitterness. Then, rinse well before incorporating them into a dish. Some folks strongly disagree with the boiling of these mushrooms, but that is likely because they've never had a bitter one. Again, the taste of these seems to vary WIDELY, possibly depending on habitat or age, so just do the method that seems best for you.
The scaly hedgehog sautes up wonderfully in butter and spices, retaining its meaty texture and appeal. They are excellent fried, added to soups and stews, grilled, and roasted. The scaly hedgehog mushroom's distinctive flavors and textures make it a versatile addition to various dishes, adding a touch of earthy delight to your culinary repertoire.
Scaly Hedgehog Recipes: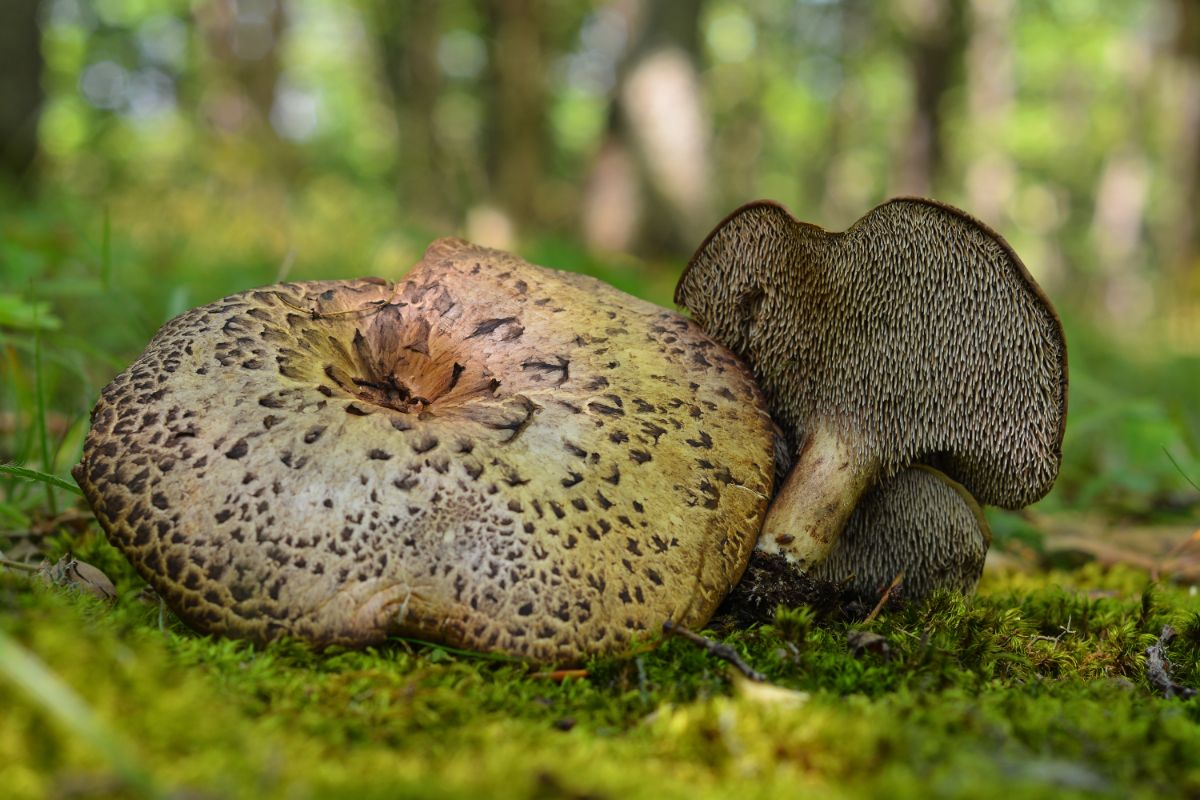 Common Questions About Scaly Hedgehog Mushrooms
Are scaly hedgehog mushrooms medicinal?
Currently, there is limited scientific literature specifically addressing the medicinal properties of the scaly hedgehog mushroom. It is always advisable to consult a healthcare professional or qualified herbalist before incorporating mushrooms into medicinal practices.