The orange peel fungus often gets overlooked because it looks just like an orange peel tossed on the ground. Orange peel fungi (Aleuria aurantia) are widespread and edible but aren't considered a top eatable species. This little bright orange fungus is a lot of fun to stumble across. And, if you're feeling adventurous, try cooking it up.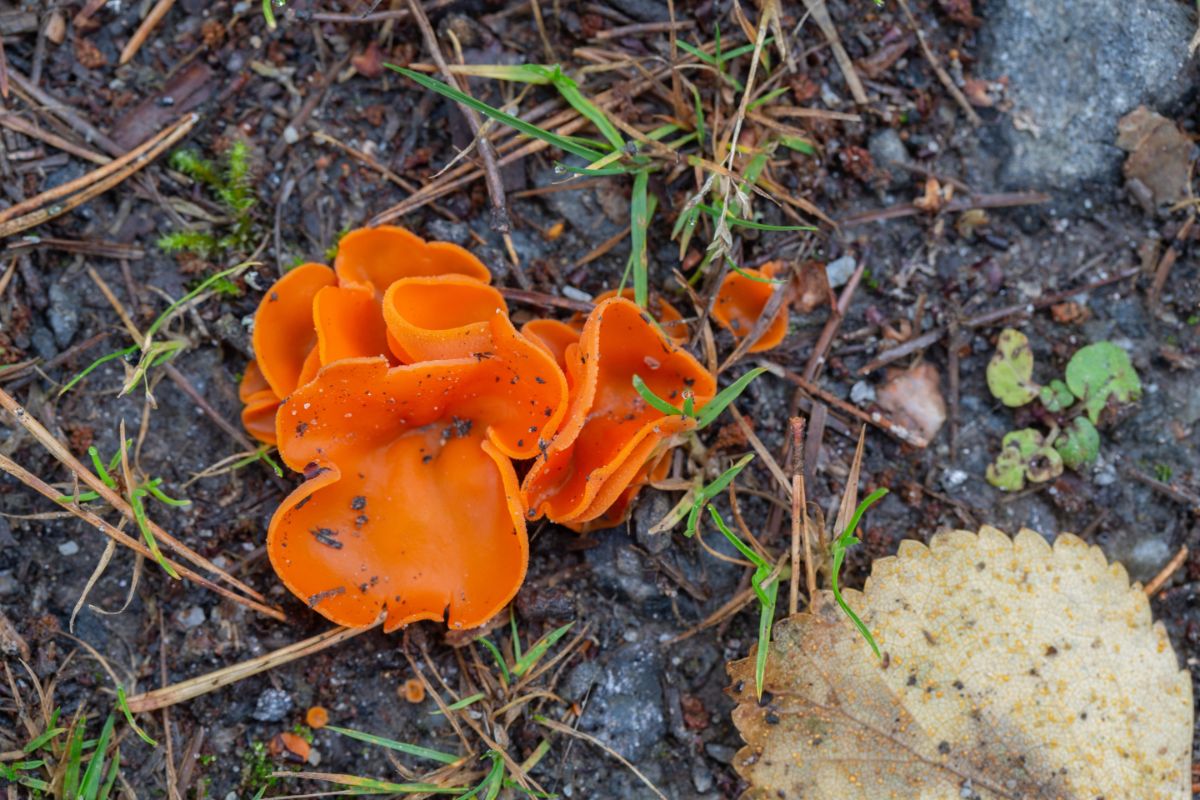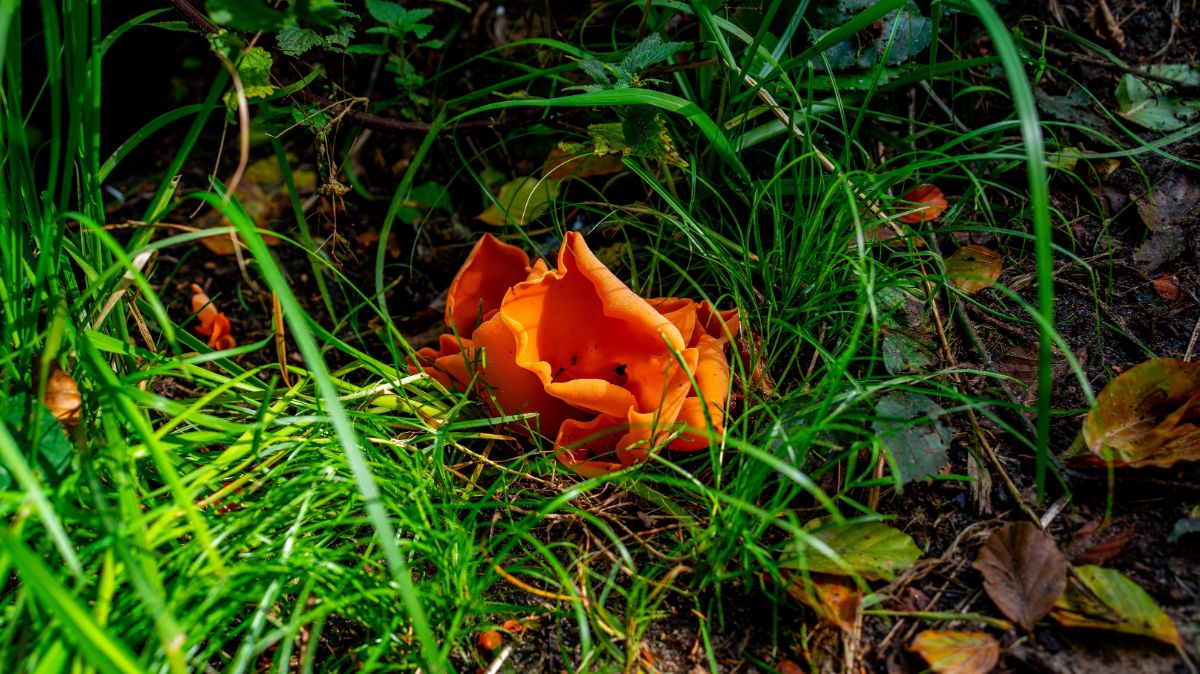 Jump to:
All About Orange Peel Fungus
This fungus is in the order Pezizales, making it related to morels and truffles. It is a cup fungus that stands out with its brilliant coloring. No other fungus looks like this, so it is pretty easy to identify.
Orange peel fungi grow on disturbed ground throughout North America, Europe, and parts of South America.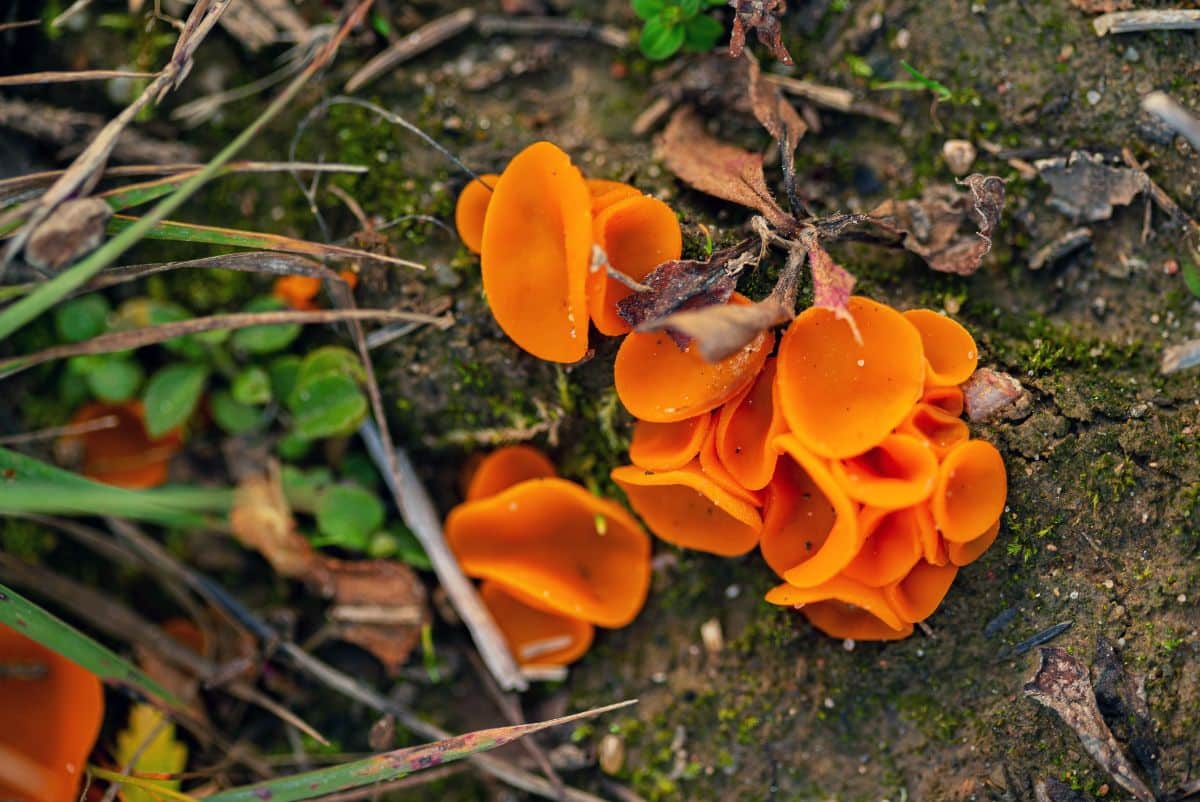 Orange Peel Fungus Identification
Season
Orange peel fungi appear in summer and fall and into winter in milder west coast regions.
Habitat
This fungus grows on bare soil, usually on disturbed ground. It is commonly found along trails, roadsides, embankments, bare clay, yards, sidewalks, and landscaped areas. Orange peels grow in overlapping clusters but sometimes appear singularly.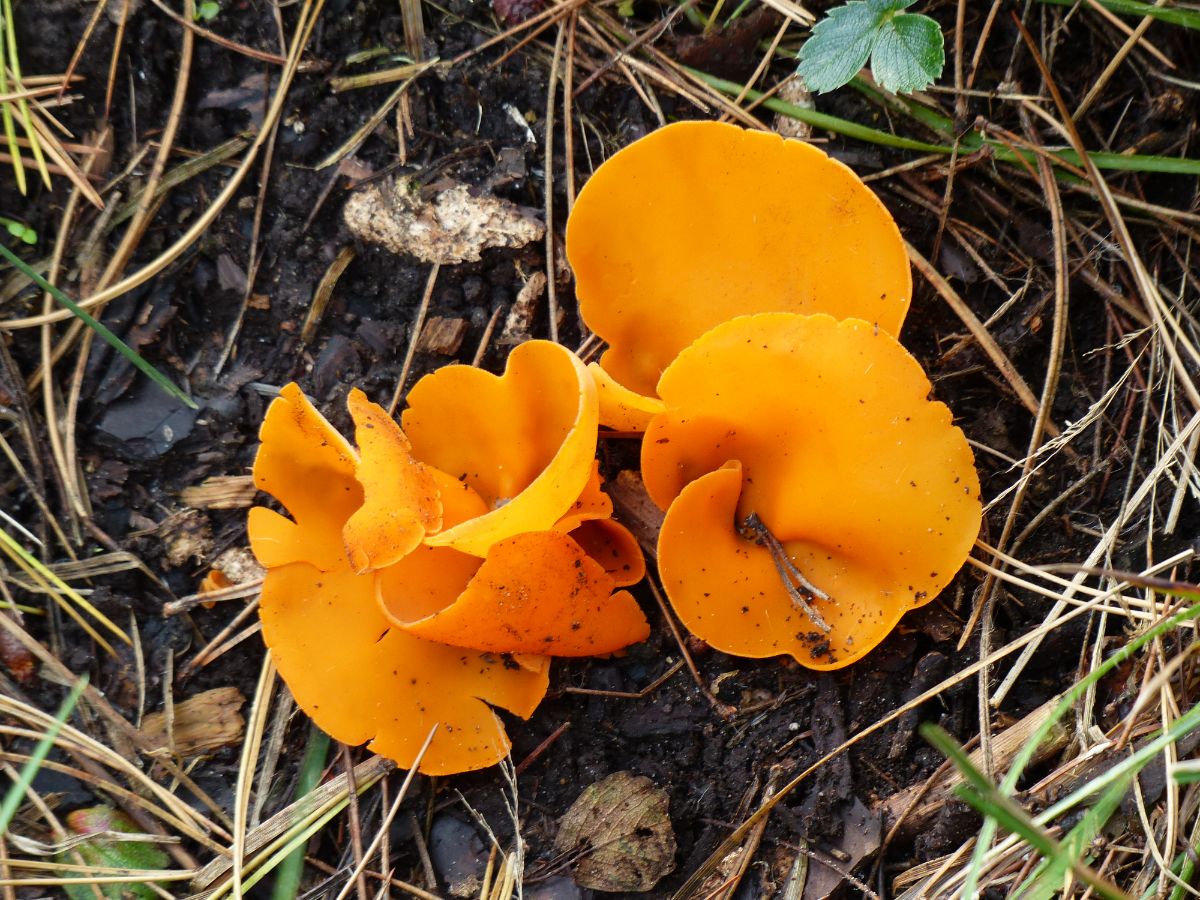 Identification
The fruiting body of the orange peel is cup-shaped but quickly flattens out as it grows. The body is often irregular, with wavy edges due to its close proximity to other bodies. Sometimes, the cups split on one side. It doesn't have a stem, but the bottom is pinched, where it attaches to the underground mycelium.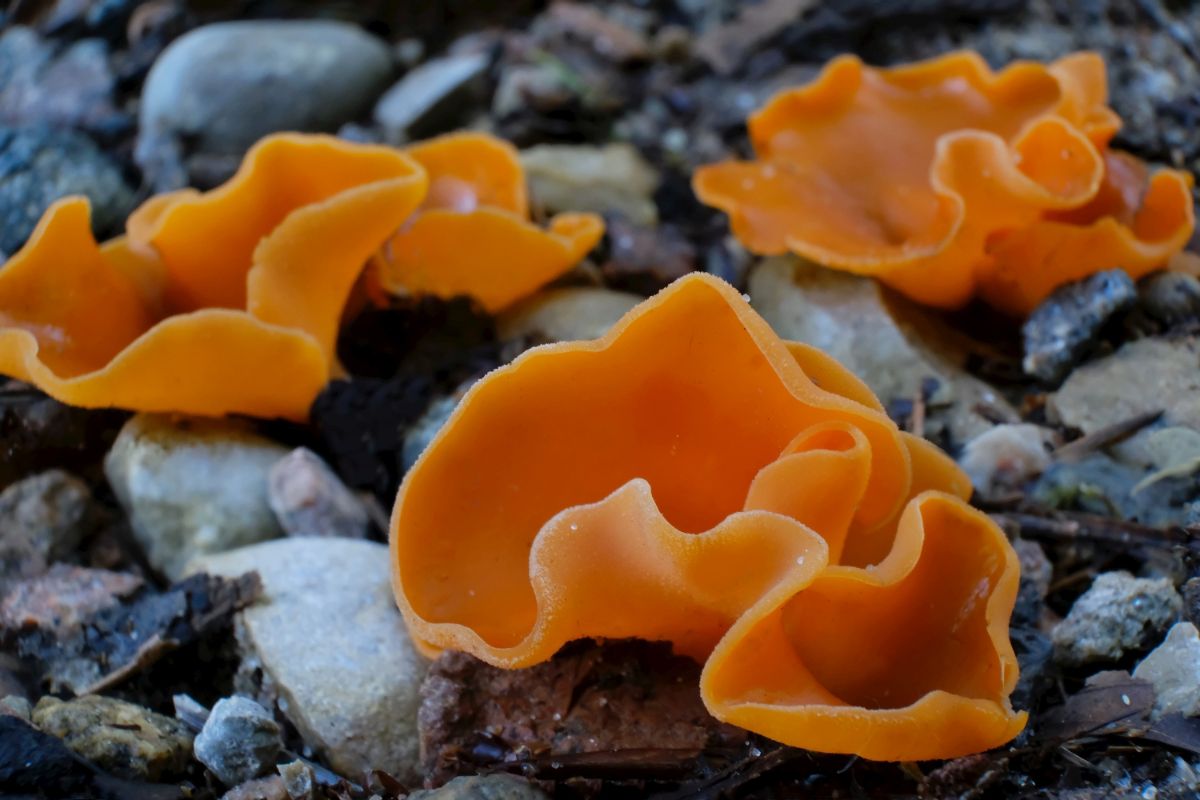 This fungus averages .5- 2.75 inches across. The upper exposed surface is brilliant orange and doesn't have any decorations. Underneath, the surface has a whitish fuzz when it is young, but this often disappears with maturity. It is generally a shade or two lighter than the upper surface.
The flesh of the orange peel fungus is thin, slightly leathery, and brittle. There is no telltale or distinctive odor, and no part of the fungus bruises or changes color when handled or cut.
The overall appearance of this fungus is a little pile of vivid orange peels lying on the ground.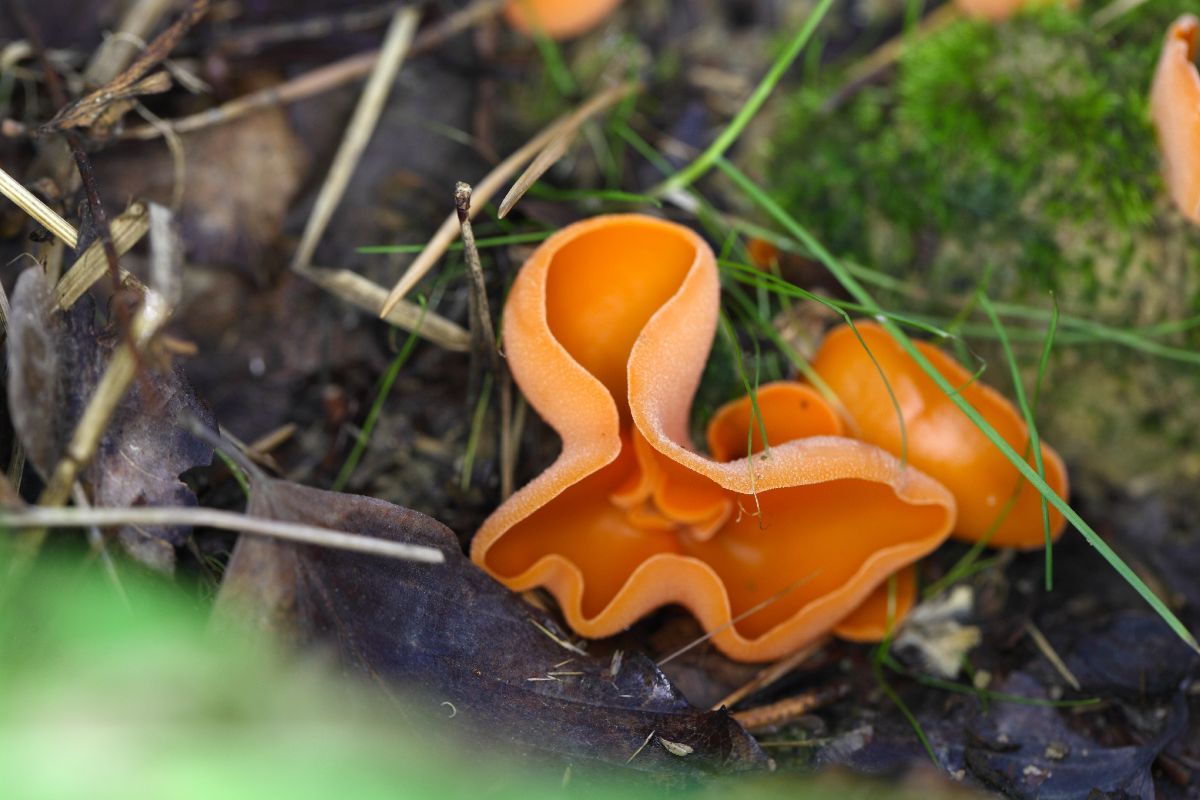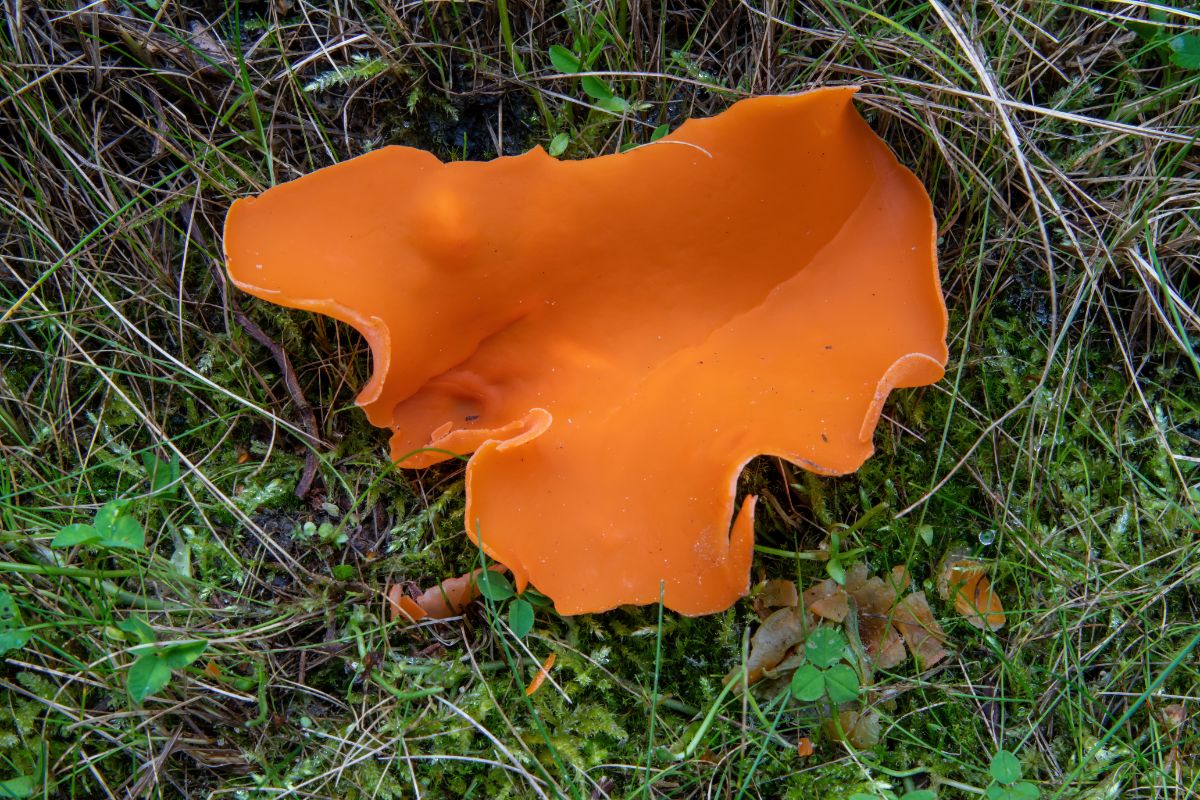 Orange Peel Fungus Lookalikes
There are several mushroom species that look passingly similar to the orange peel fungus. However, a short investigation easily determines whether it is or isn't the orange peel.
Spring Orange Peel Fungus (Caloscypha fulgens)
This orange cup fungus, also known as the golden cup or dazzling cup, is orange and also grows on the ground. There are a couple key differences, though. The golden cup appears in spring around conifers. And, it bruises blue when handled and as it matures. So, if in doubt, see if the fungus changes color.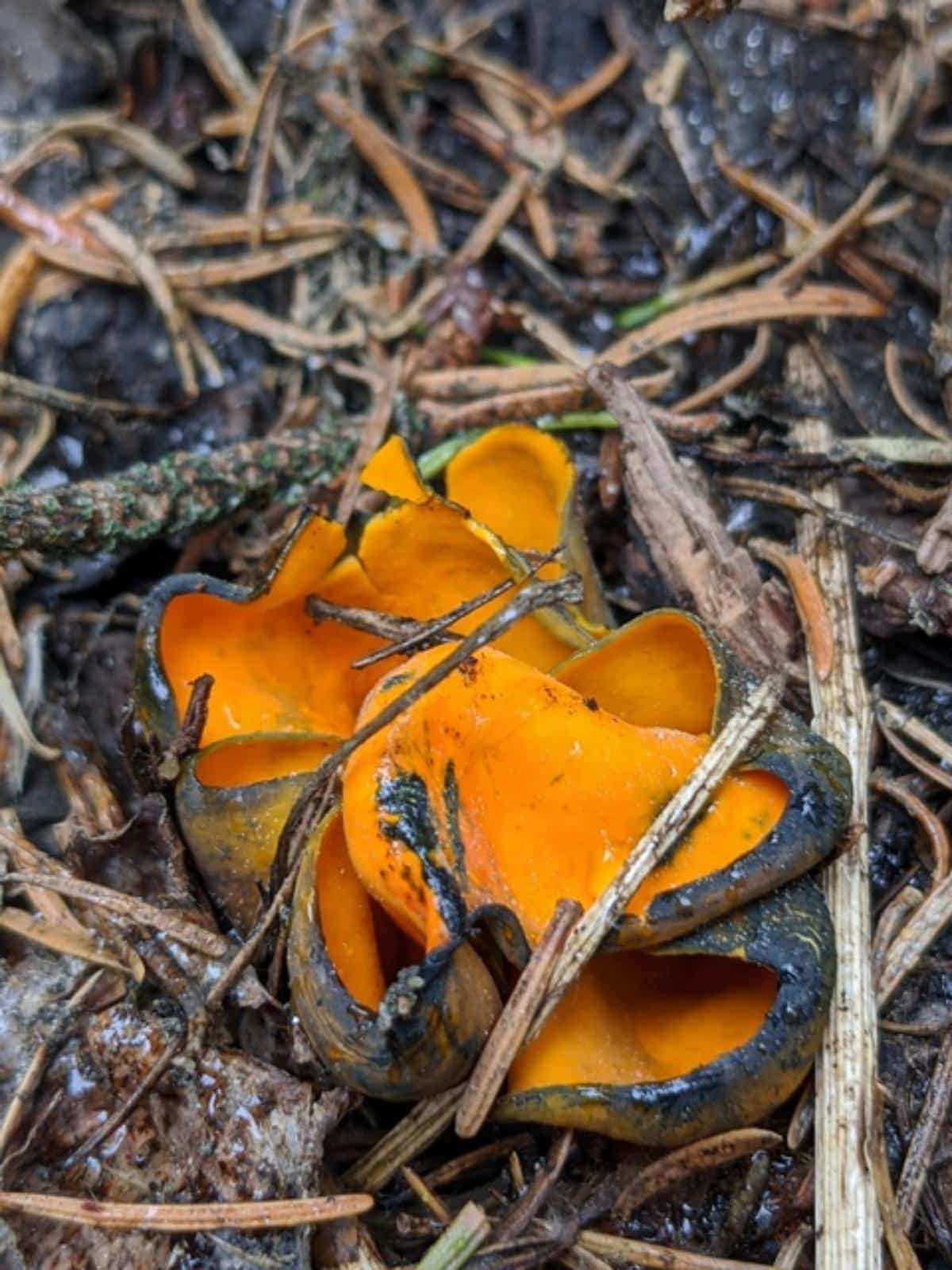 Hare's Ear Fungus (Otidea onotica)
This cup fungus lacks the brilliant coloring of the orange peel fungus. It is more brownish-orange or dull colored. The cup is also more erect, split down one side, and looks somewhat like a rabbit's ear. This fungus also has a short stem covered with fine white hairs. It grows in summer and fall also and is widely distributed across North America.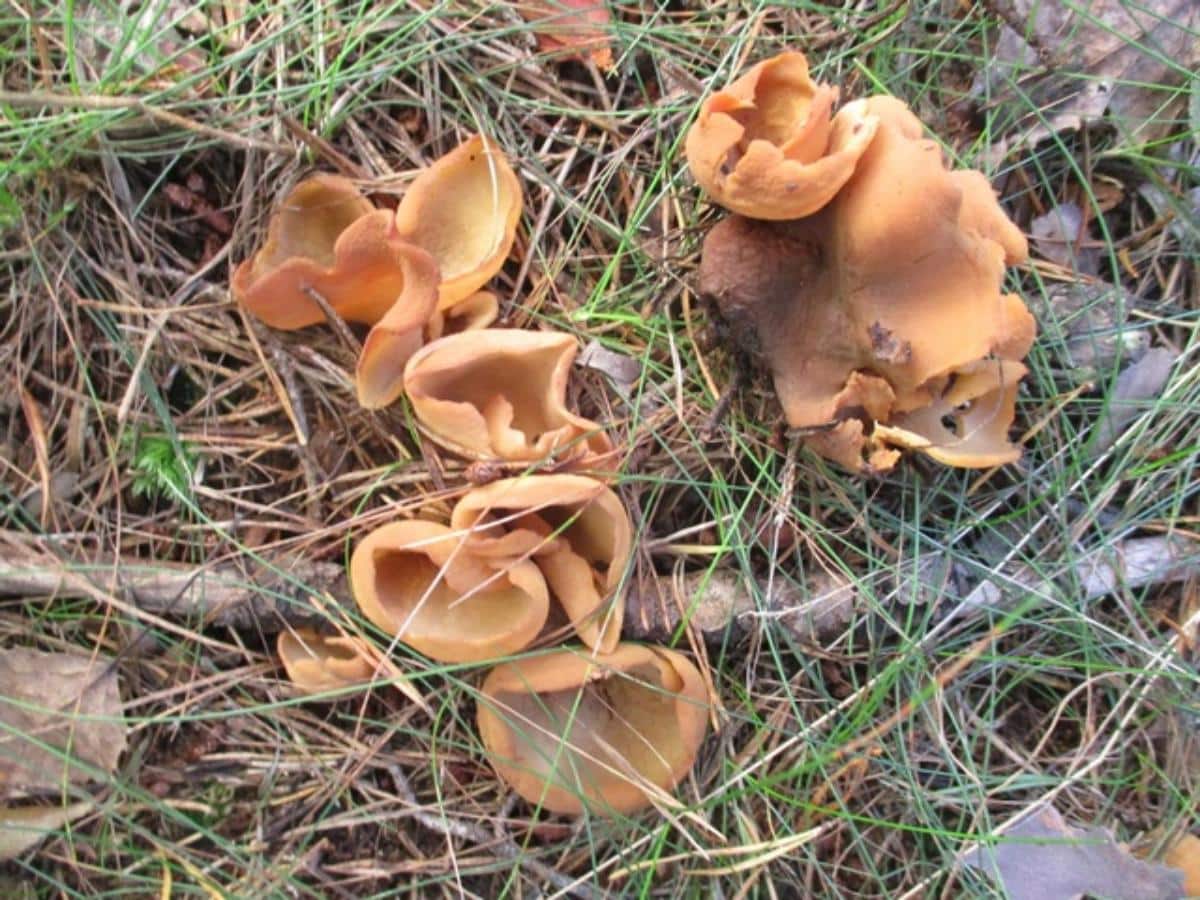 Stalked Orange Peel Fungus (Sowerbyella rhenana)
As the name suggests, this lookalike has a discernible stem, which sets it apart from the orange peel fungus. It is super bright orange, like Aleuria aurantia, but much much smaller. It rarely gets larger than 1-inch across. But, check for the stem, and you'll know which fungus you have found.
Aleuria cestrica
This cup fungus in the same family as the orange peel fungus looks almost exactly alike except in miniature. Aleuria cestrica is around 1/4″ wide, a teeny tiny little orange cup on the ground.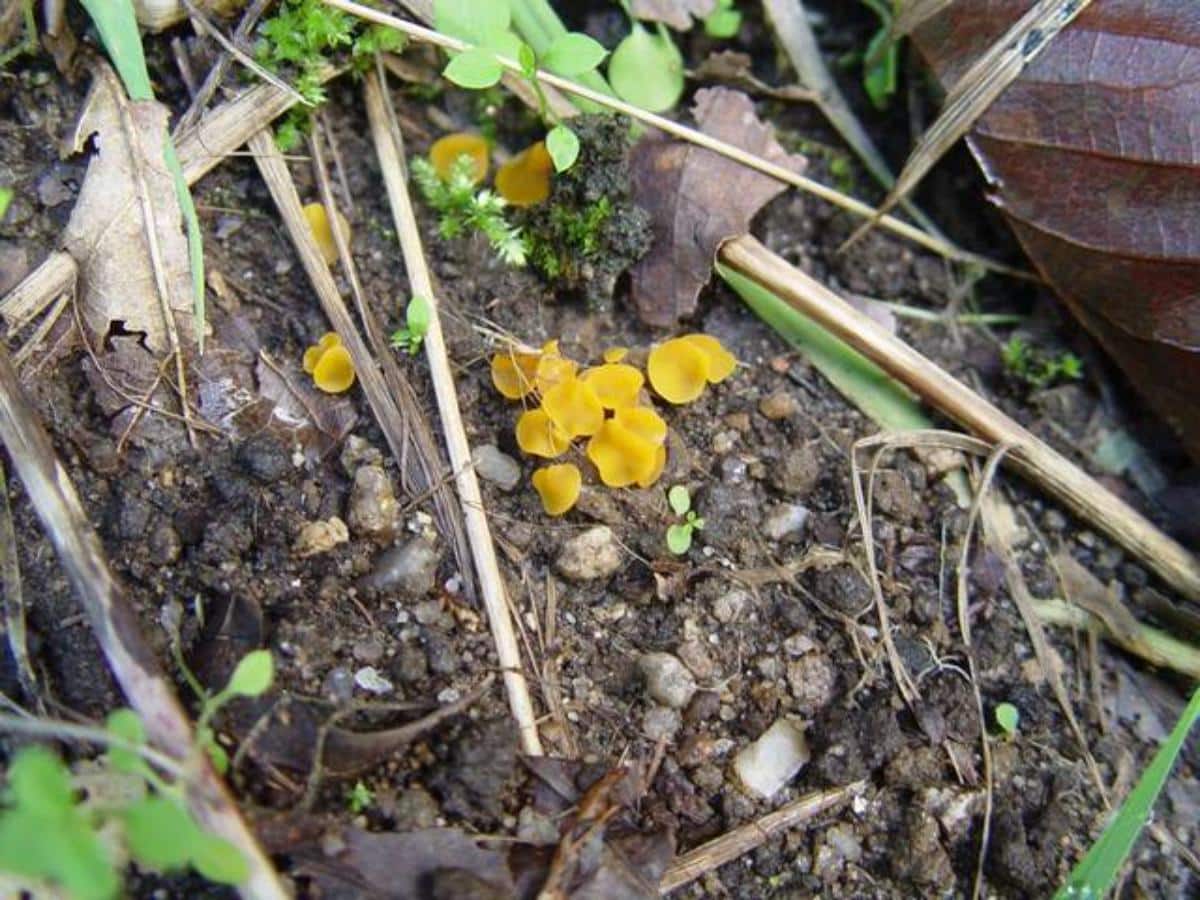 Foraging Orange Peel Fungus
The main problem with collecting this species is their brittle nature. It is challenging to pick the cups off the ground without crushing or destroying them. You definitely need separate storage for these if you're out foraging in the woods.
While the fungi do grow in clusters, they are not densely distributed. This makes it difficult to forage any considerable quantity of them.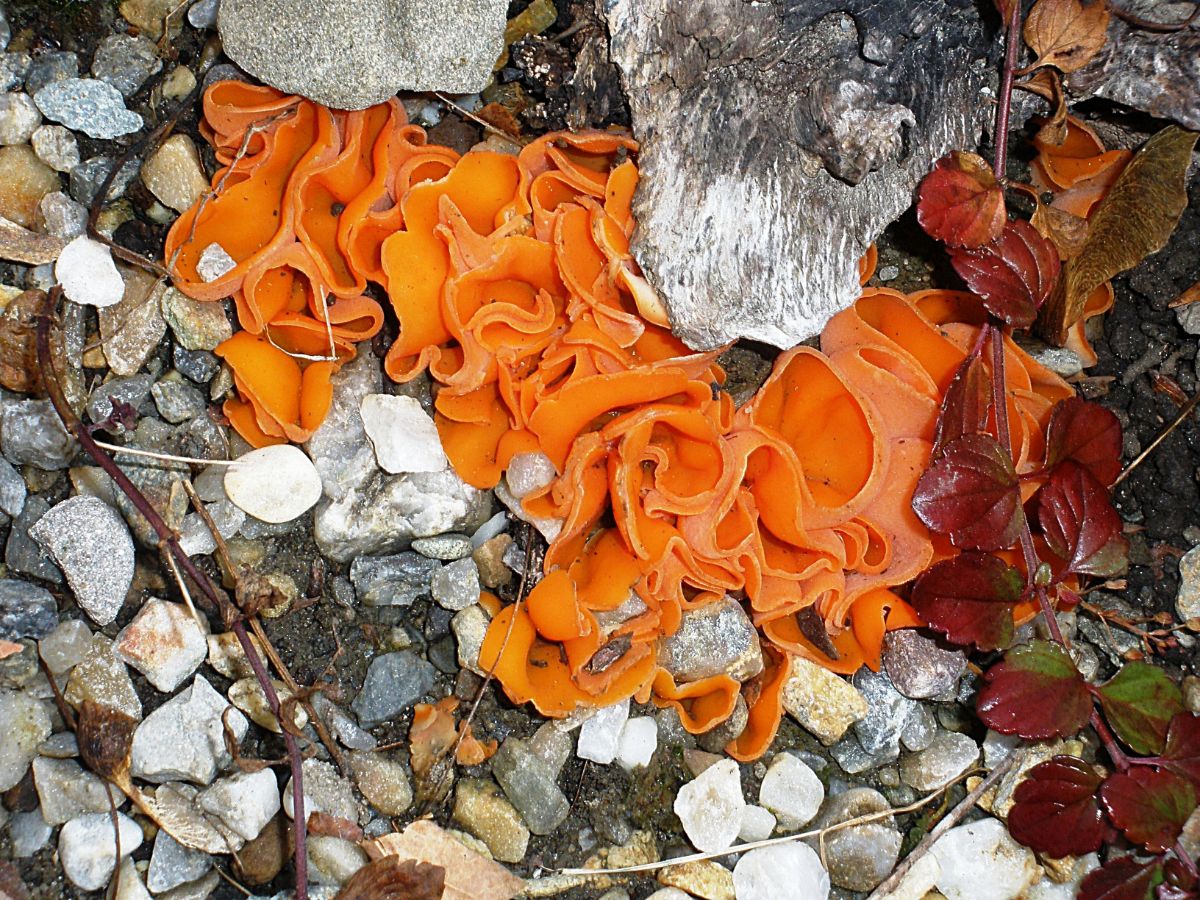 Cooking With Orange Peel Fungus
The orange peel fungus doesn't have much bulk or flavor, but it is easily incorporated into many dishes. It won't be the star, but it adds a wonderful pop of color to any dish.
The texture is a little tough, so be sure to cook the fungi thoroughly to soften them. Use them in stir-fries, pot pies, casseroles, pickles, soups, and as a salad garnish. Orange peels can also be dehydrated to preserve them.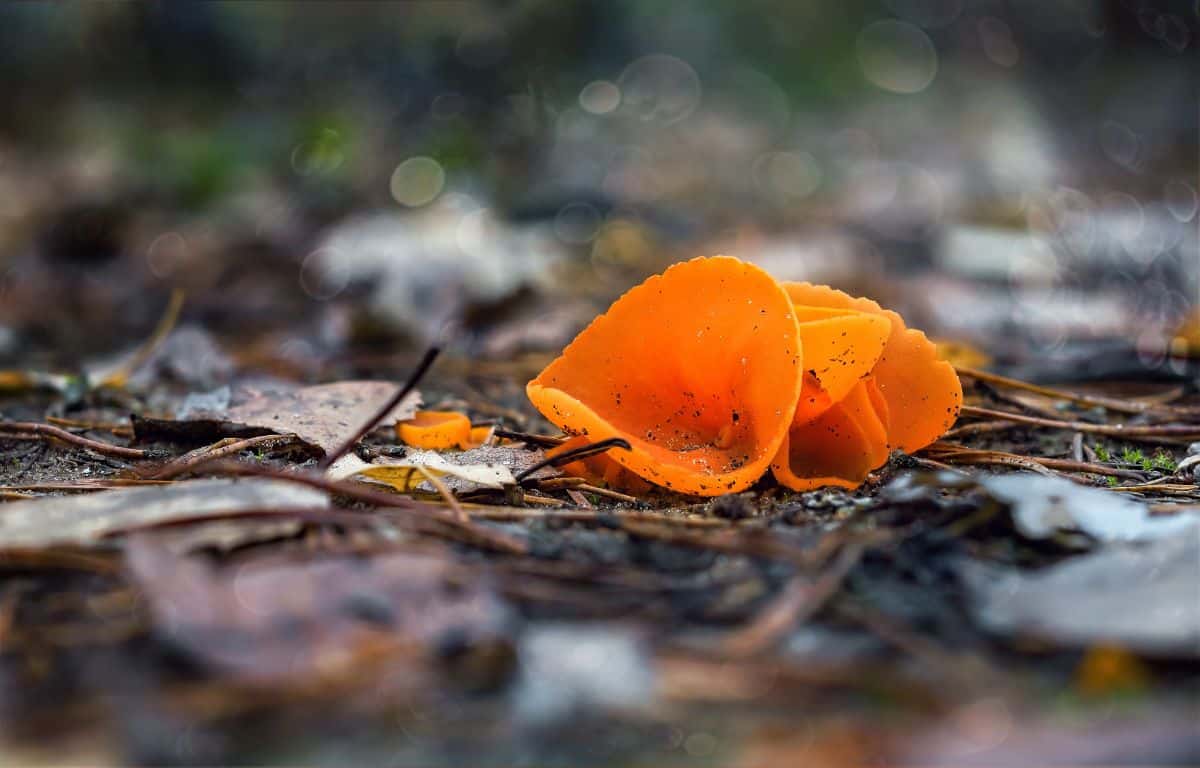 Common Questions About Orange Peel Fungus
Is the orange peel fungus rare?
No, this is not a rare fungus. It is common and widely distributed.
How do I get rid of orange peel fungus in my yard?
This fungus is opportunistic and adores rich, wonderfully mulched habitats. There is no way to rid your yard or garden of this fungus unless you want to dig up all the mycelium in the soil.
You can pick the fungus as soon as you see them to prevent them from releasing spores and spreading further. However, the fungus already there will return every year in the same spot as long as there are nutrients for it to feed on.
This isn't necessarily a bad thing. It's a sign you have a healthy landscape.