The aniseed toadstool, scientifically known as Clitocybe odora, is a captivating mushroom with its pale blue-green cap and a distinctive anise-like aroma. This edible species is commonly collected to be used more as a spice, rather than cooking up whole, as the anise scent is often quite strong to overwhelming.
Scientific Name: Clitocybe odora
Common Names: Aniseed Toadstool, Aniseed Mushroom, Aniseed Funnelcap, Blue-Green Clitocybe
Habitat: On the ground, in leaf litter
Edibility: Edible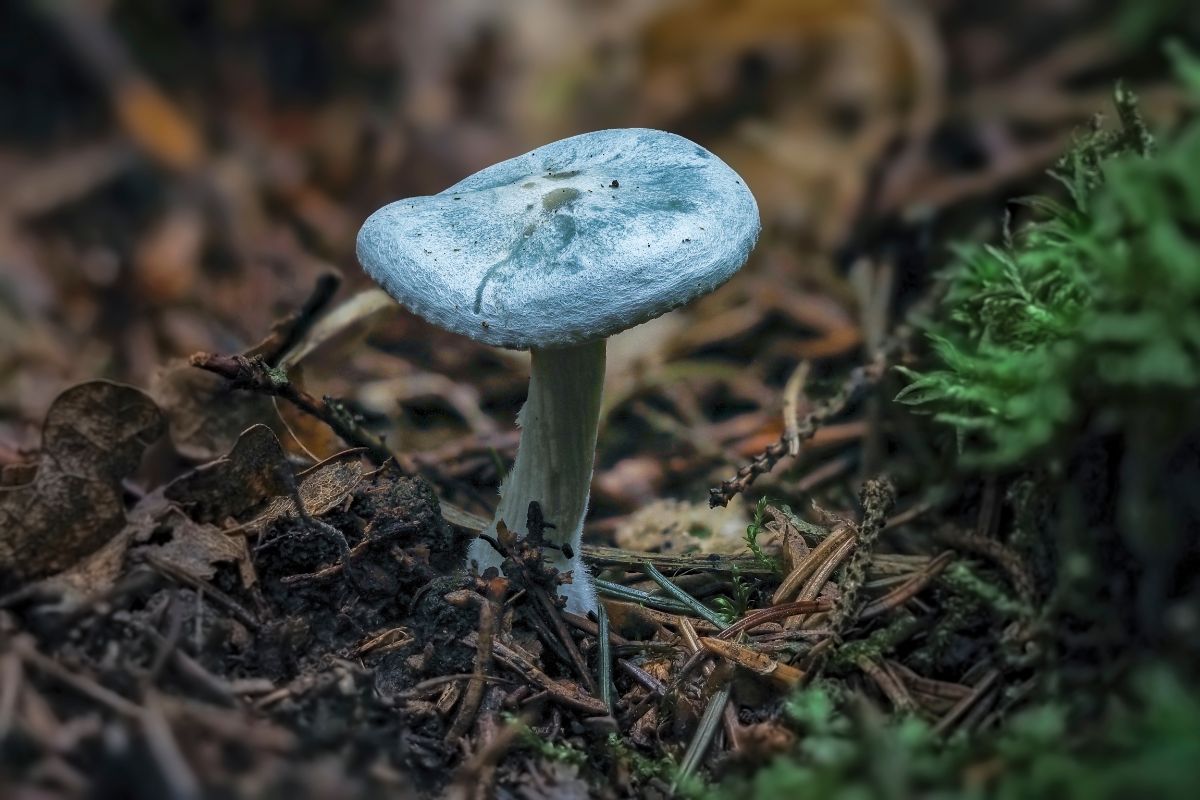 Jump to:
All About The Aniseed Toadstool
The scientific name Clitocybe odora has its roots in Greek and Latin. The term Clitocybe translates to "sloping head," referring to the mushroom's cap structure, while odora is Latin for "fragrant" or "perfumed," pointing to its distinctive aniseed-like aroma.
The aniseed toadstool was first described by the French mycologist Jean Baptiste Francois Pierre Bulliard in the 18th century. The aniseed toadstool is known by various names across different regions. In addition to its scientific name and the most common name, it's also referred to as the Aniseed Mushroom, Aniseed Funnelcap, and Blue-Green Clitocybe due to its distinctive color.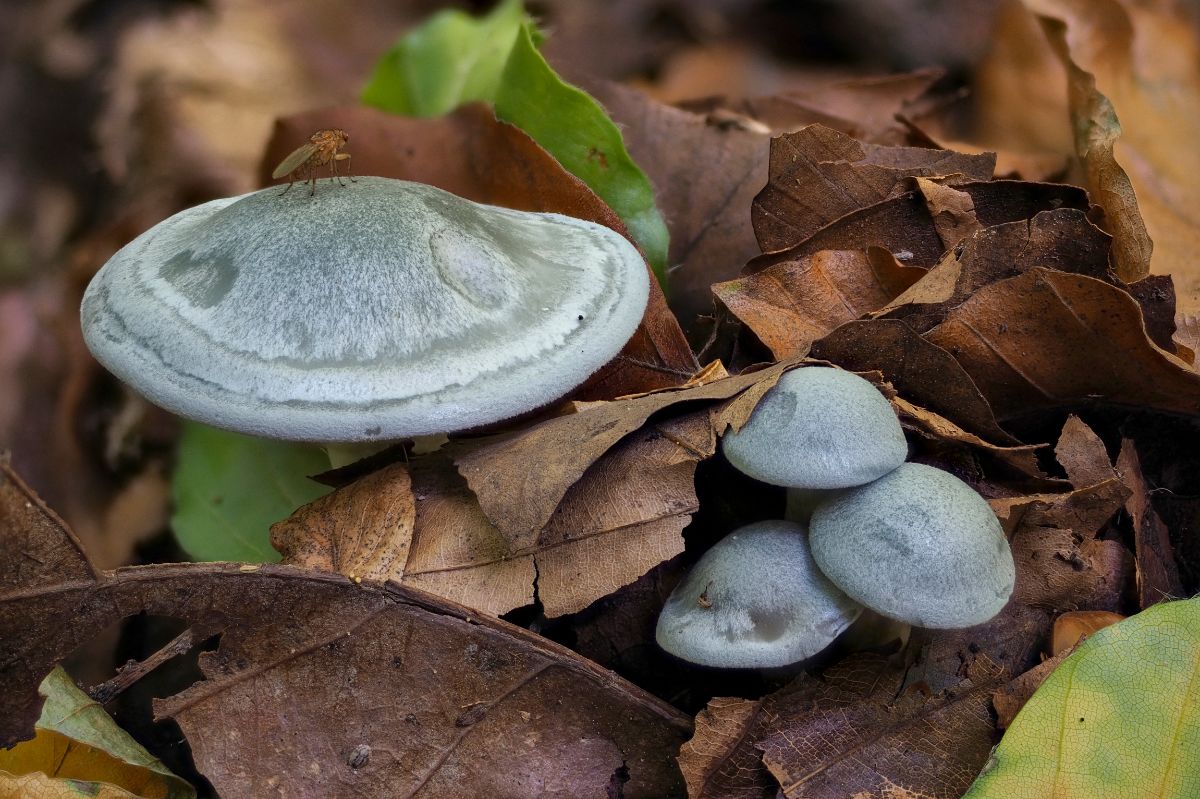 Aniseed Toadstool Identification Guide
Season
The aniseed toadstool typically fruits from summer through fall in temperate zones and from fall to winter in warmer climates.
Habitat
This mushroom is saprobic, meaning it decomposes leaf litter and other organic debris. It's commonly found among the leaf litter of deciduous trees, particularly beech, although it can also grow under conifers. It grows from the ground, never on wood or from trees.
The aniseed toadstool is widespread in the northern and montane areas of North America and is also commonly found in Europe and parts of Asia. In the US, it's particularly common in the Pacific Northwest and the Midwestern states. It can be found in oak woodlands on the East Coast.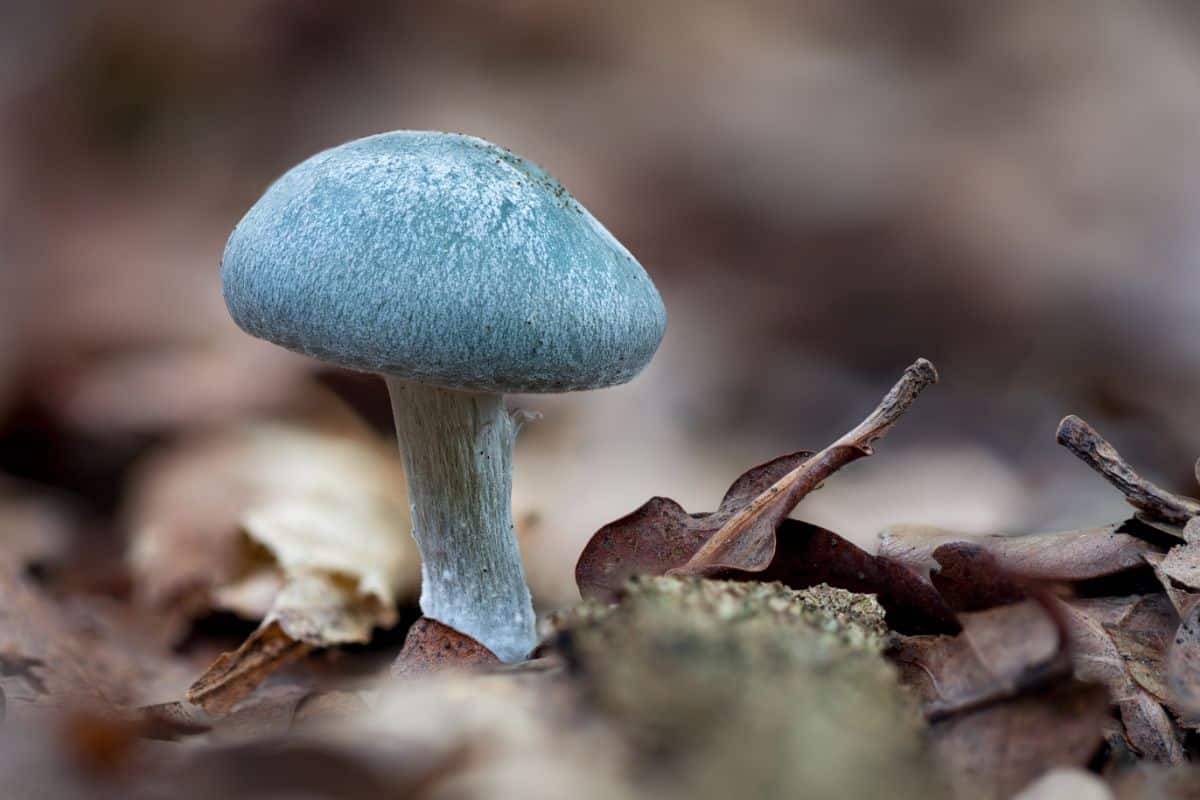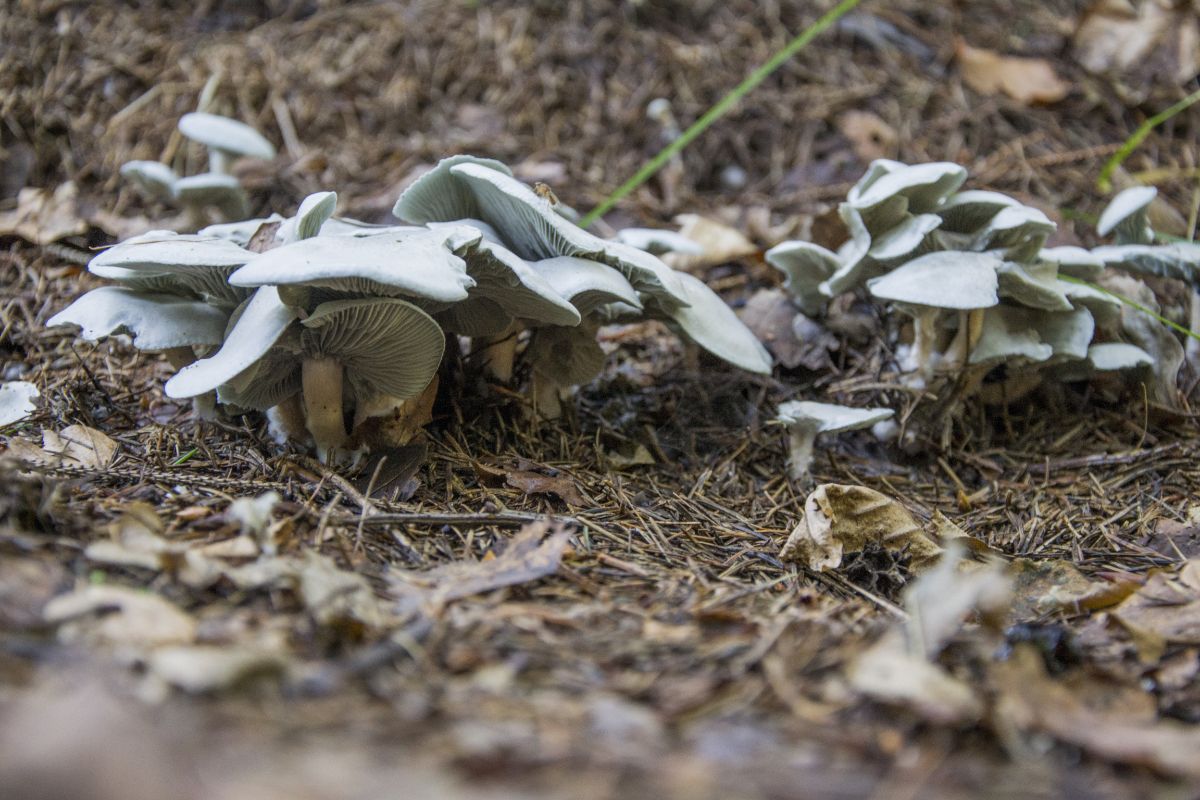 Identification
Cap
The cap of the aniseed toadstool measures approximately 1.5 to 3 inches in diameter. When young, it is rounded with edges that roll under. As it matures, it gradually flattens out, and then the edges lift upwards to create a funnel shape. The coloration is a bright blue-green – sometimes it is more blue, and other times it is more green. It fades to an unremarkable lighter grayish or whitish hue with age, and it is easily misidentified at this point due to its now dull coloring.
Exposure to sunlight and dry weather can accelerate this color transformation, so you might see it in younger specimens as well. The cap surface is primarily smooth but may exhibit fine hairs that give it a streaked appearance.
Gills
The gills of this species are initially a pale blue-green color, reflecting the cap's hues. As the mushroom matures, the gills may fade to a whitish or slightly pinkish hue. They are closely spaced, often appearing crowded, and can be attached or run down the stem slightly.
Stem
The stem of the aniseed toadstool measures around 1.2 to 2.8 inches in length. It is smooth and whitish, sometimes adorned with fine hairs. Towards the base of the stem, dense white fibrils of mycelium create a striking contrast. While the stem remains mostly uniform in width, it may curve and enlarge slightly towards the base.
Flesh
The flesh of the aniseed toadstool is thin and firm, with a whitish coloration. When sliced, it shows no significant color changes or reactions. It can become spongy and hollow with age.
Odor
One of the most distinctive features of this mushroom is its strong anise-like odor. When fresh, it exudes a delightful fragrance reminiscent of black licorice or ouzo. However, it is important to note that the intensity of the odor can vary among specimens, with some displaying a weaker or even faint scent.
Spore Print
This mushroom produces a spore print that is whitish to creamy in a thin print and pinkish in a thicker print.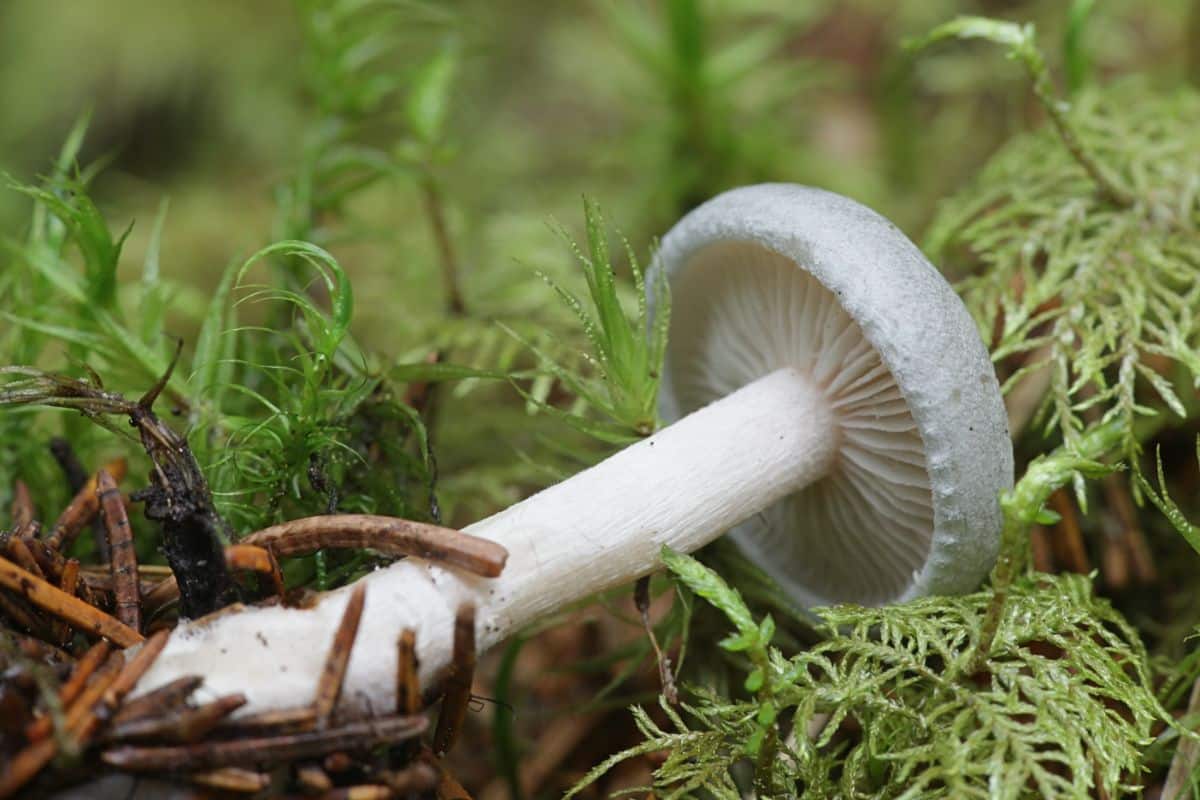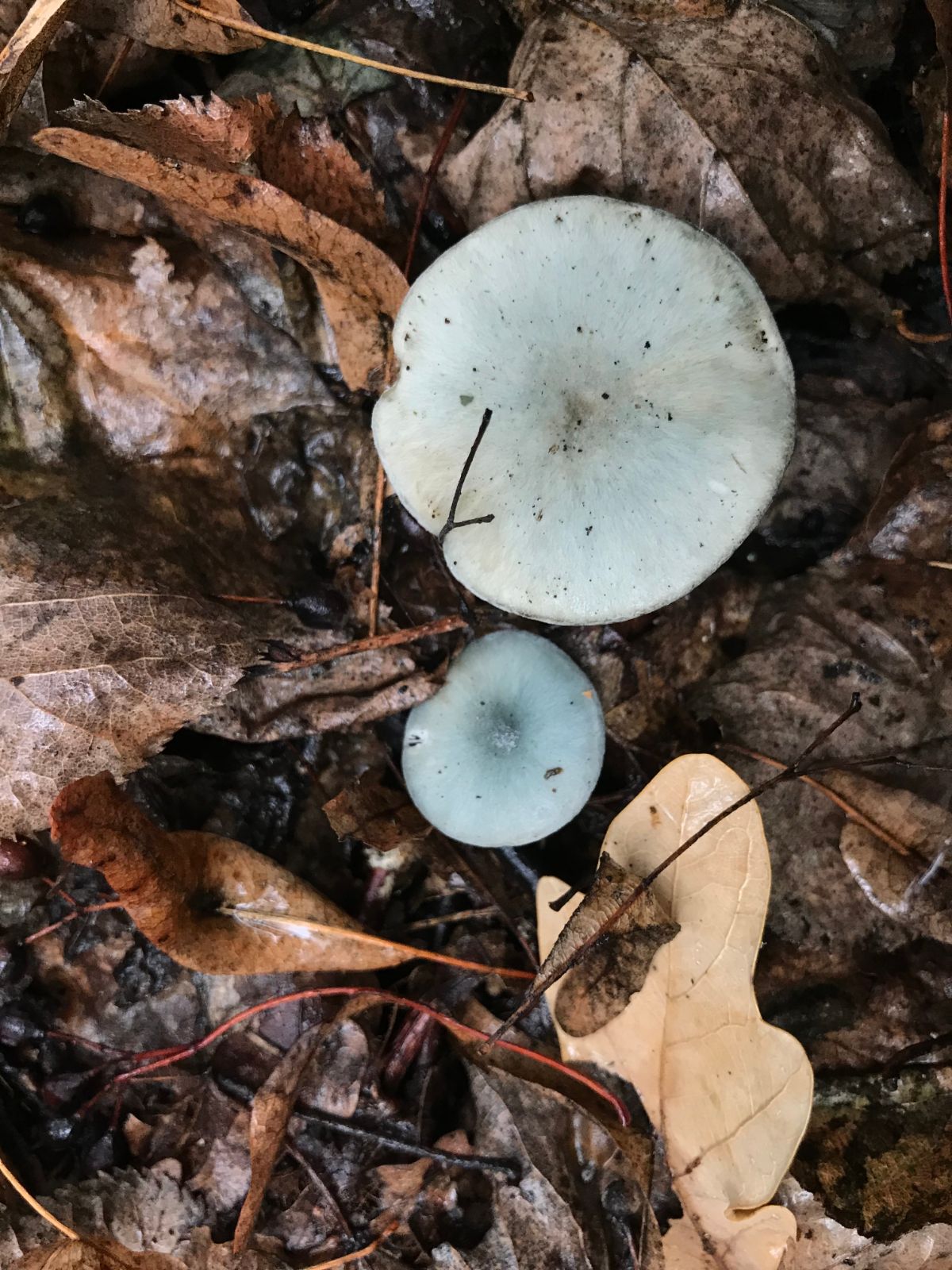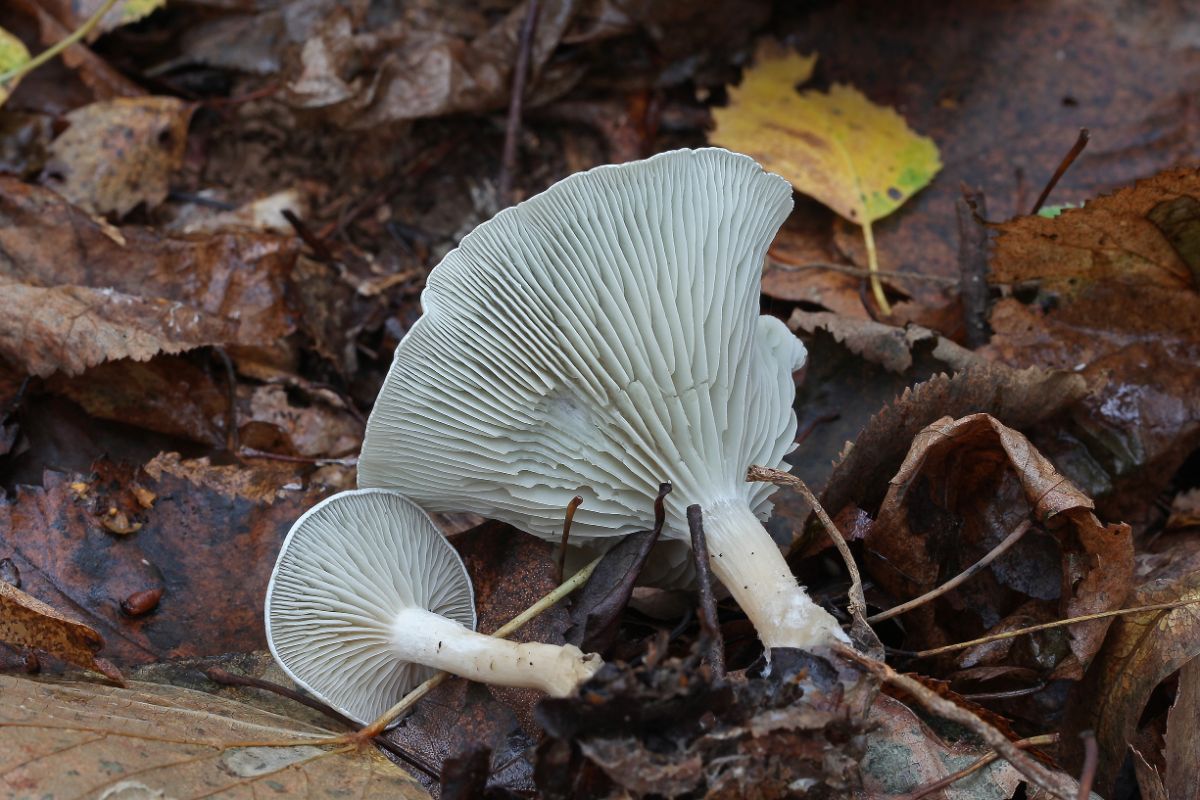 Aniseed Toadstool Lookalikes
Blue Roundhead (Stropharia caerulea)
This mushroom is greenish-blue, like the aniseed toadstool. However, its cap surface is covered in scales, particularly near the margin, and it lacks the aniseed scent.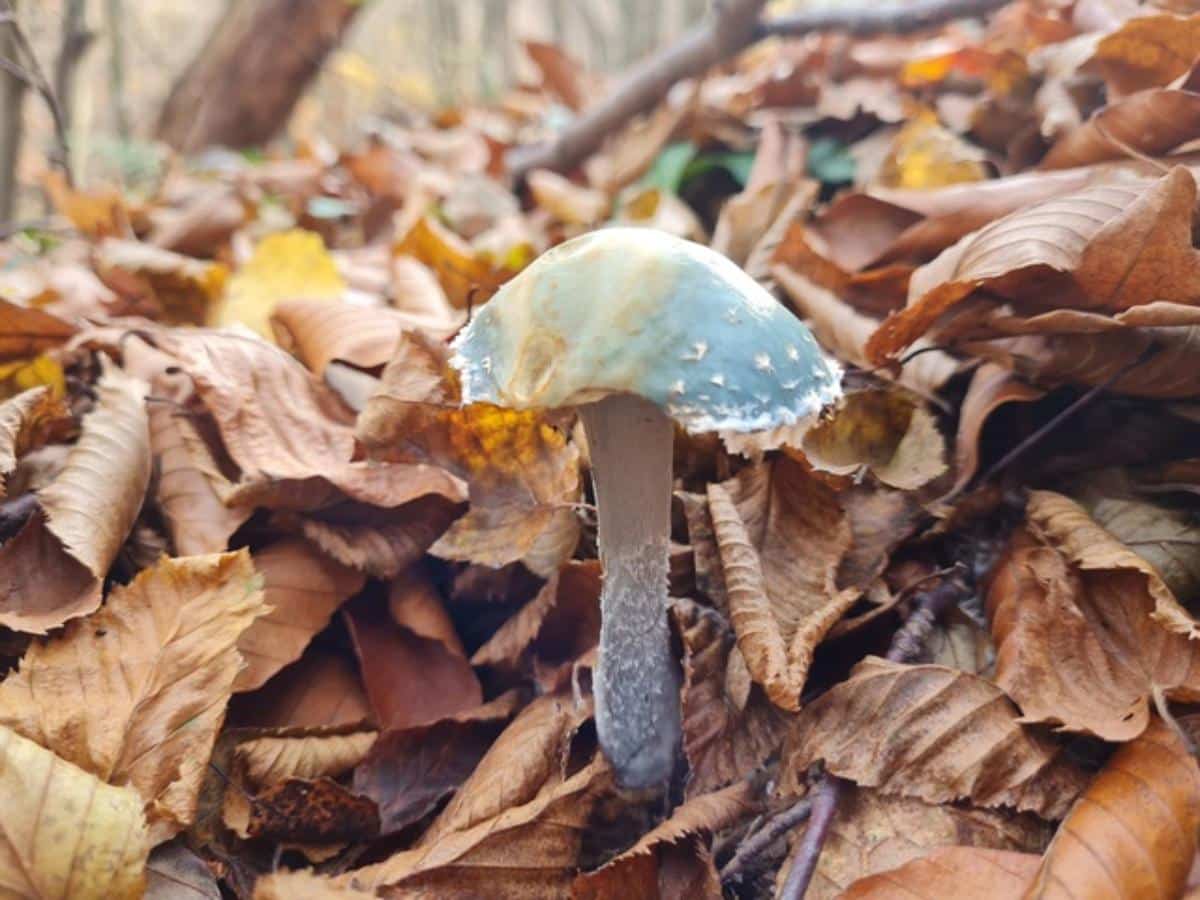 Verdigris Agaric (Stropharia aeruginosa)
Like the blue roundhead and aniseed toadstool, the verdigris agaric also has a blue-green coloration which can be confusing. However, it lacks the anise aroma, and its cap is dotted with white scales, especially at the edges.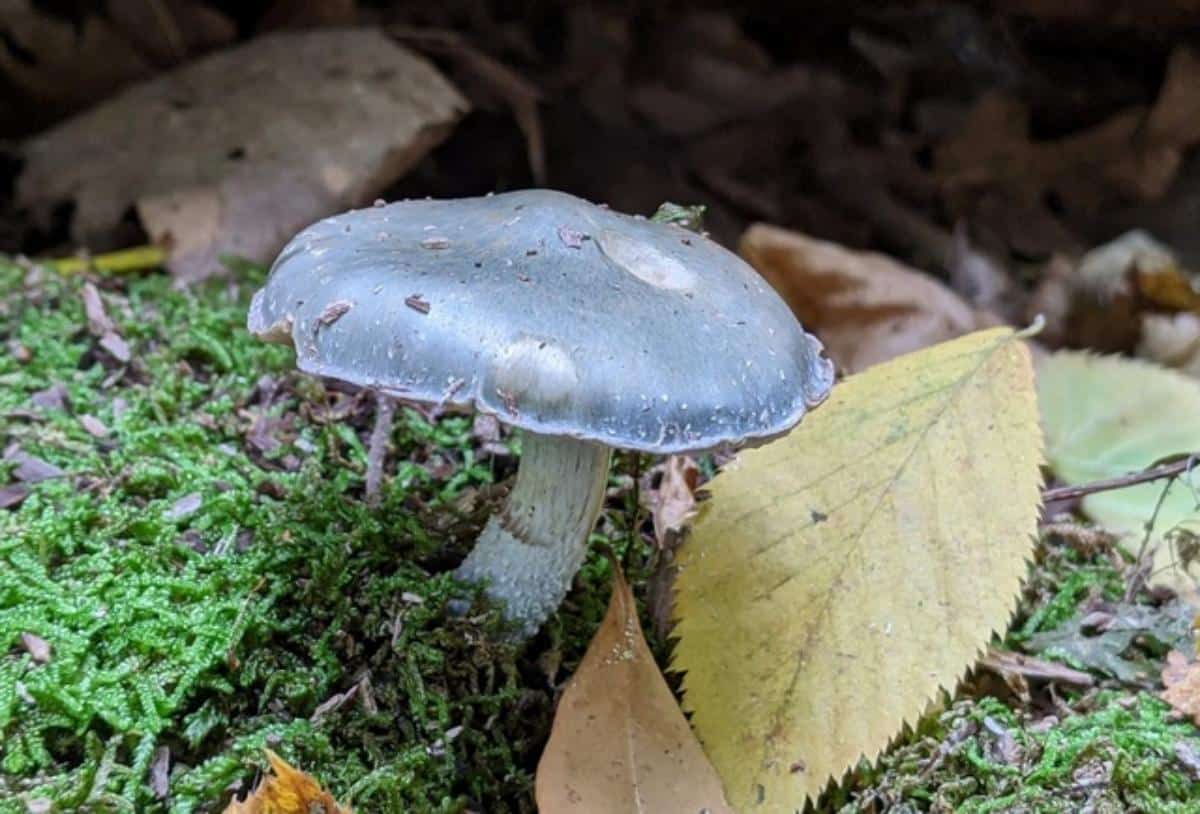 Fool's Funnel (Clitocybe dealbata/Clitocybe rivulosa)
The fool's funnel, aka ivory funnel, mushroom is white in color and has a mealy smell, differing significantly from the blue-green color and aniseed scent of the aniseed toadstool. It does get confusing, though, because when the aniseed toadstool coloring is washed out, the overall look and shape are very similar. This species is poisonous, so be careful and always check for an anise-like scent.
Aniseed Toadstool Edibility
The aniseed toadstool is considered an edible species, although it is not commonly collected for cooking per se. Its main allure lies in its anise-like aroma, which adds a unique flavor to dishes. Drying and grinding the mushroom into a powder is recommended to make the most of its distinctive scent. This powder can then be used as a seasoning in various dishes, such as risottos, soups, and sauces for mild fish.
When collecting this mushroom for culinary purposes, it's important to pick only the young, blue-green specimens with a strong aniseed odor. Older or faded specimens can be confused with other similar but inedible or poisonous species, posing a safety risk.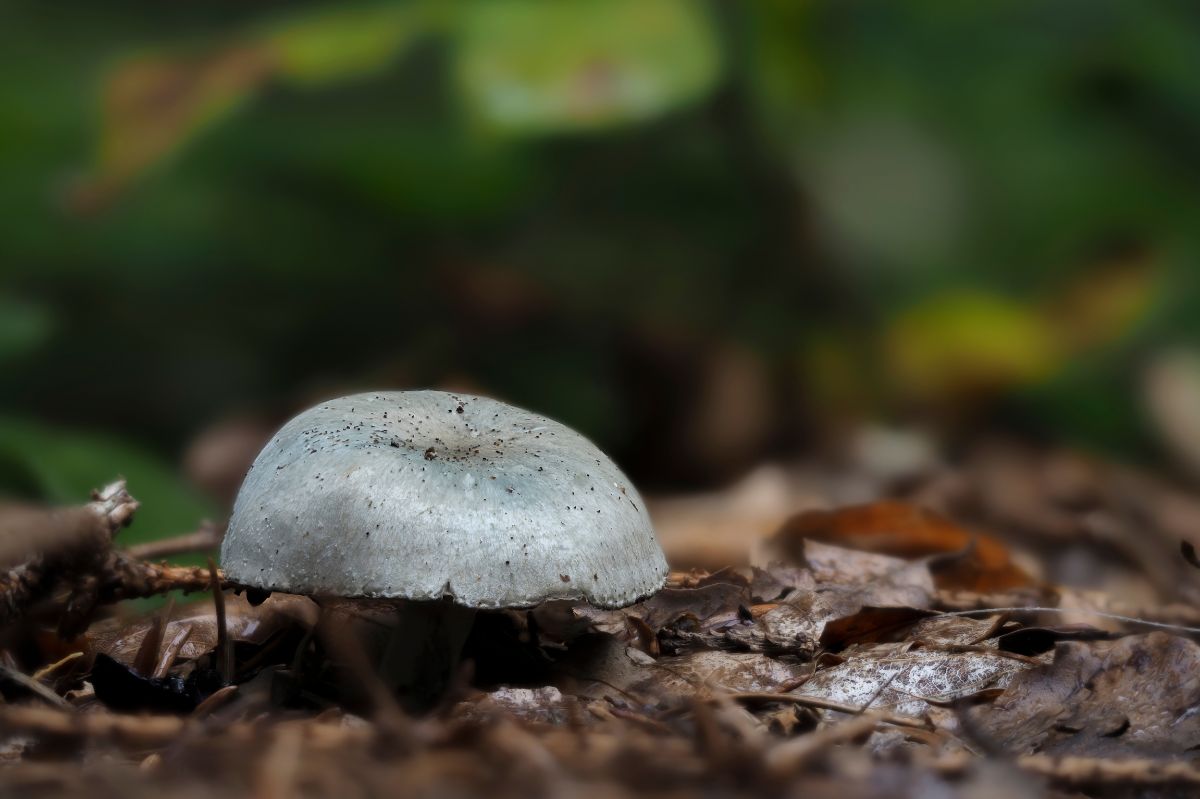 Common Questions About Aniseed Toadstool Mushrooms
Is the aniseed toadstool mushroom medicinal?
Currently, there's no documented evidence of specific medicinal properties for the aniseed toadstool.