Stuffed portobello mushrooms are an amazing snack. They're simple enough to be an appetizer, but large enough to be dinner unto themselves. Depending on what you load them up with, this stuffed mushroom recipe could be the highlight of the dinner party.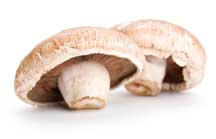 Beyond the plain delicious taste, one of the appealing things about this recipe is its versatility. You can make it vegan (if you don't include the cheese), vegetarian, or for omnivores and meat eaters. I've included the various options below.
If you're tired of the same old thing, and normal cremini mushrooms are just too bite-sized for you, I'd strongly suggest giving this recipe a try. You can spice it up with cayenne pepper and Italian sausage, or make it pungently delicious with extra goat cheese and garlic. Just don't count on having many leftovers.
Recommended mushrooms: Size matters with this recipe, so let's keep it to hearty portobello mushrooms!
Ingredients:
4 large portobello mushroom caps, stems removed
2 tablespoons olive oil
1/2 red onion, minced
2 cloves garlic, minced
1/2 cup crumbled cheese (feta or some sort of goat are amazing)
1 large plum tomato, diced
1 cup rinsed and chopped baby spinach
Salt and pepper to taste
Preheat the oven to 350 degrees.
Clean the mushrooms with a damp cloth and remove the stems, chopping them thoroughly and setting them aside. Place the mushrooms cap side down on a baking dish. You can choose to remove the gills or not.
Heat the olive oil in a skillet on medium-high and add the onion pieces. Cook them until translucent. If you want to take it a step further and brown them, go for it!
Add the chopped portobello stems, garlic, spinach, and tomato. Continue to cook another 7 minutes.
Load the mixture onto the portobello caps. Top with cheese, and put them in the oven to bake for 20 – 25 minutes.
Remove from the oven and let them cool as long as you can stand it before you devour them.
Variations:
If your diet allows, this stuffed portobello mushroom recipe is practically a meal with the addition of meat. Before you bake the caps you can pile on:

1/2 pound of lean ground turkey (cook it first on a skillet)
2 – 3 slices of cooked, crumbled bacon
1/2 pound of hot or sweet Italian sausage (cook it first on a skillet)
A few pieces of shredded, cooked shrimp

Throw in some of your favorite dried herbs, such as rosemary or basil. Add just 1/2 teaspoon at a time until you reach the desired taste.
Sprinkle some Parmesan cheese on each cap before baking.
This recipe could also be called stuffed portabella mushroom or stuffed portabello mushrooms. It's all the same thing!