Giant Puffball in Michigan
Nancy
(Michigan)
A puffball approximately 24-1/4" around grew in our Lower Michigan backyard. Over the last several years, 4 or 5 trees have been cut down in that immediate area, and we assume the roots of these fed this puffball.
These are the pics I took yesterday. Soon after, my daughter took the mushroom to a friend who could positively identify it. They ate half of it yesterday. The other half is in our refrigerator. Tomorrow may be the day I try it.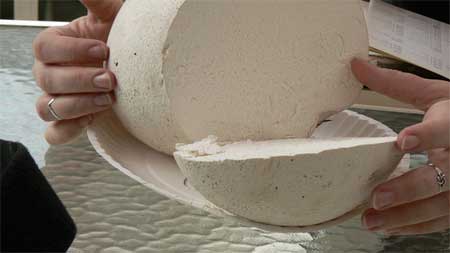 Comment by Amy:
I love these pictures. They're really great examples of puffball mushroom identification. The bottom photos show what a puffball should look like when cut open, just pure white flesh.
The lovely lady in the pictures is Nancy's daughter. Thanks to Nancy and her daughter for sharing!
Want to make your own mushroom submission? It's easy! Just click here to return from Giant Puffball in Michigan the Mushroom Pictures and Stories page.