Wild Canadian Harvest: Untamed Feast
by Eric Whitehead
(Crofton BC Canada)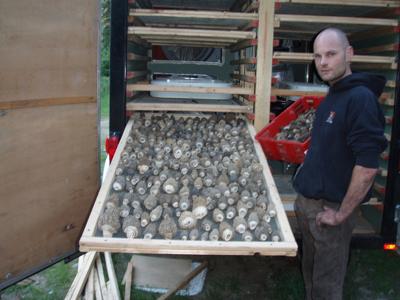 Me loading the dryer in the bush
I own and operate "Untamed Feast", and we specialize in gourmet wild mushrooms. You can purchase a package with recipes inside, and also follow the wild adventure of the hunt for your mushrooms on our website and you-tube channel.

We use a portable mushroom dryer and travel all over Western Canada for our harvest. Mushrooms are hand-sliced and dried the same day. We package our retail products at the end of the season in a facility on Vancouver Island, and distribute to stores from there.

www.untamedfeast.com
www.youtube.com/untamedfeast

We don't ship to USA yet, but our products are available in some stores in Canada! Anyone is always welcome to join the mushroom adventure by visiting the website and seeing what wild adventure I am currently on.

Thank you.

Eric.