The Lazy Woman's Mushroom Hunt
by Amy (Mushroom Appreciation Author)
(New Hampshire)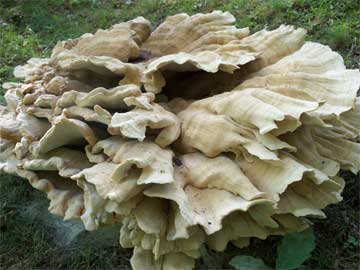 A close-up of a Berkeley's Polypore, quite a large mushroom!
Sometimes you don't have to look very hard to find a really cool mushroom. Sometimes, through the grace of luck and friends, a really cool mushroom will find you!

My friend told me about a few very large mushrooms growing in a local cemetery. When I went to check them out, I found they were enormous! One was at least 4 feet across, and had dropped so many spores that it looked like someone had spray painted the grass underneath it white.

Identification wasn't very hard. The size, shape, white spores, and growth near oak trees led me to believe that my friend had found Bondarzewia berkeleyi, the Berkeley's Polypore.

Although they are edible when younger, I wasn't about to try these tough old specimens. I exited the cemetery with only pictures, leaving the massive Berkeley's Polypores to be marveled at by others.