Motocross Track Produces Dozens of Giant Puffballs
by Patti
(Pocatello, Idaho)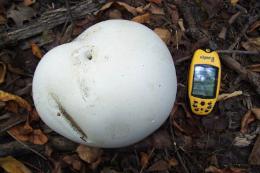 The Pocatello Motocross Park, located near Pocatello, Idaho, produces a steady crop of giant puffball mushrooms each season.

Discovered while expanding the parking area of the dirt bike track, the mushrooms randomly appear on top of jumps, on the sides of berms, along the start straight, as well as in the parking lot.

We are now looking for recipes which can be made on a grill to introduce this tasty treat to the riders and race spectators at the track!!