Morel Tales from the North Country
by Monica
(Farmington, British Columbia, Canada)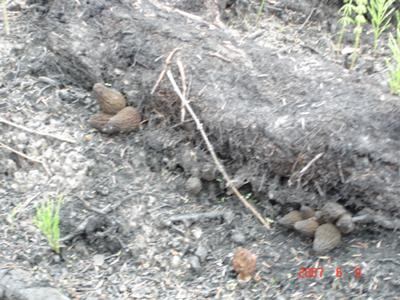 Morels on a single log
Most of the sites I visit show extraordinary morels picked from the US. I'm here to let you in on a little secret. I've lived in Northern Canada my whole life, and have picked morels since I was old enough to walk in the bush.

Though I have picked for 35 +/- years (I can't give away too much information!), my favorite memory is my first fire pick. In 2006, Tumbler Ridge, BC (700 +/- miles north of Vancouver) was the center for a 20,000 hectare (50,000 acre) fire. In May 2007, we took the two hour drive south to hit the hot spot, and were totally amazed!

There were vehicles parked on every available flat spot on the back roads, on the highway, and people were everywhere! I had never seen so many pickers. We drove around for another hour or so trying to find a spot that wasn't being picked over already. It was well worth the wait. We found a 1/4 miles stretch on a side hill that wasn't inflitrated, and walked in with buckets in hand.

Within a 1/2 hour, we had already filled a five gallon pail! It was enough to hook my new husband who had never had the opportunity to take part. Cover in soot from head to toe, we passed the buyers and went home with 10 gallons of mushrooms, and smiles from ear to ear. Since then, my sisters have joined in the foray and it's become a yearly family event. We still pick our original areas from when I was growing up, but since doing the first fire pick, I've become really spoiled and always want to come away with a full bucket!