In Our Own Backyard
by Angela
(Minnesota)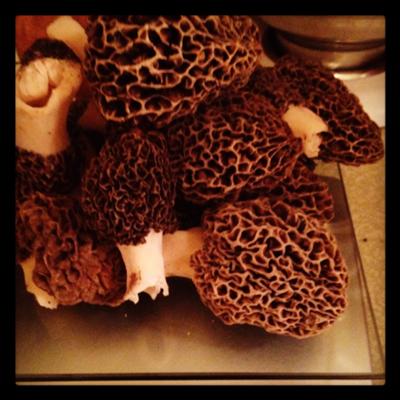 Over the years we've planned to go 'shrooming' for morels in the woods and parks in our area but have always missed the season due to so many things happening in our lives.

This spring we decided to clean up a back garden area that's been overtaken by ferns (I never know how far to plant things so they can get out of control quickly). We've left this space alone for about 2 to 3 years after a big elm had been damaged in a windstorm. The lower 1/4 of the elm was left as we didn't want to have it 'rooted out' and it's turned into a sort of miniature tree man for the past two years.

While deciding how and what hosts to remove my husband spotted a peculiar looking mushroom... morel? Honestly - I couldn't believe it and thought ... how lucky we actually get to see one in the backyard. Upon further inspection ... the ENTIRE corner was full of them in clusters under the ferns. That evening we were able to harvest almost a full pound leaving enough out there for another 2 harvests. It's a small area and I was stunned at how many we have.

After careful inspection to confirm that these were, in fact, true morels we happily added them to that night's meal. Now to harvest the others and freeze them for an upcoming graduation meal in June.

Goes to show you that you never know what you may find in your own backyard.